Based in Philadelphia, Justin Duerr is a self-taught visionary artist, musician and writer. As featured in the 2011 award-winning film Resurrect Dead: The Mystery of the Toynbee Tiles about his quest to uncover the enigma behind mysterious tiles that surfaced on the streets of Philadelphia and beyond, Justin Duerr is intriguingly thoughtful, inquisitive and passionate.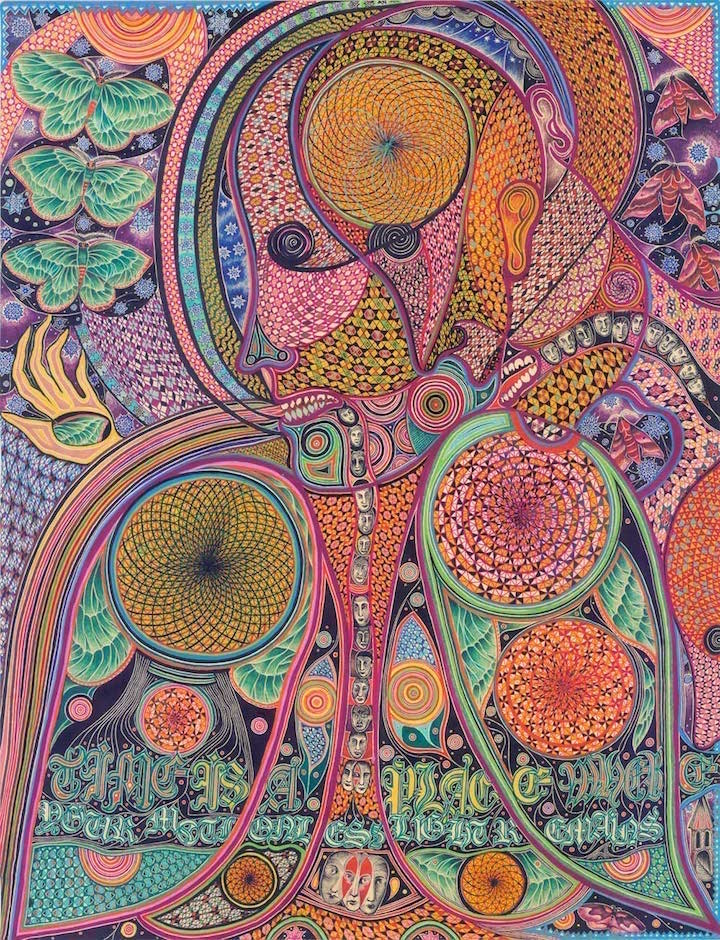 An interview with the artist – whom I discovered while he was installing his exhibit TIME'S FUNERAL at Magic Gardens in South Philly earlier this fall – follows:
When did you first begin drawing? And what inspired you at the time?
I was about seven. I had visited an exhibit of the Egyptian pharaoh Tutankhamun at the Metropolitan Museum in New York City. I began to draw then and think about language…words and text.
Can you tell us something about your distinct visionary aesthetic? Its roots?
I grew up in rural Pennsylvania, where my parents were in the greenhouse business. I was exposed early on to lots of different strains of Christianity from nearby folks. The Bible was the first book that I read. And in the 90's, I became very curious about other texts – such as the Egyptian Book of the Dead and a range of occult books I had discovered in a trash bag. I remember, too, reading Hiroshima and the vivid nightmares that followed.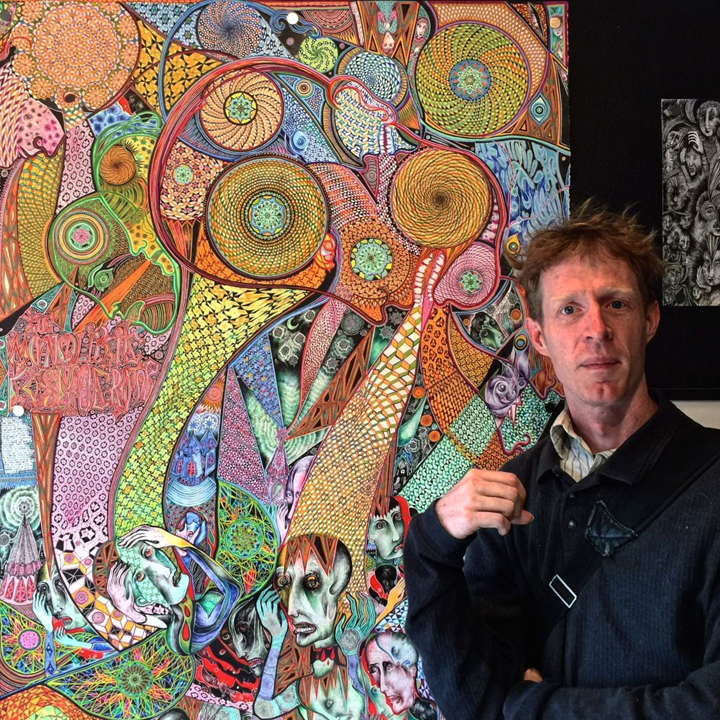 Any favorite artists? Artists who especially intrigue you?
I've spent the last few years researching the brilliant cartoonist Herbert E. Crowley. I came across his work around 2008 and I was instantly intrigued. Since almost nothing was known about his life or his work, I set out to uncover it. The result of my efforts is The Temple of Silence: Forgotten Works and Worlds of Herbert E. Crowley featuring 200 Crowley images, along with a 20,000-word biography of the artist. Another artist who fascinates me is Renee Leshner. She was a Philadelphia-based visionary artist who was a member of the The Coalition Ingenu Self-Taught Artists' Collective.
What percentage of your time is devoted to art these days?
Whenever I can, I draw. It's not about inspiration; it's all about perspiration. It's hard work, but I do it whenever I can. I can work for 12-15 hours at a time.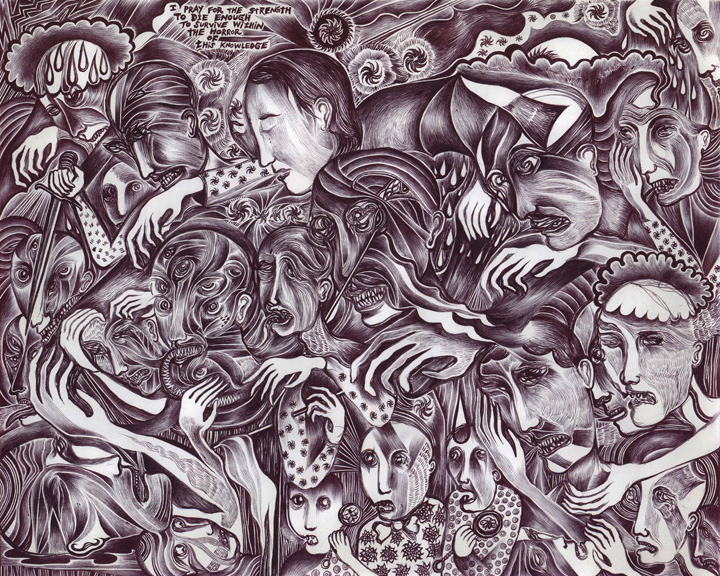 Are there any particular cultures or movements that have influenced you?
 Egyptian and various religious sects.
How has your art evolved through the years?
It just does. It's a natural process. Sometimes I discover a new path.
Are you generally satisfied with your finished product? 
Yes! When it's done!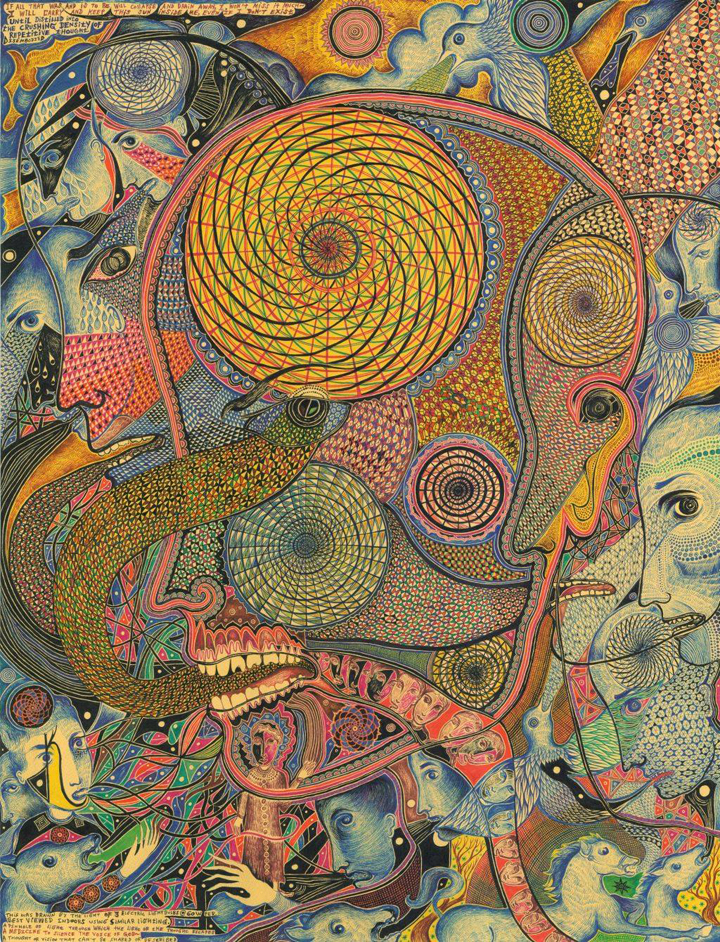 How much time do you spend – on average – on one of your works?
Anywhere from three to six months. Smaller pieces often demand more time and labor than larger ones.
Which tools do you generally work with?
Highlighters, markers and pens…on paper that I can roll onto the floor and then back again to store.
Do you have a formal art education?
No! I was thrown out of art class. And when I was, I'd go to the gym and draw.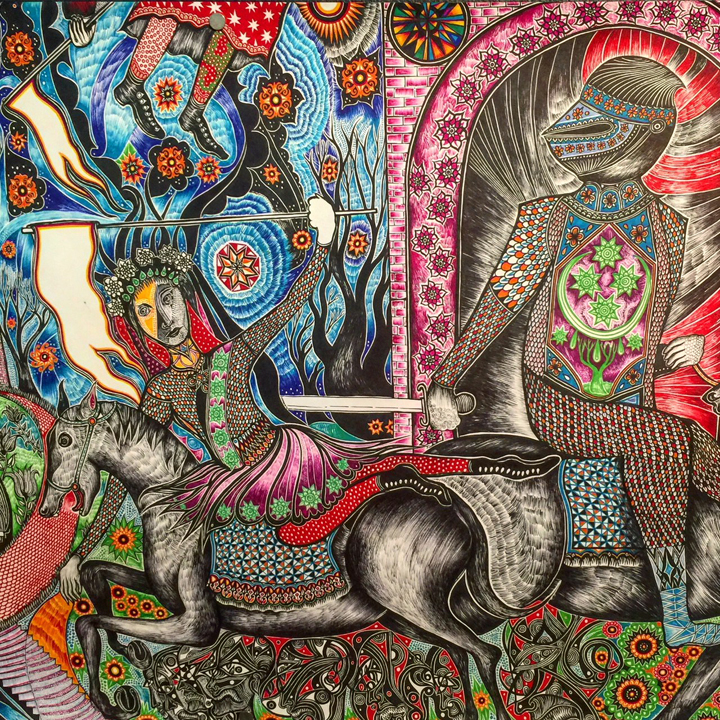 What are some of the other activities that engage you these days?
I write music and I sing; I have several shows coming up with my band Northern Liberties. I research and I write.
How does your family feel about your life as an artist?
They appreciate my art.
Is art the main source of your income?
It waxes and wanes. I also have a day job; I do house painting.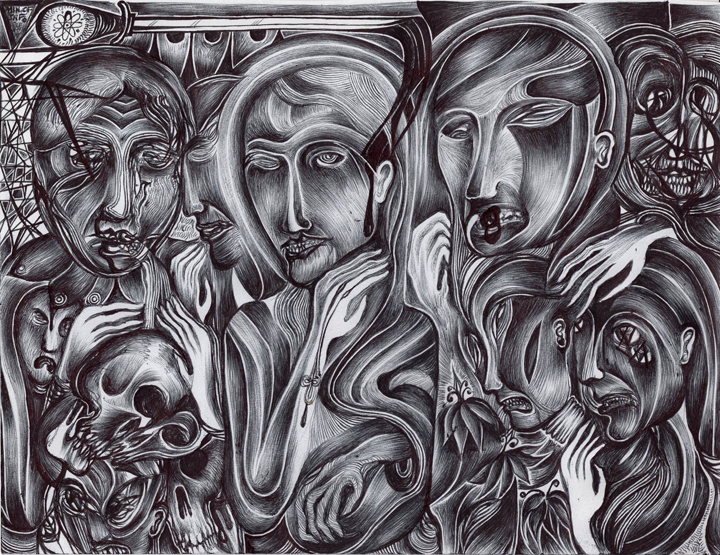 You've exhibited in quite a few venues. When did you begin to show your work?
My first exhibit was at Borders Bookstore in Philly back in 1996-97.
What do you see as the role of the artist in society?
Something in the universe is off kilter. This derailment is what the artist addresses – and, in some way, tries to fix.
Note: Justin's current exhibit, TIME'S FUNERAL, ends tomorrow, Sunday, November 12, at Magic Gardens,1020 South Street in Philly. Justin will also be appearing tomorrow at the Philly Zine Fest at 4014 Walnut Street. You can follow Justin on Instagram here and purchase his artworks here.
Photos of images: 1, 3, 4 & 6 courtesy Justin Duerr; 2 & 5 Lois Stavsky; interview conducted and edited by Lois Stavsky
Please follow and like us: