I first met self-taught artist Don'aë Tate last year at the Fountain House Gallery Open Studio in Long Island City. I was struck at once by her expressive, authentic aesthetic. Recently, we spoke:
What is your earliest art memory?
I was ten years old and at my foster mother's daughter's house in the Bronx. Her husband gave me a coloring book and crayons, and he told me to draw within the lines. I was angry because I wanted to watch TV. I didn't feel like drawing. And so my first art memory was not a good one! But I did look forward to my art classes in elementary school. Only there did I feel free. I was always in trouble in elementary school. I was like a mix of Dennis the Menace and Bart Simpson. I remember having to write, '"I will not disrupt the class" dozens of times. My Friday art class was the only class that didn't get me into trouble.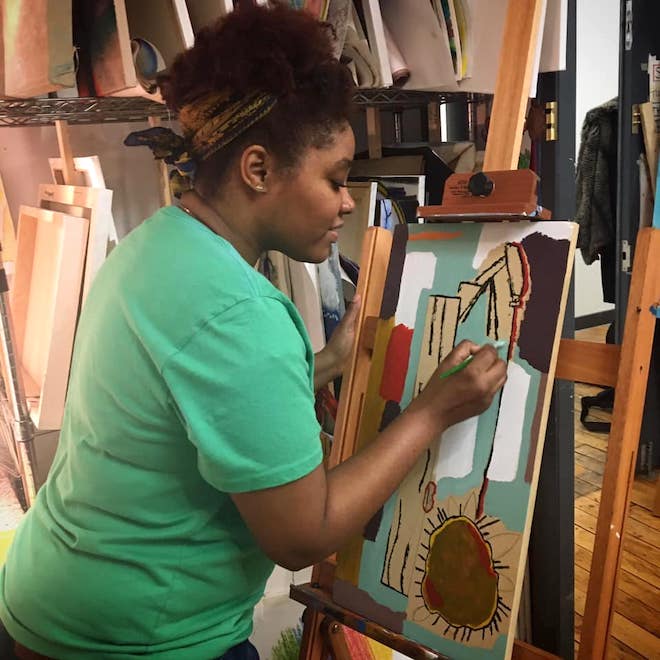 When did you start getting serious about art?
When I was living in Fortune Society's transitional housing, I met Guy Woodard. When I saw his artwork and the attention it was receiving, I was motivated to create art. I discovered that it was a great way to distract myself from my surroundings.
What inspires you these days?
My environment. I'm particularly influenced by signs that I see.
Who are some of you favorite artists?
Basquiat, Picasso, and Klimt. I love everything about Picasso, and I love the way Klimt works with gold.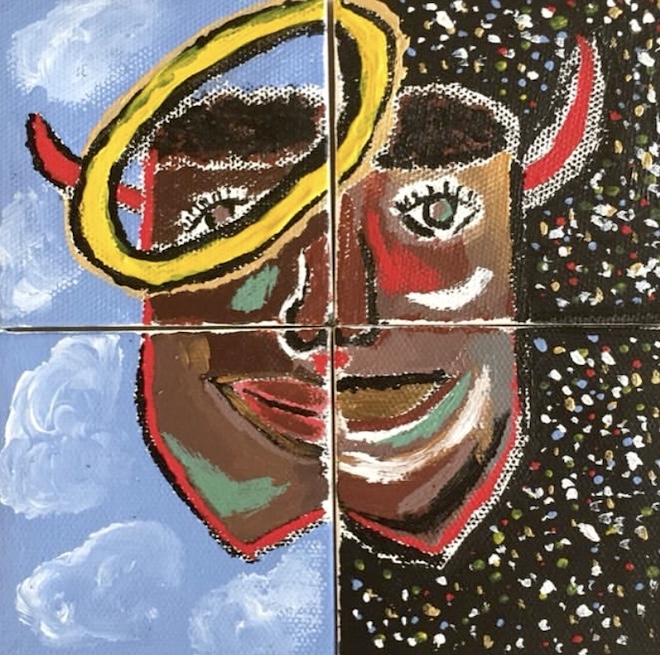 What are some of your cultural influences?
My principal cultural influences are Latino and African-American. I was also influenced by the predominant 'white' culture and West Indian one, as I grew up in predominantly white neighborhoods with West Indian foster families.
How has your aesthetic evolved through the years?
At first, I just did my own thing, but after I joined Fountain House, Miguel Colon – one of the artists I met there — encouraged me to learn about different artists, art movements, and art terms. During my second residency here, Fountain House Gallery Studio coordinator Karen Gormandy urged me to develop my own style. She told me to go inside myself and paint what I see and feel and become more fluent. I'm learning to trust my process.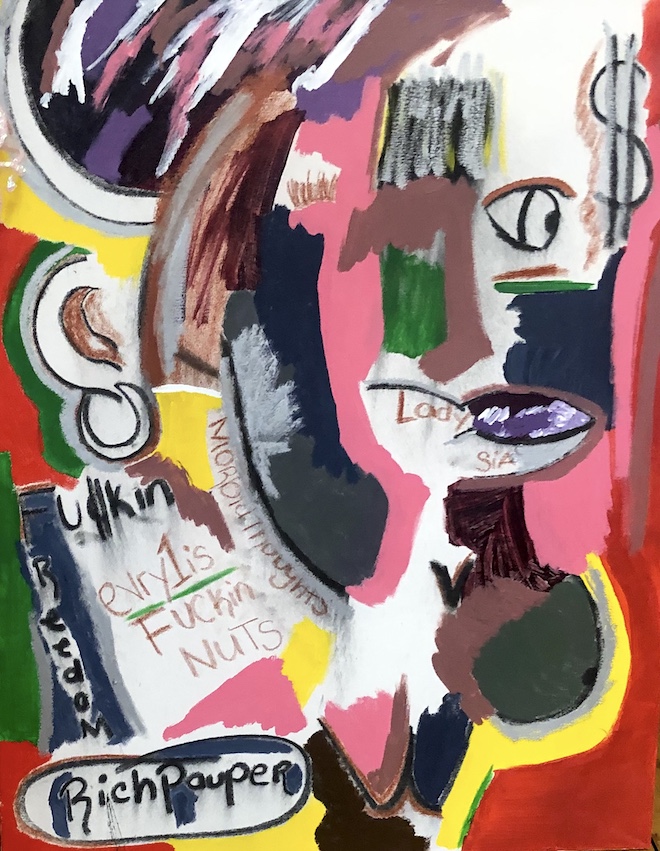 Are you generally satisfied with your completed work?
When I finish a piece, I'm extremely happy. I feel like I'm waking up on Christmas morning to a bunch of presents.
How long do you usually spend on a piece?
About a month.
What percentage of your time is devoted to art?
About 25%.
What are some of your other interests?
I love singing, writing, cooking; I love doing anything creative.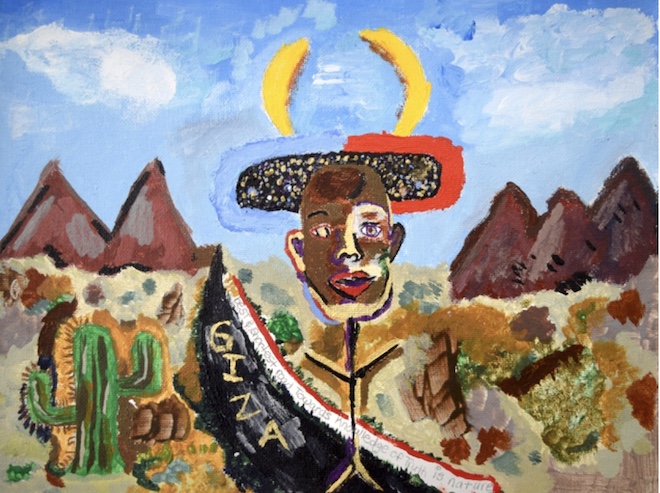 Have you ever exhibited your artwork?  
I exhibited at The Bridge in Harlem and at Fountain House Gallery in Manhattan.
What is your favorite setting to work? 
I don't have one yet. My favorite setting would be a permanent place. These days I mostly paint at the Fountain House studio space and my bedroom floor.
What are your favorite media?
Acrylic paint, paint sticks and chalk.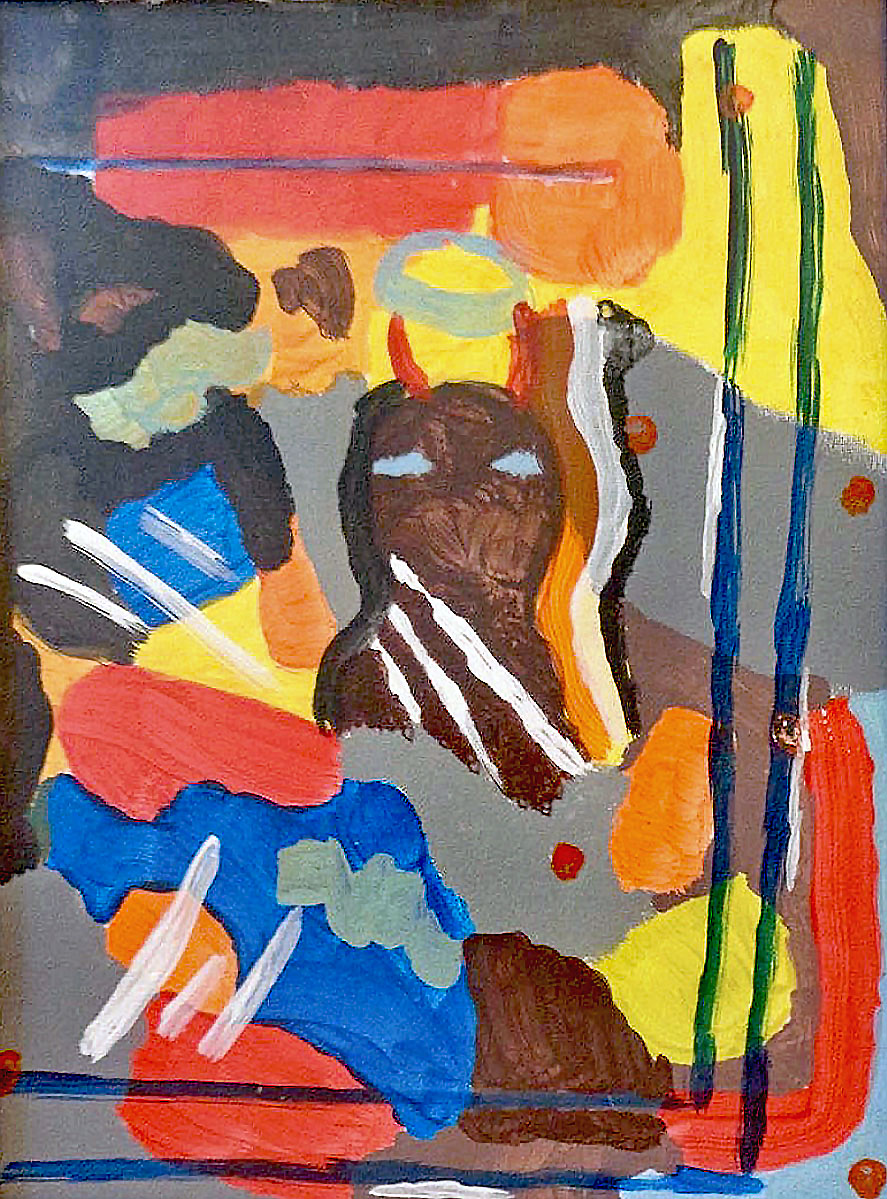 How important is the viewer's response to you? 
It's not important at all. What matters is that I like it.
Have you any kind of formal art education? 
No. I'm entirely self-taught.
Where are you headed?
Creating more art, of course! And I have a show coming up on April 16th with Sasha P.W. at Fountain House Gallery.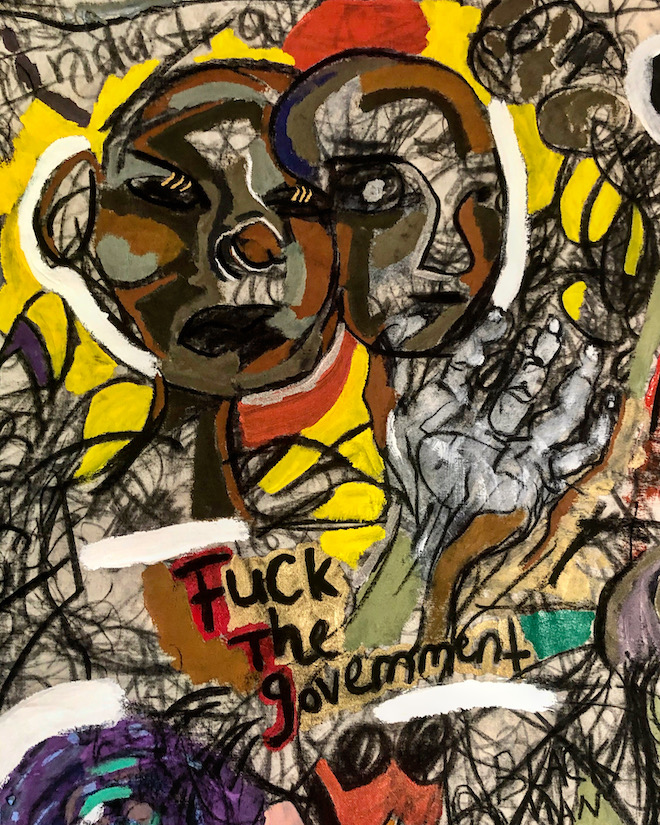 Congratulations! We are certainly looking forward to it! What do you see as the artist's role in society?
To present the truth as he or she sees it.
Interview conducted by Lois Stavsky and edited for brevity by Lois Stavsky and City-as-School intern Basil Lyons
Photo credits:  1, 3, 5 & 6 Courtesy of the artist; 2 Courtesy of Fountain House Gallery and 4 & 7 (in collaboration with Sasha PW) Lois Stavsky