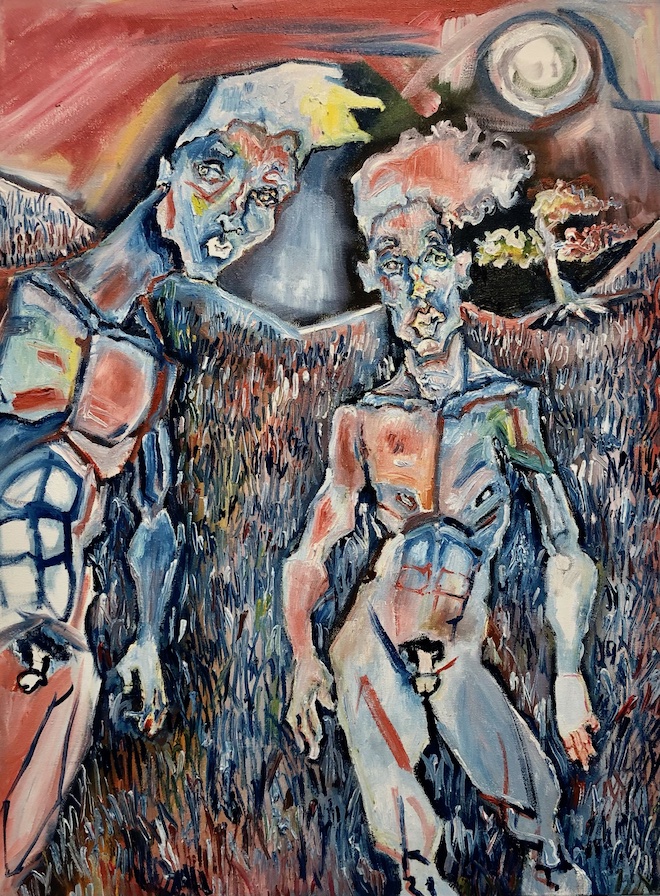 On view through May 25, 2022 at Fountain House Gallery is "The Nude as Landscape," the gallery's first-ever juried exhibition. While most of the images selected for the exhibit feature bodies presented within actual natural landscapes, several portray the human body — or segments of it — "as a point of reference for exploration of the body as it relates to the wider world." The theme of this distinctly intriguing exhibition was conceived by Fountain House Gallery artist Boo Lynn Walsh.
The image featured above, The Nude Dudes (Series #1), was fashioned with oil on canvas by neo-expressionist artist Anthony Newton. Several more images captured from our recent visit to "The Nude as Landscape" follow:
Queens-based multidisciplinary artists Issa Ibrahim and Susan Spangenberg, "Love's Crashing Waves," 2021, Charcoal and acrylic on canvas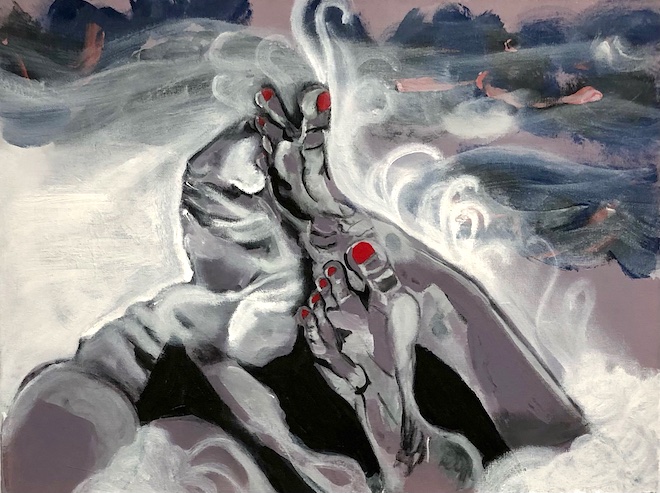 The masterly Bronx-born, Manhattan-based artist Miguel Colón, "Sublimation," 2022, Flashe on canvas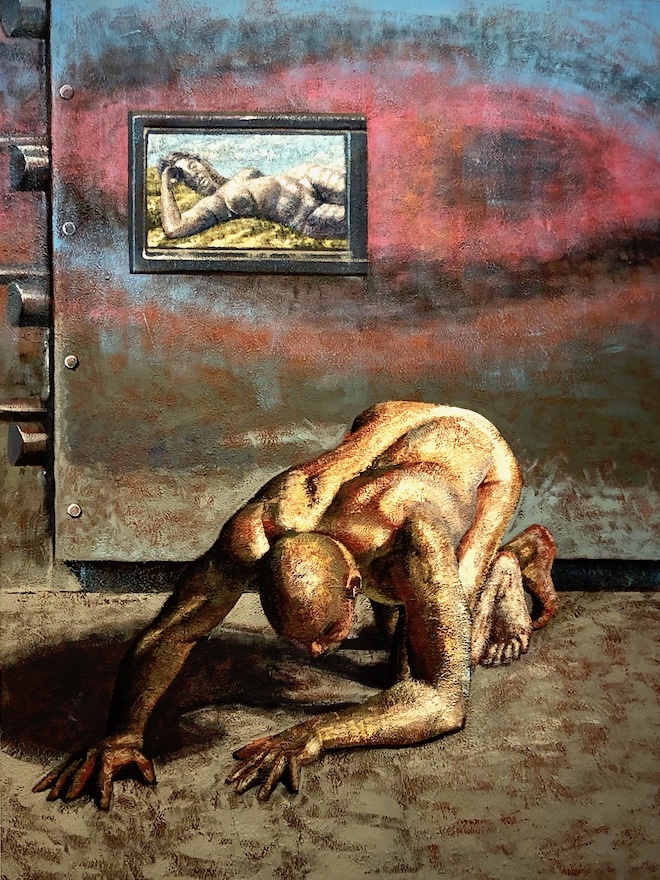 The inventive Manhattan-based artist and urban calligrapher DubbleX, "Poses of the Nude," 2020, Paper collage and marker on canvas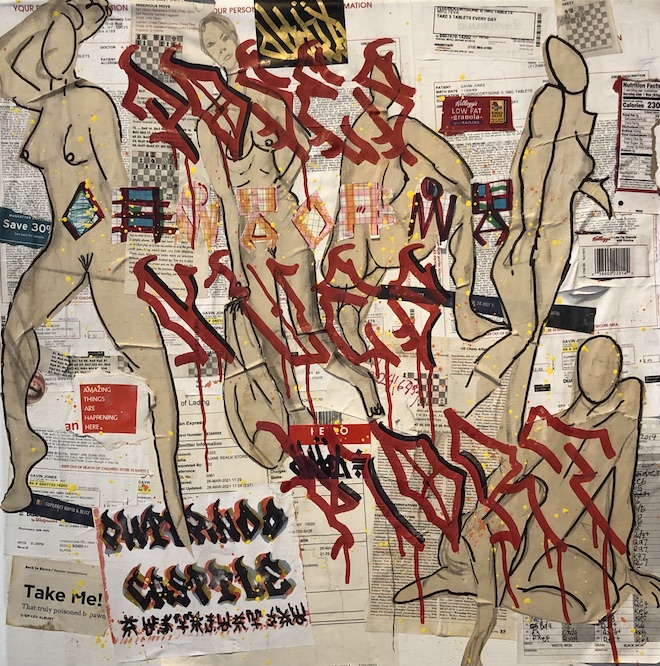 Self-taught mixed media artist Angela Rogers,"Tree in a Turban," 2018, Wire, yarn, and string beads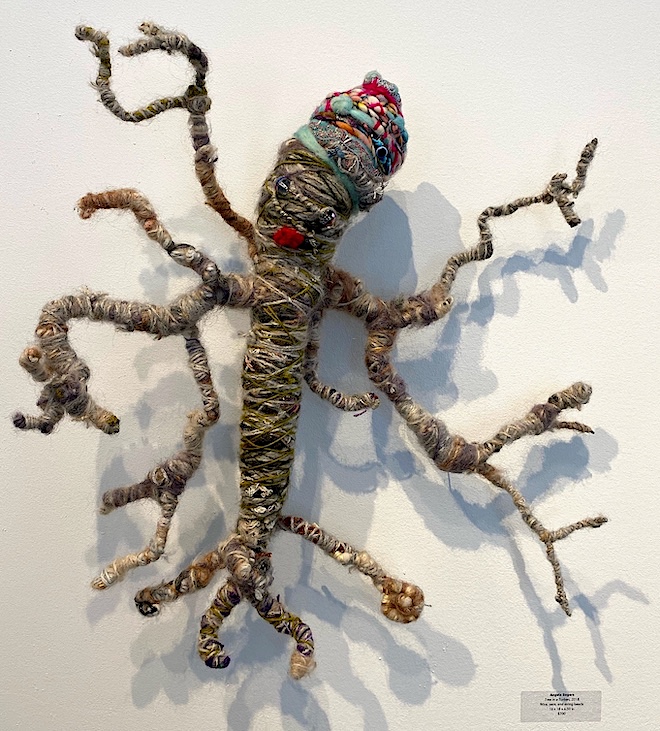 Colombia-born fashion and costume designer, Guiomar Giraldo-Baron, "Solitary Bather," 2022, Charcoal, pastel and acrylic on canvas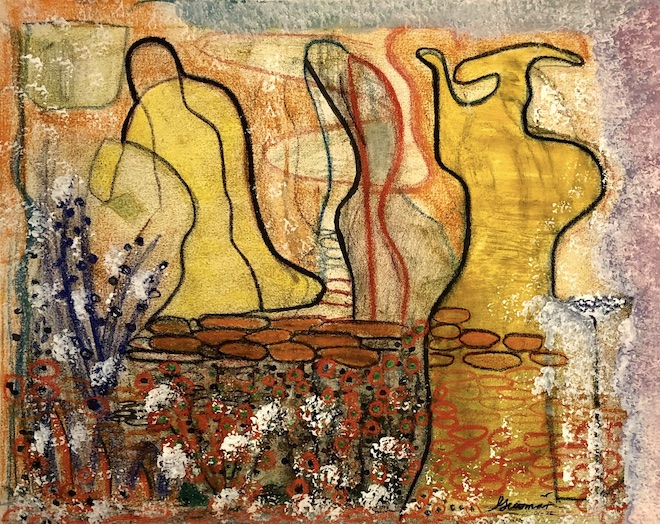 Juried by Sarah Faux, Elyse Goldberg and Casey Lesser, "The Nude as Landscape" remains on view through May 25 at Fountain House Gallery. Located at 702 Ninth Avenue at 48th Street, the gallery is open Tuesday to Saturday: 12pm-6pm.
Note: Fountain House Gallery and Studio provides an environment where artists living with mental illness can express their creative visions, exhibit their work, and challenge the stigma that surrounds mental illness.
Photos of images: 1-4 & 6 Lois Stavsky; 5 Dani Reyes Mozeson