Canadian born, Bronx-based interdisciplinary artist Lady K Fever continues to be feverishly active in a huge range of educational settings and in dozens of innovative projects. Best known to many of us in NYC for her graffiti and mural art — integrating traditional graffiti lettering with her signature flora and botanicals — she has been featured in such classic graffiti books as Nicholas Ganz's Graffiti Women: Street Art from Five Continents, James and Karla Murray's Burning New York: Graffiti NYC.  When we met up with her this past week, she spoke about her recent adventures in Bermuda, where she had spent three months earlier this year at the Masterworks Museum of Bermuda Art as an artist-in-residence and arts educator.
What brought you to Bermuda earlier this year?
I had painted a mural back in 2011 on the exterior of The Masterworks Museum of Bermuda Art. Tom Butterfield, the museum's founder and creative director, invited me back as an artist-in residence to restore the mural, conduct art workshops and create artwork influenced by Bermuda for a solo exhibit.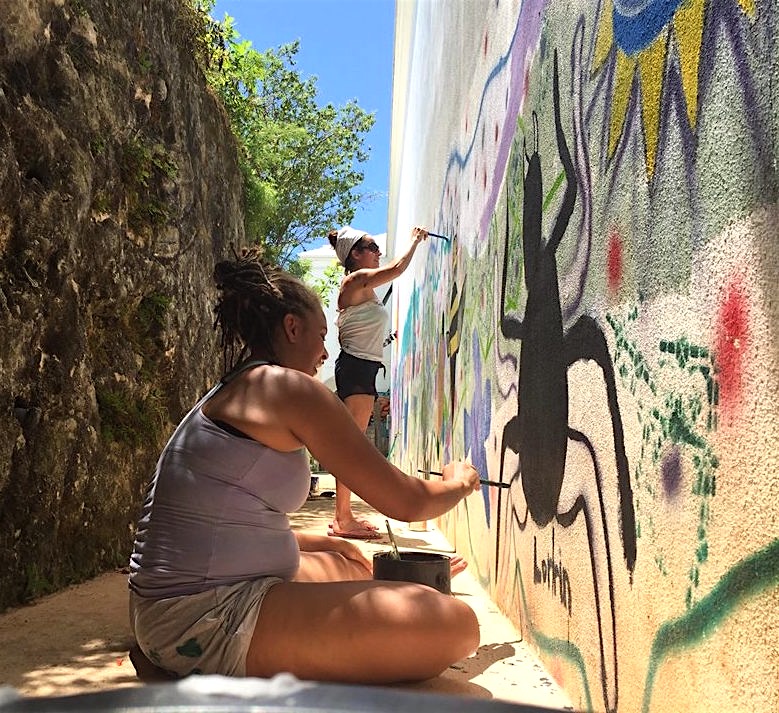 Can you tell us something about the workshops you conducted? The ages of the children you worked with?
The children ranged in age from 6-12.  I refer to my methodology as "Call and Response." The kids watched me paint in the morning and responded in the afternoon.
What inspired the artwork that you and the young community members created?
We were inspired by the natural environment — the palms, the hibiscus, the tropical climate.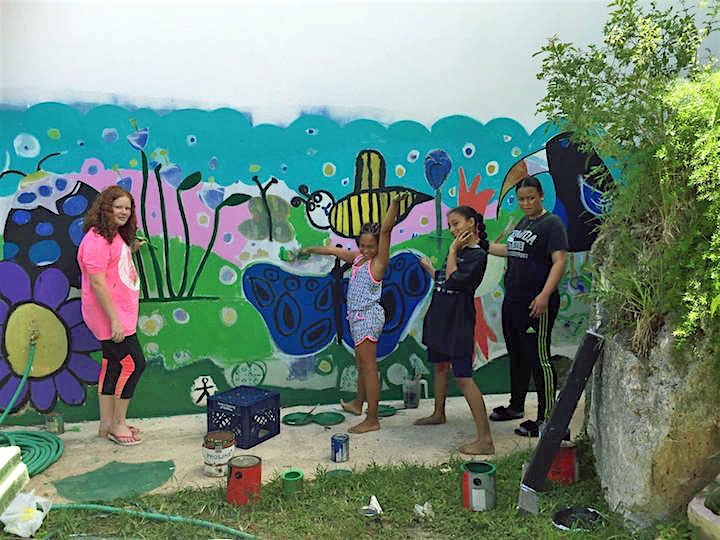 Did living and working in Bermuda present any challenges?
The racism and classism that pervade much of the society disturb me. There is considerable segregation among people of different classes and colors. Especially wonderful is how art-making helps to break this down and integrate so many individuals, who — otherwise — would not interact. I also found the cost of living very high. Everything is expensive. A loaf of pre-packaged white bread can cost $7.00 — easily twice what it would cost in NYC.
Did your experiences as an artist-in-residence atThe Masterworks Museum of Bermuda Art influence or impact your personal aesthetic?
Yes! I began creating what I refer to as "dubbed art"   I would adopt other artworks or aesthetic sensibilities and fuse them with my own. The results were a kind of abstract meditation.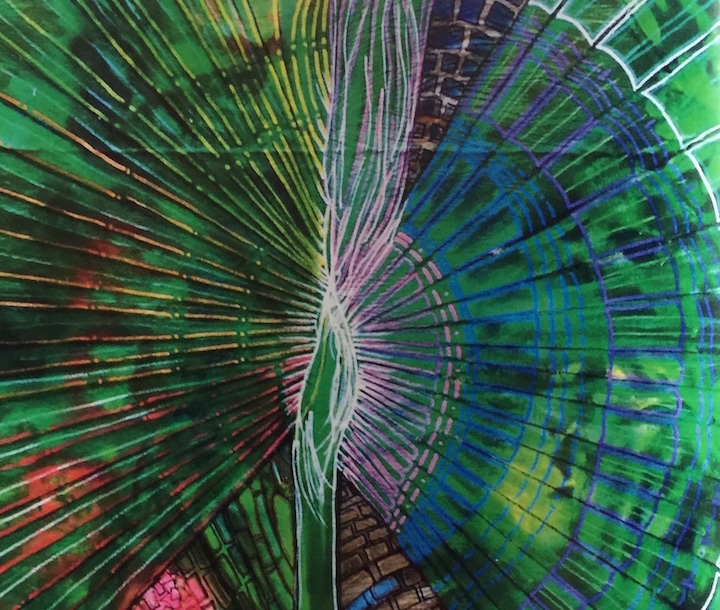 How did folks you encountered in Bermuda respond to you and your artwork?
The response was wonderful. Everyone was so welcoming. I believe I was conceived in Bermuda! I think of it now as my "spiritual home."
Note: A selection of Lady K Fever's new line of accessories and handbags can be purchased at the Bronx Museum of the Arts' gift shop and at the upcoming Bronx Museum Artisan Market on Saturday, December 9th. You can check out Lady K Fever's Etsy shop here and keep up with her on Instagram here.
Interview conducted by Lois Stavsky and Bonnie Astor. All photos courtesy of the artist.