Born in Guyana and currently based in Bed-Stuy, Brooklyn, self-taught multidisciplinary artist Shayne Bovell fashions an extraordinary range of elegantly raw art on a a variety of surfaces. I recently had the opportunity to find out a bit more about one of my long-time favorite artists.
When did you first start drawing?
I was in the first grade at PS 181 in East Flatbush. I never did any schoolwork. I was always bored in class and wanted to kill time. I needed something to do, and I feel now that I always had an innate need to create. It is something I must do.
What were your some of your early inspirations?
I was into all these comic book superheroes and characters…Spiderman, Batman, GI Joe. I was also inspired by the Alien Legion science-fiction comic-book series and the Star Wars comics.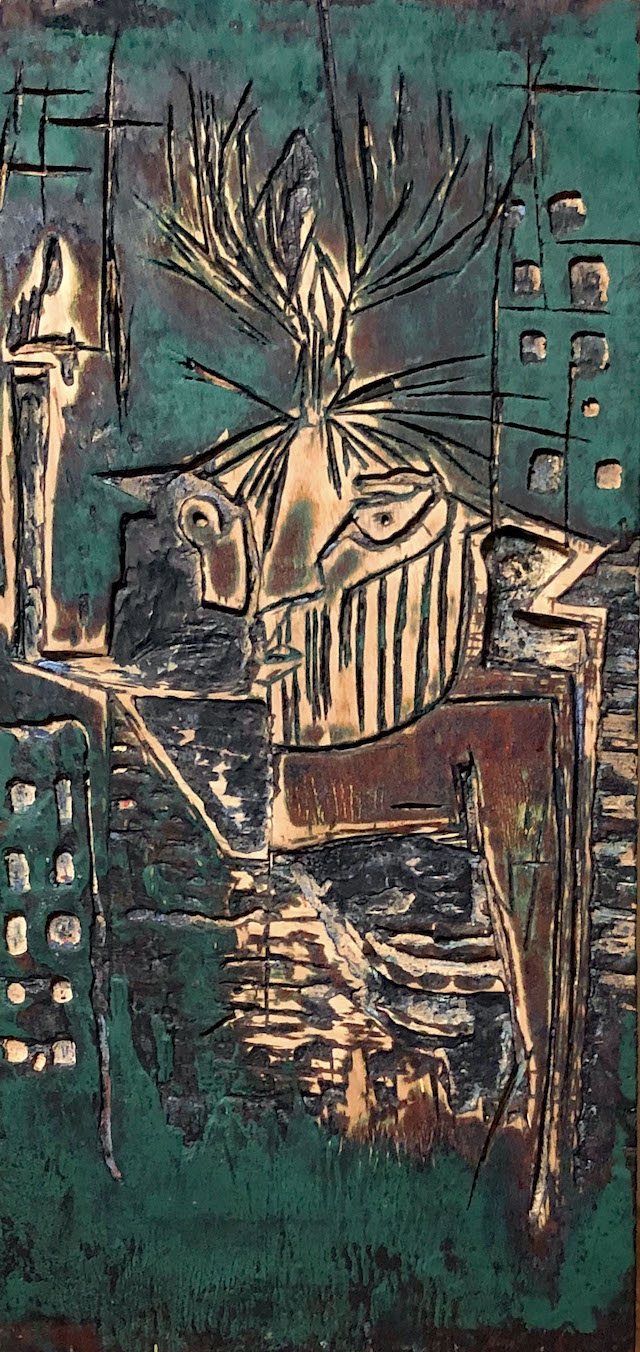 Who are some of your favorite artists these days?
Among them are: Frank Miller, Jae Lee, Tom McFarlane and Mark Rothko.
What about cultural influences?
Besides comic books, skateboarding and Thrasher Magazine.
How has your art evolved through the years?
It has more definition.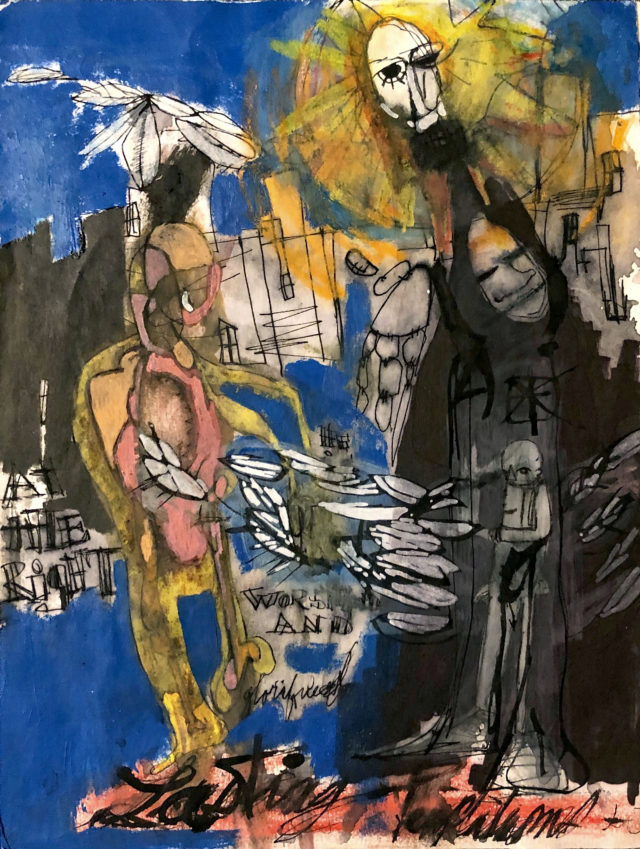 How long do you usually spend on a piece?
On average, about a month.
What percentage of your time is devoted to art?
All the time! When I'm not creating something, I'm thinking about it..
Have you exhibited your work?
Yes! I've exhibited in a range of spaces — from hugely informal ones to official galleries.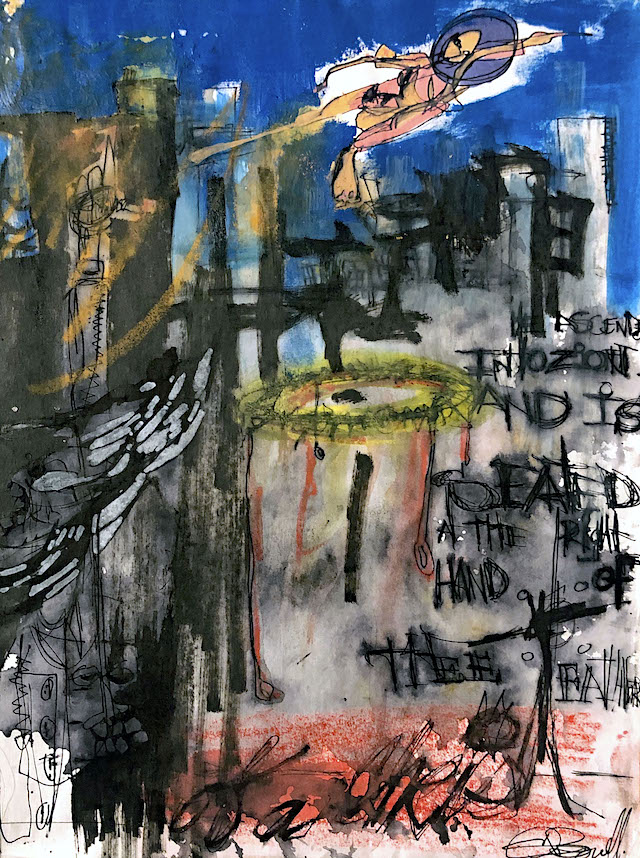 Are you generally satisfied with your work?
Yup!
Is the viewer's response to your work important to you?
No! Everyone is entitled to one's own opinion.
What is your favorite setting to work?
I like working at home.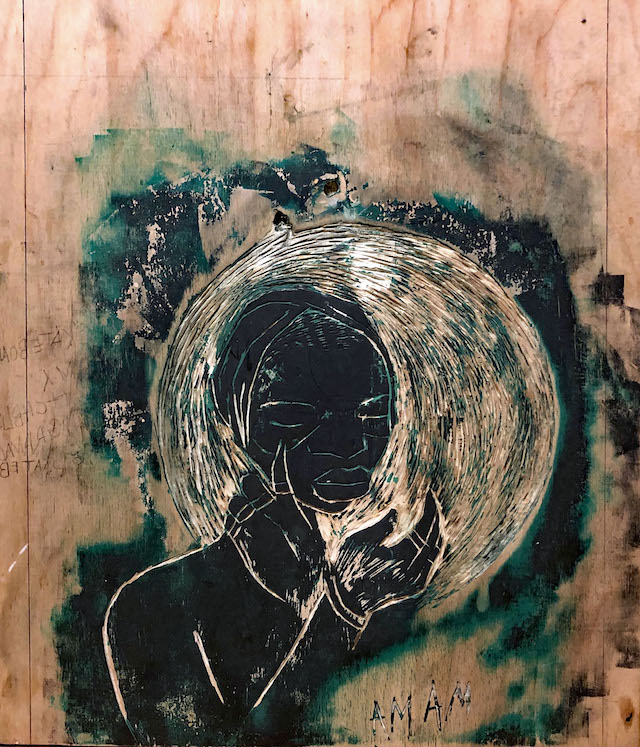 Have you any favorite media?
Acrylic.
Have you a formal art education?
I studied graphic arts at NYC Tech, but I'm largely self-taught.
What is your main source of income?
A range of freelancing – from making props to designing sets.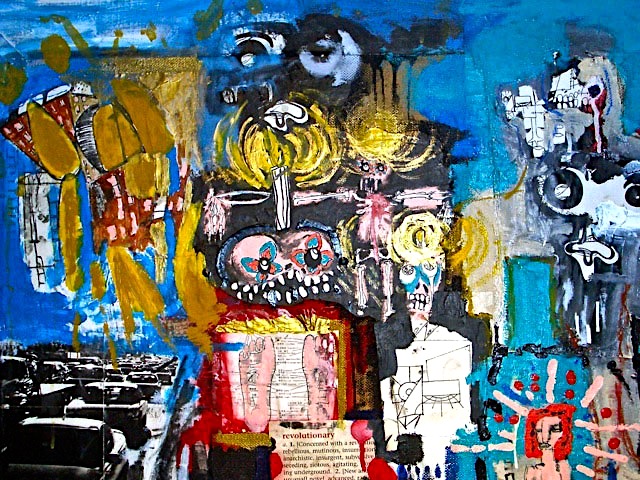 What's ahead?
The possibilities are limitless – from Hollywood to the moon.
What do you see as the artist's role in society?
A commentator, somewhat like a news reporter, but with a grasp of fantasy tinged with reality.
Note: A selection of Shayne Bovell's works remains on exhibit in "Unbound: Authentic Visions and Voices" at The Local NYC, 13-02 44th Avenue, in Long Island City through February 27.
Interview conducted and edited by Lois Stavsky; photos of artworks by Lois Stavsky