Eight walls and three loading docks on the exterior of Yoho Studios now have a new look. Described by the artist as New Earth Hieroglyphs, the art brings Michael Cuomo's distinctly abstract, black and white spiritual aesthetic into the public sphere.
On our recent visit to Michael's studio, the artist gave us a tour of his newly created public art work, and we had the opportunity to pose a few questions to him:
When did you begin working on this project?
I began in mid-August. I've since spent 78 hours on 181 square feet.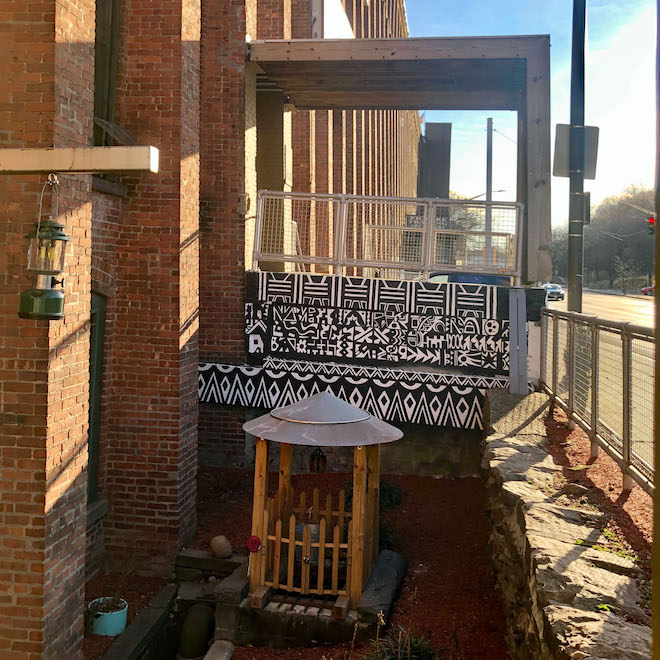 How did the opportunity come your way?
I was commissioned by Yonkers Arts, a first-rate organization dedicated to promoting local art, artists and cultural organizations throughout the City of Yonkers.
How did you decide on the theme?
I wanted to share with others the power of high vibrational frequency that these designs offer. I am honored to be able to present my artwork to the community on a main street, 578-540 Nepperhan Avenue, where thousands pass daily.
Your studio is one of my favorite spaces anywhere! How long have you been here?
It will be ten years this May. And in the course of these ten years, I witnessed this community develop into a focal point of creative energy.
You work mostly in your studio. What has it been like to change your working environment to an outdoor one?
It's great to be out in the elements. And I love the interaction with the people here. Many stop by to talk. Others honk their horns from their cars and give me a thumbs up while I'm working. I love it!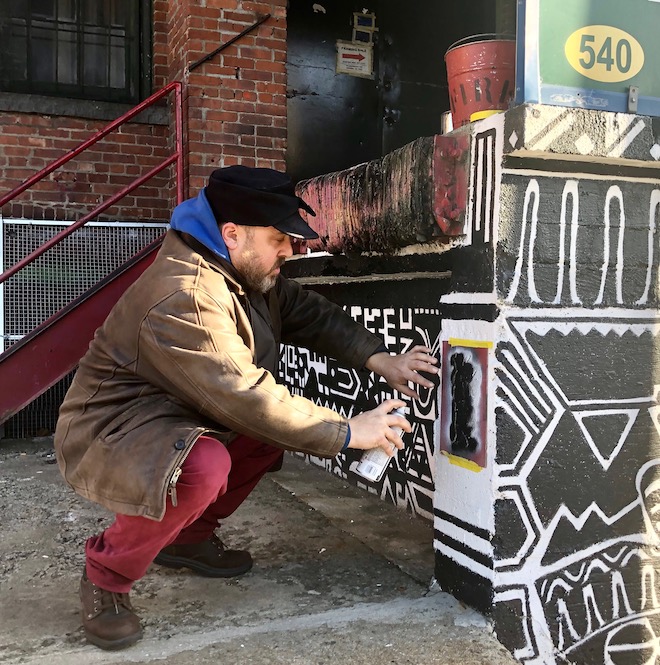 How do you feel about the final results?
I'm enthralled!
Interview by Lois Stavsky and Fawn Phillips
Photo credits: 1 & 3 Lois Stavsky; 2 & 4 Fawn Phillips
Note: A selection of Michael Cuomo's artwork will be on exhibit in "Unbound: Authentic Visions and Voices" at The Local NYC,13-02 44th Avenue in Long Island City, Opening with a reception on Thursday, January 9 at 6pm, the group exhibition continues through February 27.