Thoroughly intrigued by self-taught artist James Fisher Smith's energetic, abstract figurative art, I was delighted to have the opportunity to interview the young artist at Con Artist Collective, his current residency, on Manhattan's Lower East Side.
What are some of your early art-related memories?
Making a dwelling for fairies in my backyard in Nevada City, California. I was about 4-years old at the time. I also remember finger-painting in pre-school. My mom would tell me it's beautiful, but I would continue to work on it until it fell apart. And when I was in 1st grade, I illustrated a Goosebumps comic book. I would also spend long afternoons making elaborate fleets of starships out of geometric blocks that would face off each other.
Gee! You were quite precocious! What inspired you to continue making art?
The feeling I have when I do it. I feel as though I'm in a transcendental state, connected to myself and to the universe. It is my way of expressing myself…of making myself feel that I am worthy of life. I see my drawings as relics from a particular time and place.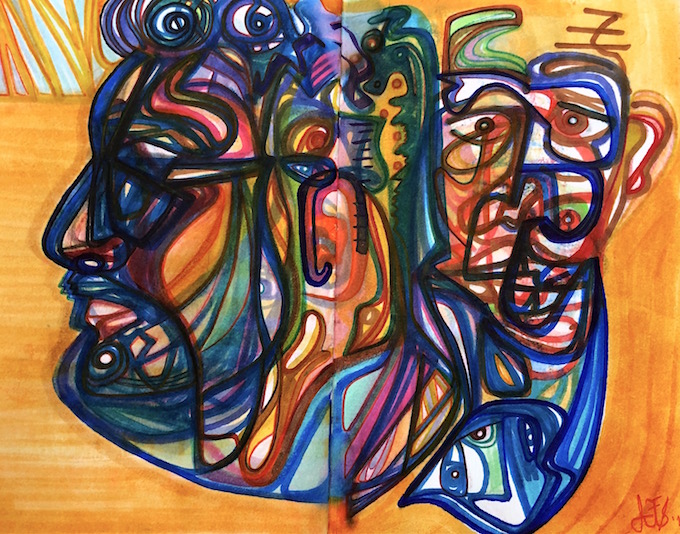 What about favorite artists? Who are some of your favorite artists?
There are many. Among them are: Egon Schiele, Zio Ziegler, Miró, Basquiat, Adolf Wölfli, Dubuffet, David Park, Francis Bacon, Giacometti and Lucien Freud.
And how about cultural influences? What are some of your cultural influences?
Backpacking, nature, the California Academy of Sciences in San Francisco, Gary Snyder, Utah Phillips and the stories I've heard from my dad, Jordan Fisher Smith.
How has your artwork evolved during the past several years?
Within the last two years, I've become quite serious. My art has become a means for me to communicate with others, rather than a narrative which I play out for myself.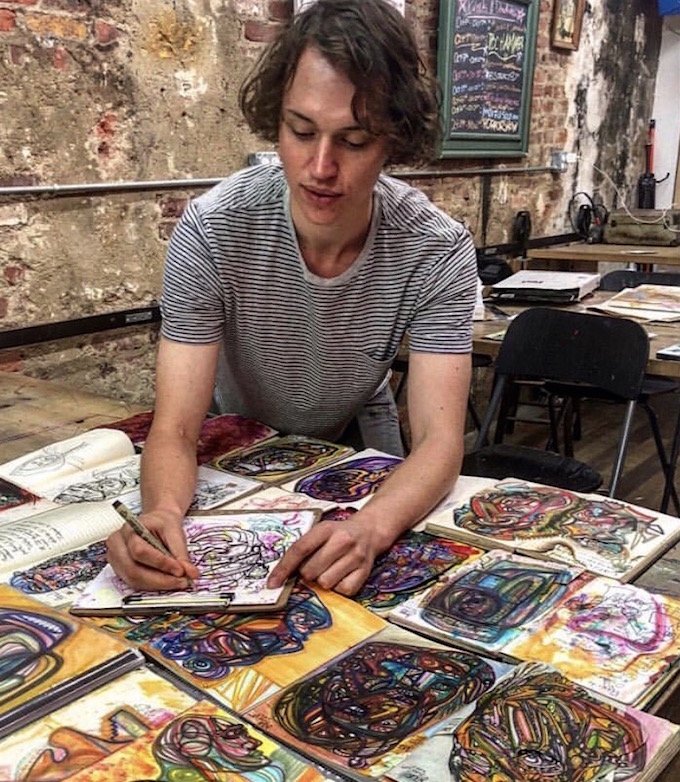 Are you generally satisfied with your work?
Always!
How long do you usually spend on a piece?
As little as two minutes or as much as 15 hours.
What percentage of your time is devoted to art?
About 90%.
What are some of your other interests?
Writing narrative nonfiction, reading artist biographies and going to museums, I especially love the Guggenheim. I also perform and draw caricature at UNDER St Marks Theatre in the East Village every Tuesday.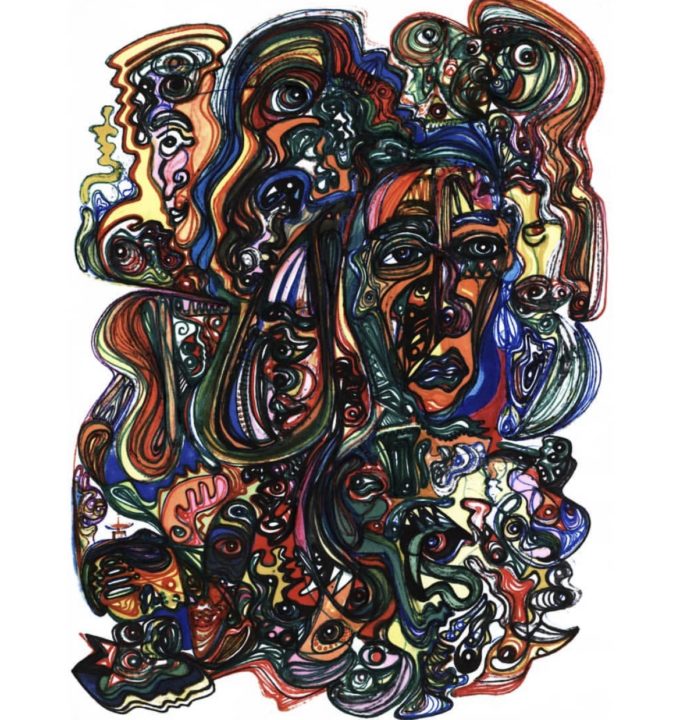 Have you exhibited your work?
I've shown in several spaces including: the Con Artist Collective, 49 Wyckoff, the Unruly Collective, and I participated in a group show called Ready Made Art Fair on White Street in Tribeca. Also, every time I ride the subway. I draw portraits of the passengers across from me and tape the paper up on the window behind. I love watching the portrait zoom away from the platform. I receive a lot of enthusiastic messages in response to these drawings. I think Keith Haring inspired me to put my work up on the subway in such a public way
How important is the viewers' response to you?
It depends. I want my work to leave an indelible print on people. I am interested in opening my heart to a stranger. I'm not interested in hearing a critical assessment of my work from someone who focuses on just one aspect of it and ignores the whole.
What is your favorite setting to work?
I often like to work in complete isolation while sitting in a park or somewhere close to nature. I also like my work to reflect the site that inspired it.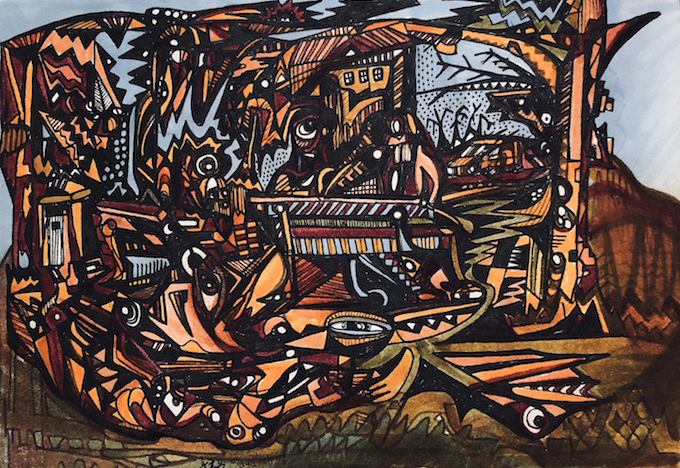 What are your favorite media? Which tools do you prefer to work with?
Ink on paper.
How has your family responded to your artwork?
 They love it! My grandfather comments on all my images. He sees me as the prodigal son.
Have you a formal art education?
Not a formal one. I attended weekly art classes as a child and I studied art for one semester at Reed College.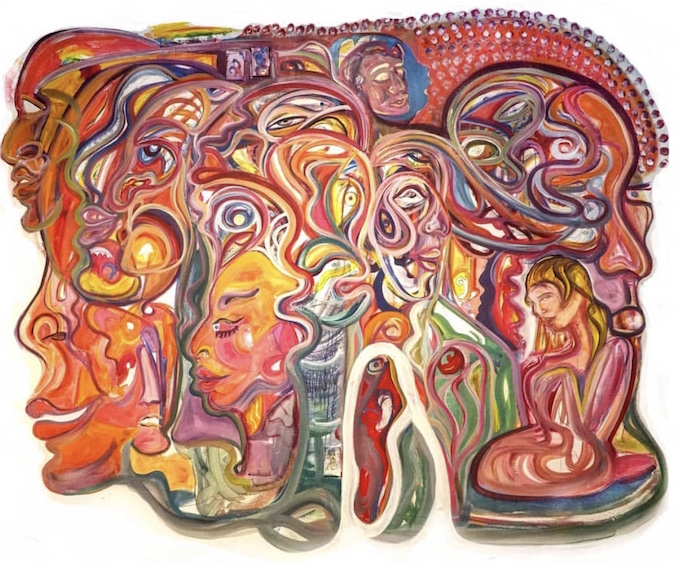 What's ahead?
I plan to release an art book of selected journal works in the next year. I'm already speaking with publishers. I love collaborating with artists of different schools, especially musicians. I'm designing several album covers and hope to do more of this. My scale is often small, but it's been getting progressively bigger. I did two large murals this fall and my process translated beautifully. I think painting is the next frontier for me.
What do you see as the artist's role in society? Your role?
To communicate to the public the intensity with which one can see and feel.
Note: You can contact the artist at his email [email protected]com or reach out via his Instagram.
Interview conducted by Lois Stavsky and Bonnie Astor