An active member of the Fountain House community, Bryan Michael Greene is a gifted artist with an intriguingly diverse body of work. We were delighted to have the opportunity to interview him:
When did you first start drawing?
I vividly remember drawing circles on a chalkboard back in 1980 at the Montessori school I had attended. I was seven at the time.
And why did you continue?
It got me recognition from my classmates, and I loved doing it. It was exciting! Every other kid wanted to be a doctor or a lawyer. And I was thinking, "I'll do this."
Had you a favorite subject back then?
My mom had bought me a book on how to draw monsters. And I was obsessed with dragons.
Have you a formal art education?
Yes. I have a BFA in Fine Art and an MFA in Computer Art from the School of Visual Arts.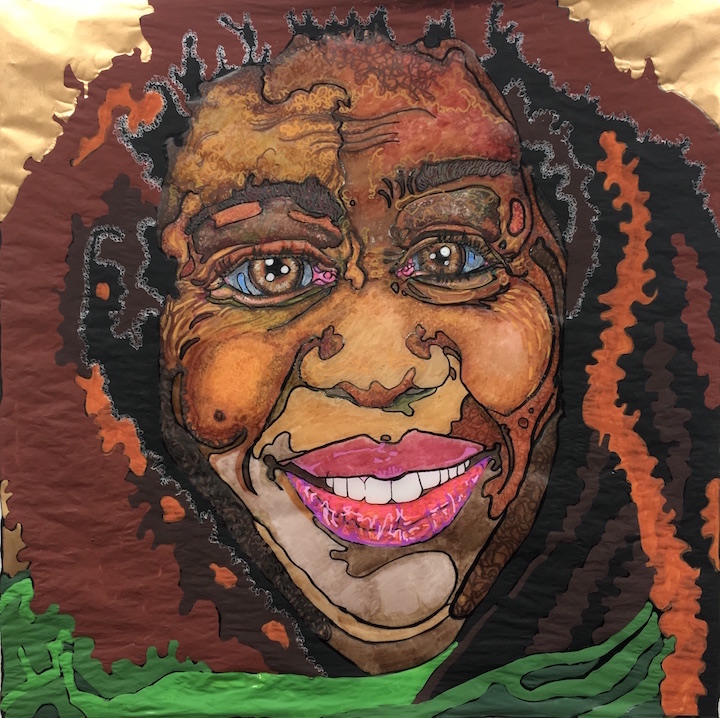 Who are some of your favorite artists?
Among them are: Chuck Close, Basquiat, Lucian Freud, Jacob Lawrence, Cecily Brown, Fairfield Porter, Lee Krasner, Joan Mitchell and Jack Whitten, who was my teacher at SVA.
Have you any particular cultural influences?
Not consciously, but my mother is German-Ukrainian and my father is African American.
How has your work evolved within the past few years?
I feel that I have found a style that I am comfortable with, but I am constantly trying to get better. I find myself more detail-oriented and process-driven.
Are you generally satisfied with your finished piece?
No! I often try to destroy it. I always find something I need to improve.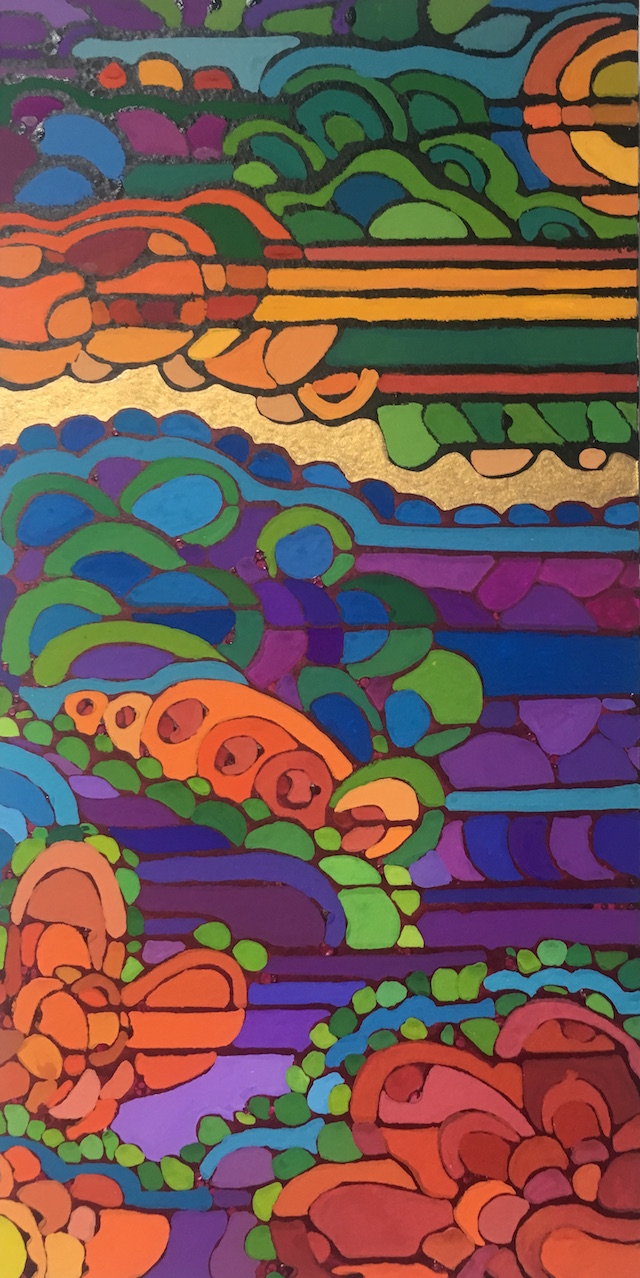 Have you any favorite piece that you've created?
Yes! I like my self-portrait. I like its sarcastic tone!
Have you any preferred media?
I like working with gouache.
How long do you usually spend on a piece?
It varies, depending on how close I feel it is to being finished.
What percentage of your time is devoted to art?
Now that I am working in an art store, I can only devote about four hours a day to it.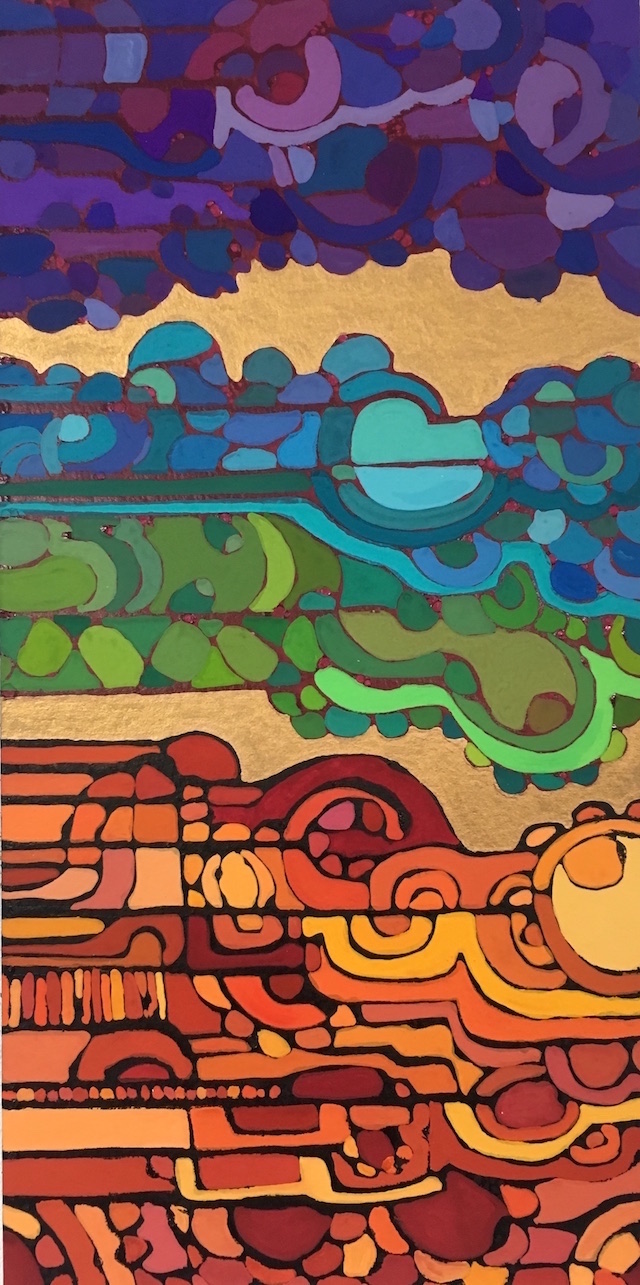 Have you any favorite setting to paint?
I love working outdoors…taking my easel to a public spot.
Have you any other particular passions?
Yes! I love fishing, which I do from our house in Montauk.
Where are you headed?
I am focusing now on small landscape paintings.
We discovered your talents at the Fountain House Gallery. How did you connect to Fountain House?
I was introduced to Fountain House by a friend Gail Freed, who is an art therapist and artist. Fountain House Gallery has helped me make an entry into a very competitive and humbling community, the New York Art Scene. Thanks to Ariel Willmott and Amanda Suarez, my artistic life has taken its first baby steps.
And how has this connection with Fountain House impacted you personally?
Fountain House has provided me with the platform to grow and understand my schizophrenia on a personal level. Not everything I experience is real. Things I hear are not always coming from outside my mind. The real and unreal are now definable. I can realize what is a symptom or hallucination.
Do you feel that your schizophrenia has affected your art? If so, in what ways?
I do. Schizophrenia is a confusing and distracting disability.  I find I don't focus like I used to. I focus in a different way now. Instead of brush stroke by brush stroke or mark by mark, I make a plan how to attack the project one studio session at a time. Maybe that's a good thing. To be able to have a goal for the day and reach it is rewarding.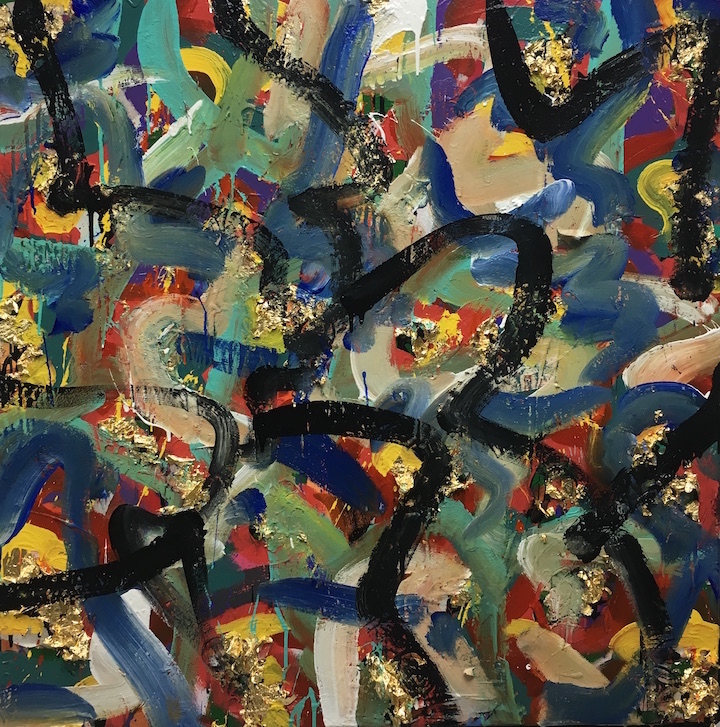 Have you exhibited your work in other settings, in addition to Fountain House Gallery?
Yes, I've shown in several galleries including Ashawagh Hall in in East Hampton, The White Room Gallery in Bridgehampton, The Blue Door Gallery in Yonkers and The Greenpoint Gallery in Brooklyn.
What do you see as your role as an artist?
Perhaps to alter reality. The artist's role is a complicated one.
All images courtesy of the artist: 1 Self Portrait; 2 Portrait of Karen Gormandy; 3, 4 & 6 Abstracts & 5 Boat
Note: You can contact the artist directly via his website and follow him on Instagram here. Several of the Bryan Michael Greene's works are, also, available for purchase through Artsy
Interview conducted by Bonnie Astor and edited by Lois Stavsky