Currently on view at the Bronx Museum of the Arts is "Bronx Calling: The Fifth AIM Biennial" featuring over 65 artists who took part in the 2018 and 2019 cycles of the Bronx Museum's AIM (Art in the Marketplace) Fellowship program. In this richly diverse visual meditation on our current uncertain times, the artists on exhibit grapple with a range of issues from the personal to the political in varied styles and media.
The image featured above is a close-up from a huge, commanding mural, "Protest and Counter Protest," crafted with latex, acrylic paint and crayon by the multidisciplinary, socially-conscious artist Jesse Kreuzer. Representing the current divisiveness in American society that has at times turned violent, it spans eight plywood panels.
Several more images from "Bronx Calling…" follow:
Puerto Rican visual and teaching artist Carlos Wilfredo Encarnación, one of several mesmerizing images on exhibit from his ongoing series "Florido (Flowery)," Polyptych of annatto powder, acrylic, gouache, spray paint, tissue paper on wood panels. The artist states, "I construct symmetrical patterns of imaginary connections between my memories, motherland and myself…I mediate with my identities as a spiritual/gay/Puerto Rican/man, seeking for them to coexist."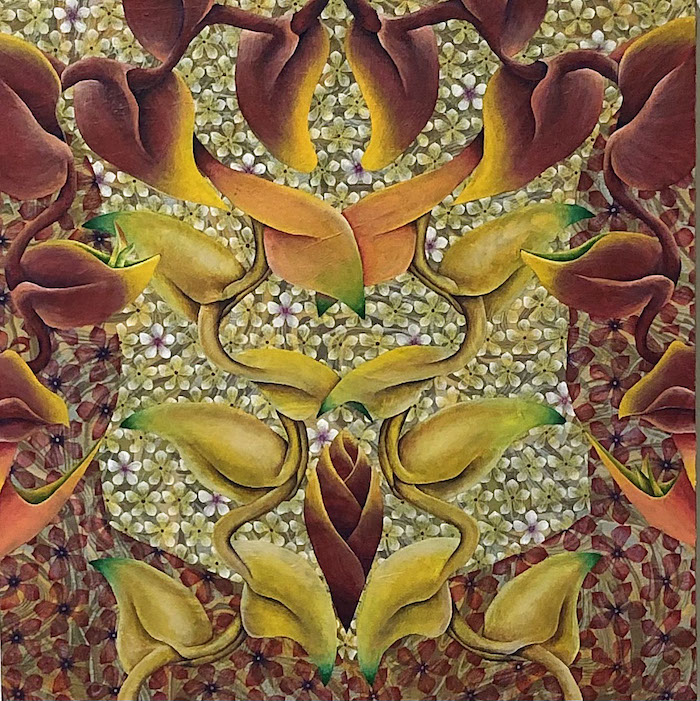 Buenos Aires-born, Tel Aviv-bred and New York-based artist Gabriela Vainsencher, "Mom," Porcelain. Described by the artist as a self-portrait that began as a small drawing, it was inspired by living through the Covid-19 pandemic, during which she cared for her daughter and worked from home "doing all the mom things…".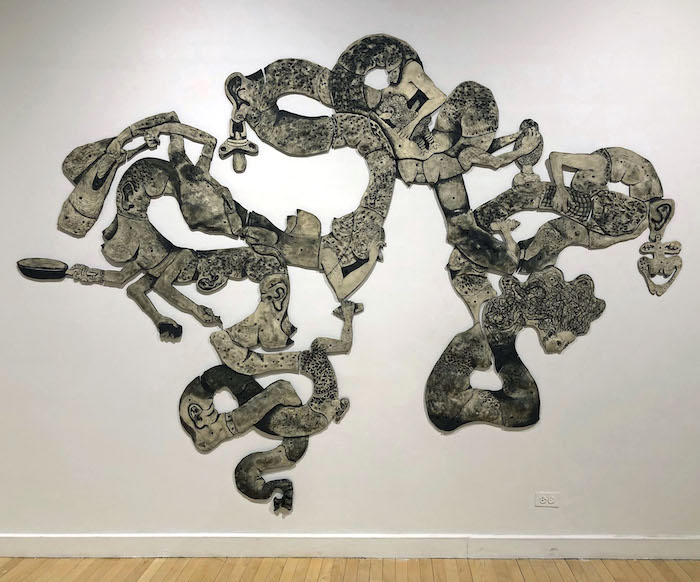 Brooklyn-based, Chilean-born visual artist and educator Catalina Schliebener Muñoz, close-up from "Satanic Panic Series," site specific mixed-media installation in which the artist draws on images, objects, and narratives associated with childhood and explores gender, sexuality, and class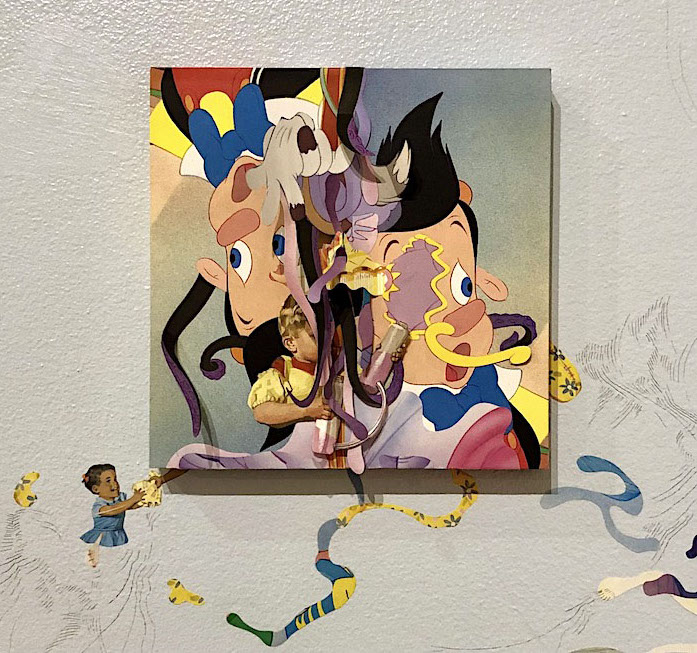 Brooklyn-based artist and arts educator Katherine Toukhy — whose work is largely inspired by her Egyptian ancestry — close-up from "The lies she didn't think she knew emerged into something true," Mixed-media installation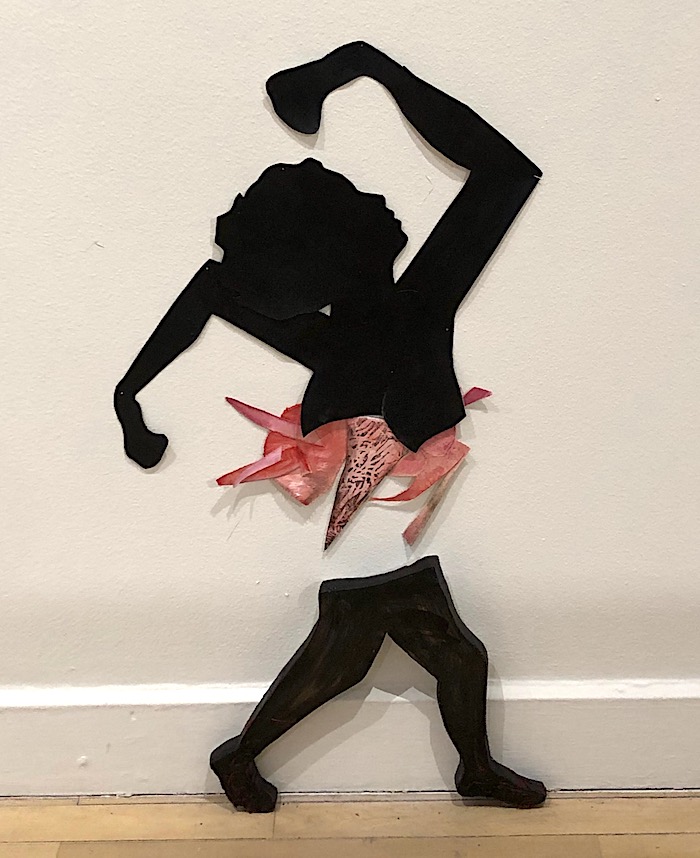 Interdisciplinary Puerto Rican artist and scientist Ricardo Cabret — whose work fuses the disciplines of computer science, code and painting –"Tierra destruida (Destroyed Earth)," Gel polymers, marble dust, acrylic paint on canvas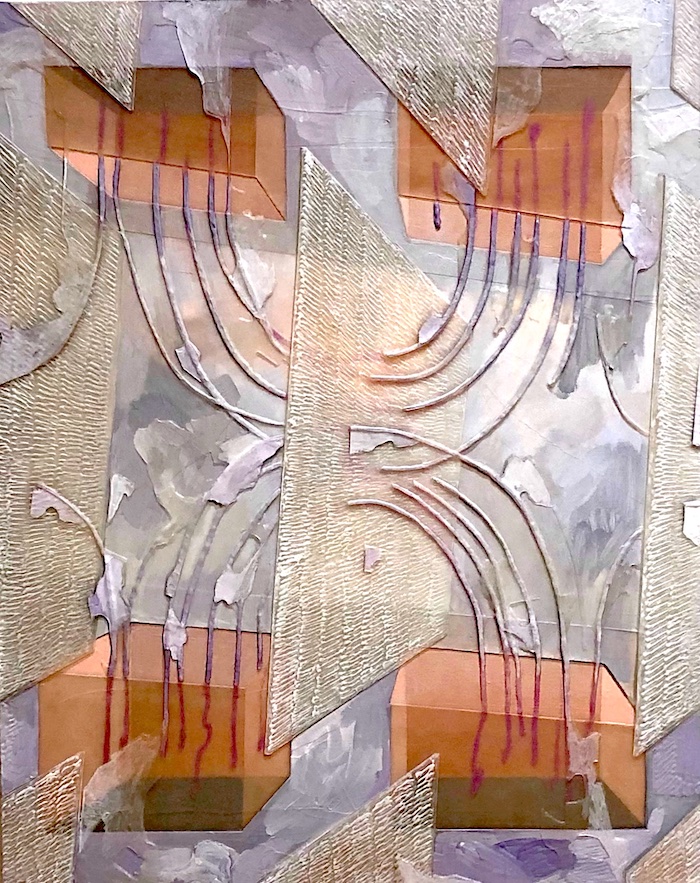 Mexico-native interdisciplinary artist Gabino Abraham Castelán — whose work largely reflects the "histories of subjugation and the worker experience," — "Our Mothers Have Not Abandoned Us," Mixed media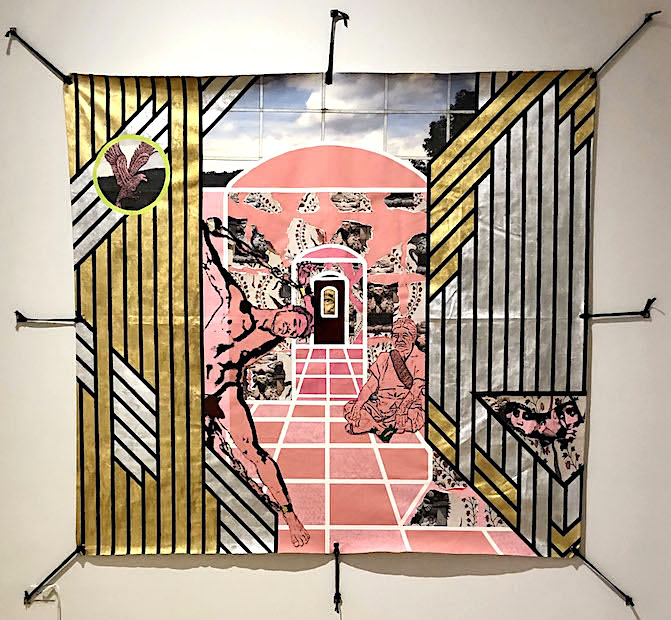 Co-curated by Ian Cofre and Eva Mayhabal Davis, the exhibition continues through March 20. Located at 1040 Grand Concourse, the Bronx Museum' is open 1:00 to 6:00 PM, Wednesday to Sunday. Admission is free, but all visitors must reserve a ticket. You can reserve your ticket HERE.
Photos of images by Lois Stavsky