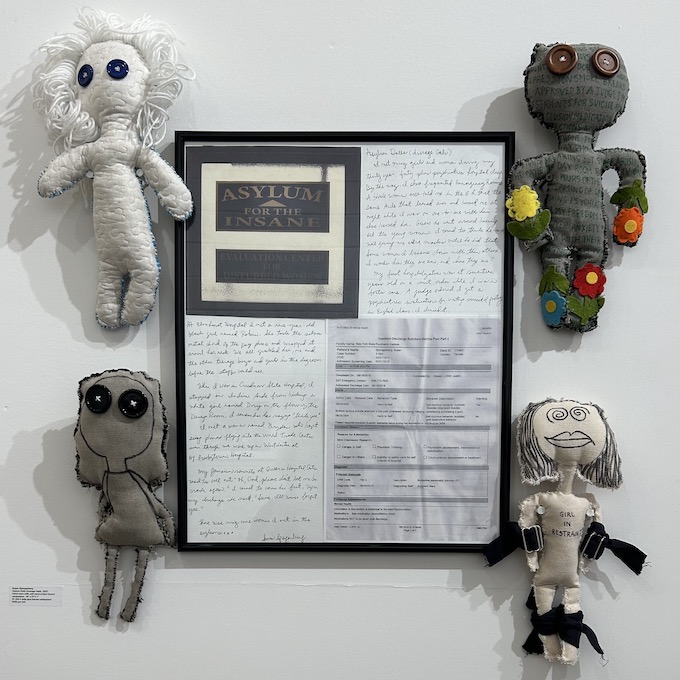 Curated by Fountain House Studio Director Karen Gormandy and by Fountain House Gallery artists Issa Ibrahim and Boo Lynn Walsh, "Truth Tellers" presents a wide range of visual responses — by both Fountain House artists and LIC-A members — to both personal and societal issues.
Featured above is Asylum Dolls (Average Gals), four hand-sewn dolls with a handwritten framed centerpiece, fashioned this year by the self-taught Fountain House Gallery artist Susan Spangenberg. Several more artworks in varied media on exhibit in "Truth Tellers" follow:
Fountain House Gallery artist Miguel Colon, "Crawling Man with Onlooker," 2023, Flashe on canvas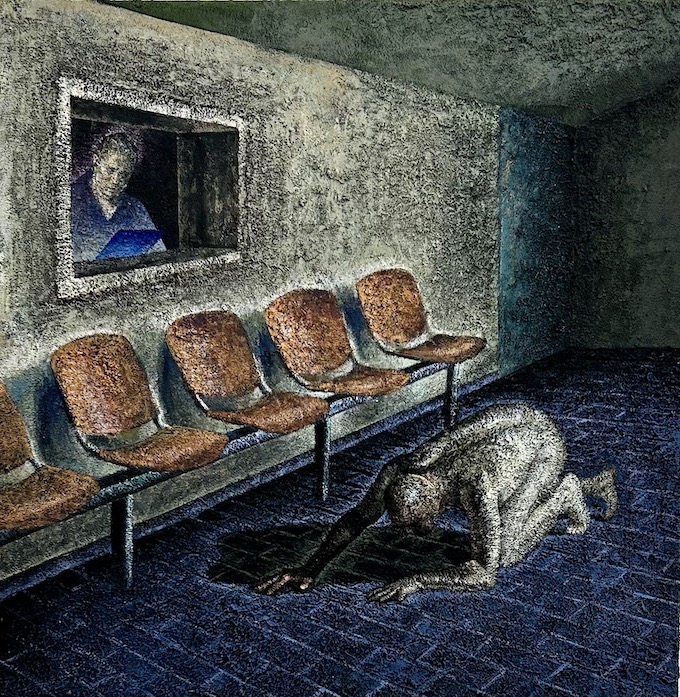 NYC-based LIC-A member Richard Meyer, "Refugee," 2022, Oil and collage on panel
LIC-A member Lori Horowitz, "Traveling Through the Time of Covid," 2021, Colored Pencil on monoprint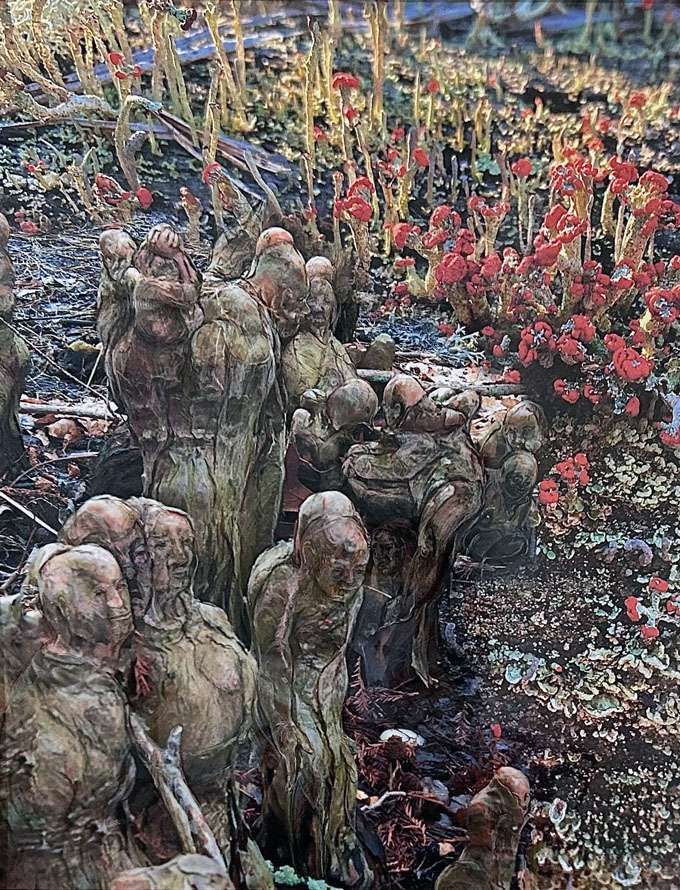 LIC-A member Elinore Schnurr, "In Our Mind's Eye," 2011, Oil on linen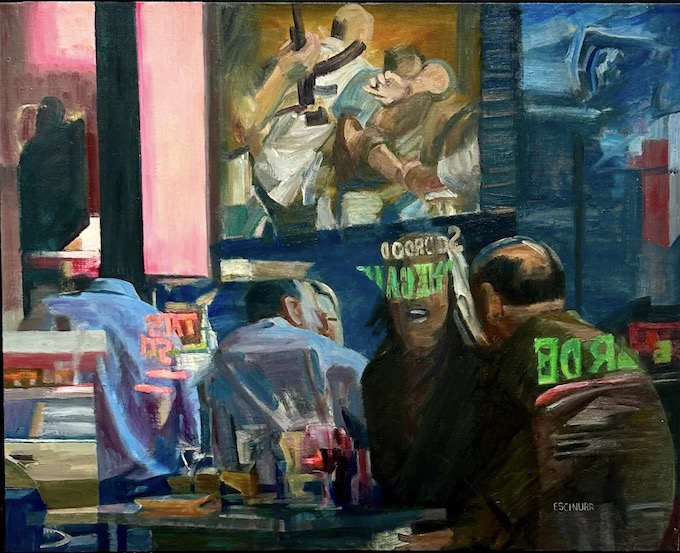 LIC-A member Karen L. Kirshner, "Asylum Seekers," 2019, Acrylic on canvas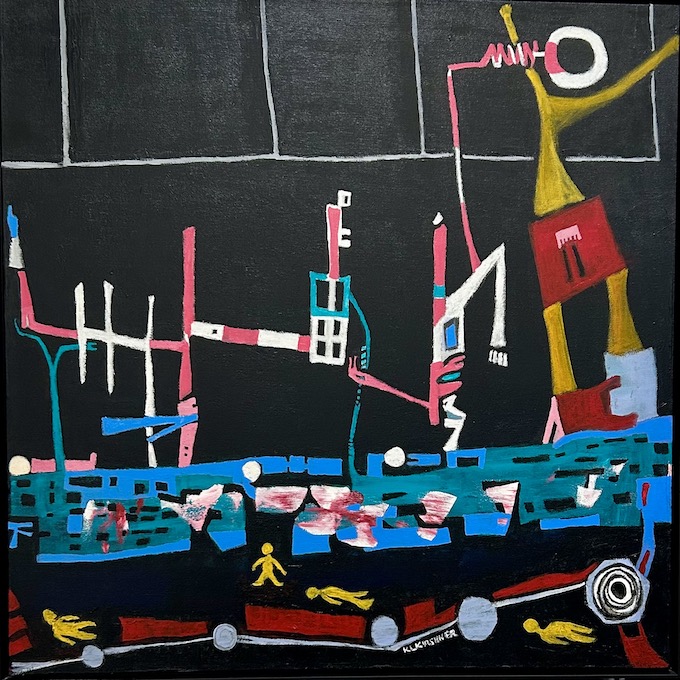 Fountain House Gallery fiber artist Alyson Vega, "American Flag Disclaimer Statement," 2019, Fabric and ink, machine sewn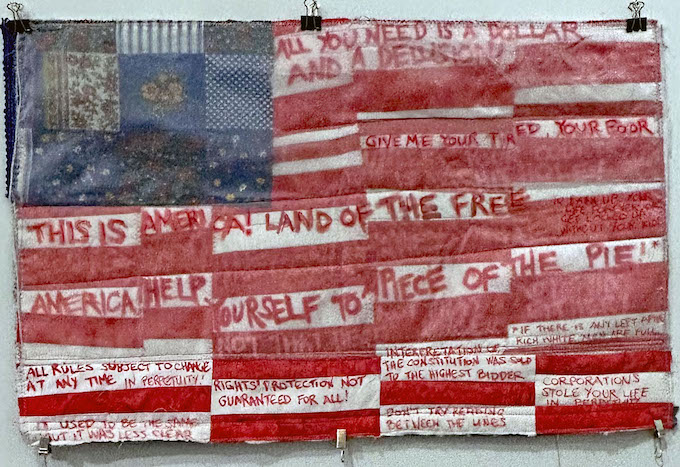 ART BreakOUT cofounder and LIC-A member Bonnie Astor, "Sticks and Stones," Hand-made book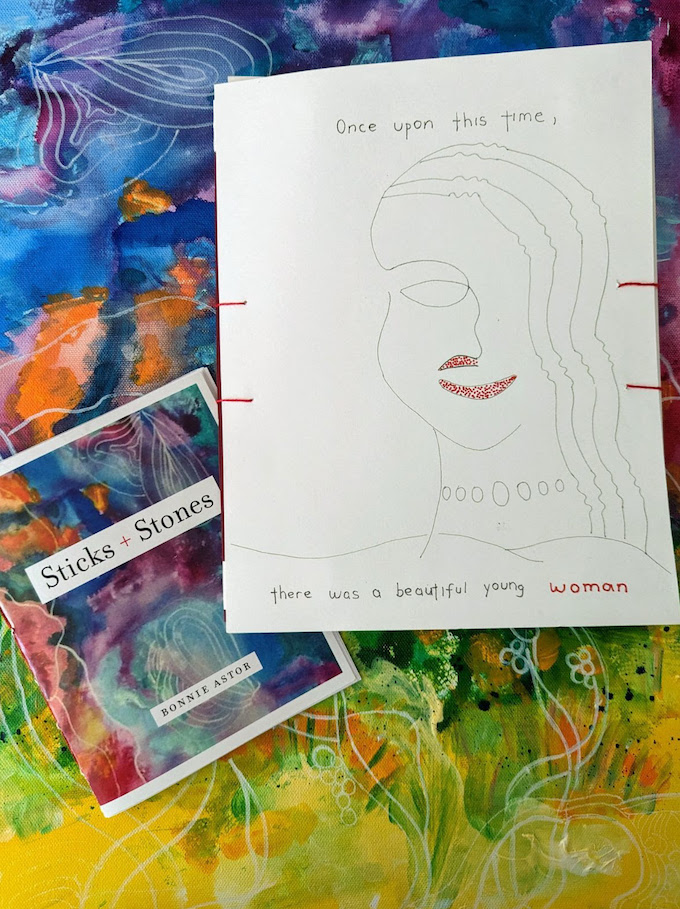 Reading from her book, Bonnie will be accompanied by music and interpretive dance tomorrow, Saturday, June 24, from 6-8pm — along with other performances in conjunction with "Truth Tellers." And in addition to tomorrow evening's performances, there will be a Curators Panel on Saturday, July 1, 6pm-8pm.
The Factory LIC is located at 30-30 47th Avenue in Long Island City, Queens. Gallery hours are Wednesday through Saturday, 10am-6pm.
Note: Fountain House Gallery and Studio provides an environment where artists living with mental illness can express their creative visions, exhibit their work, and challenge the stigma that surrounds mental illness. LIC Artists, Inc. is a non-profit arts advocacy organization founded by artists and incorporated in 1986 in Long Island City.
Photos: 1-7 Lois Stavsky and 8 courtesy of LIC Artists, Inc.