It is difficult to perceive of our nation's punitive prison system as an incubator for creativity and inventive aesthetic processes. But for some prisoners it has become just that. Creating art is their means to liberate themselves from the confines of their captivity. It provides them with a positive identity, respect, camaraderie and even some income from commissions. Marking Time: Art in the Age of Mass Incarceration, brilliantly curated by Nicole R Fleetwood, presents the works of 44 artists — all with deep ties to our dysfunctional prison system.
The image featured above, Portrait of Rodney Spivey-Jones, was fashioned by the formerly-incarcerated, self-taught, Philadelphia-based artist Russell Craig. Constructed with paint, cow blood, book pages and leather on canvas, the portrait pays homage to Rodney Spivey-Jones, a currently incarcerated artist, who received his bachelor's degree from Bard College in 2017 through the Bard Prison Initiative. Several more images from this soulful, wonderfully expressive exhibition follow:
A segment from "Apokaluptein 16389067" — masterly crafted from 2010-2013 with prison bed sheets, transferred newsprint, color pencil, graphite and gouache — by the formerly incarcerated, Philadelphia-based multidisciplinary artist and activist Jesse Krimes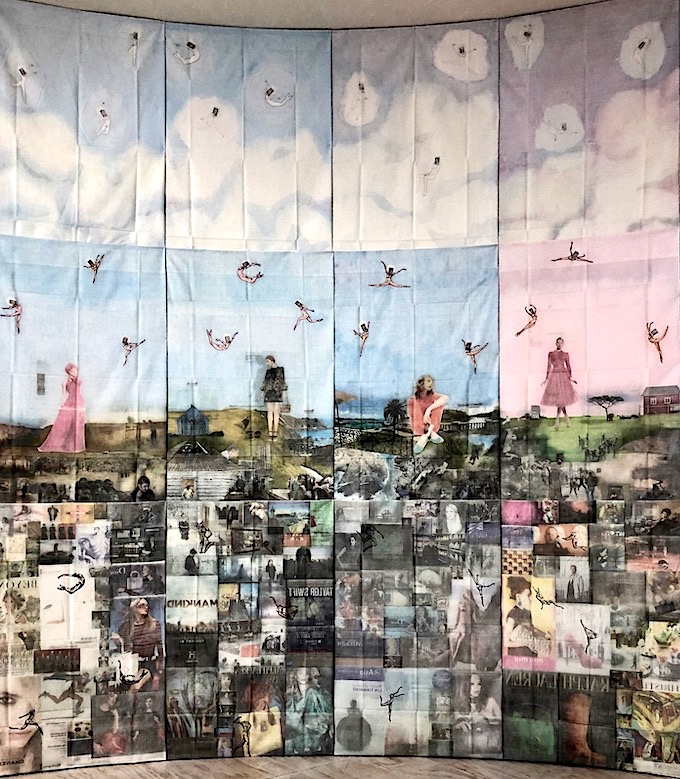 Self-taught, formerly incarcerated, South Carolina-based, multidisciplinary artist Jared Owens, "The Go Back," 2020, Ink, soil from prison yard at F.C.I. Fairton, and parachute cloth on canvas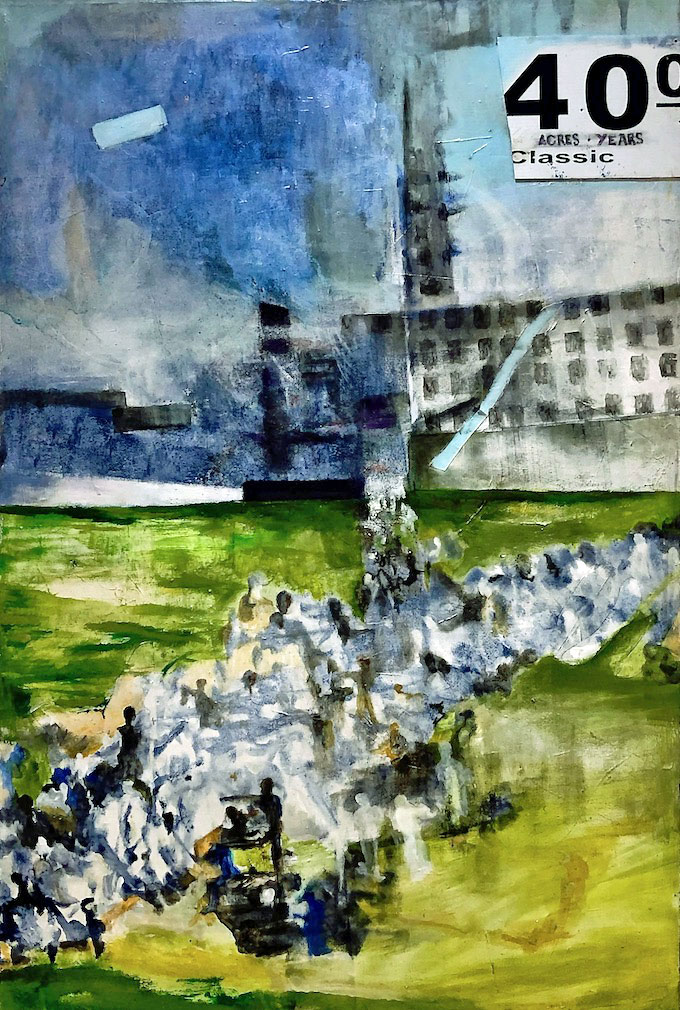 San Quentin State Prison–incarcerated artist and musician Gary Harrell, "Restore Justice," 2019, Linocut on paper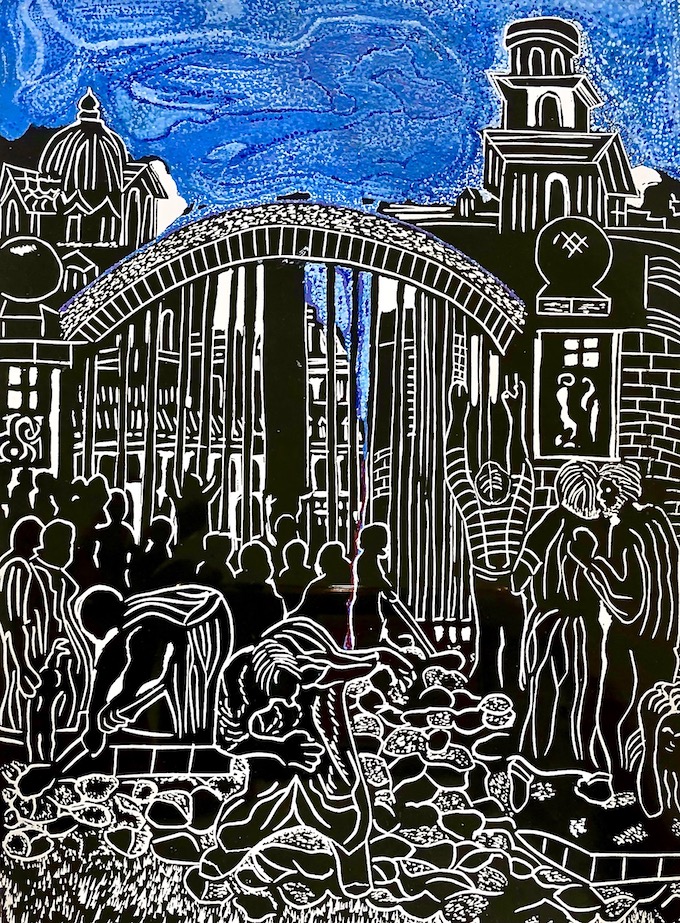 Puerto Rico-born, Brooklyn-based, formerly incarcerated, self-taught artist Gilberto Rivera, "Untitled," 2020, Newspaper, caulk, silicone, spray paint, acrylic and markers on canvas, one of three panels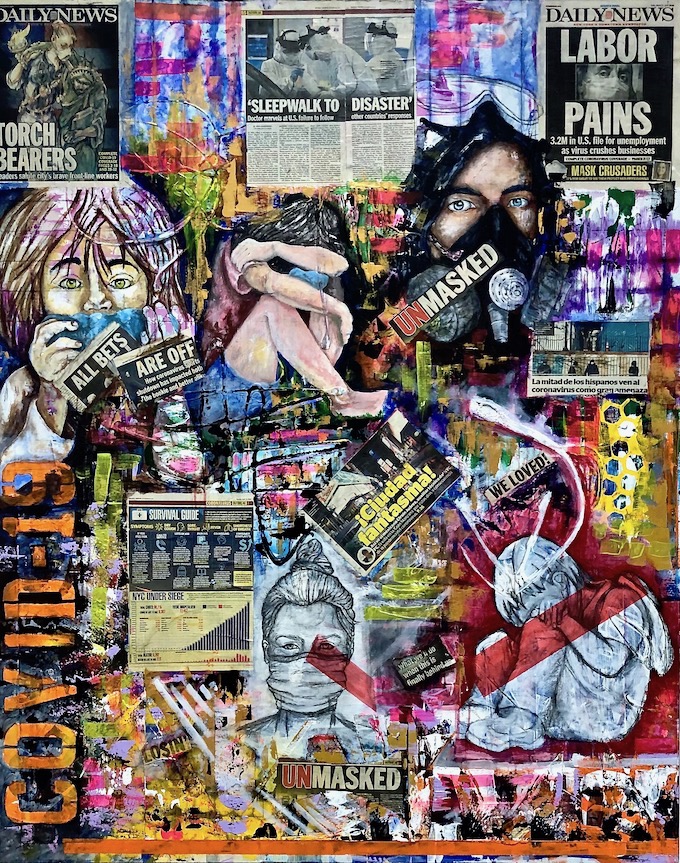 Formerly incarcerated artist Ronnie Goodman –– who tragically died this past August on the streets of San Francisco's Mission District — "San Quentin Arts in Corrections Art Studio," 2008, Acrylic on canvas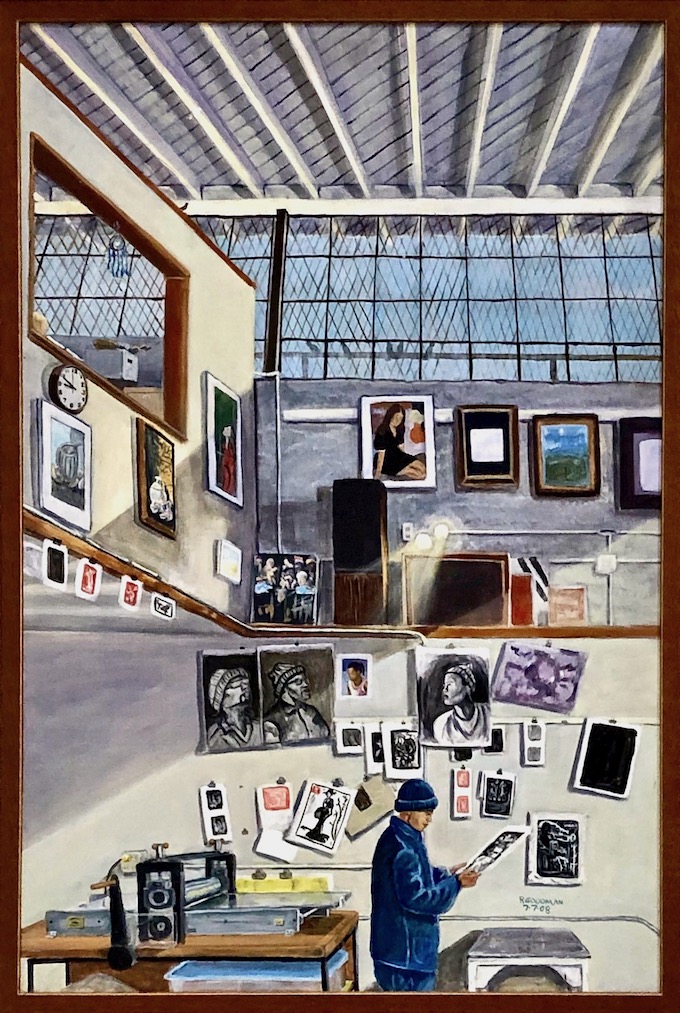 Pennsylvania-based incarcerated artist Mark Loughney, "Pyrrhic Defeat: A Visual Study of Mass Incarceration," 2014–present, close-up from a series of 651 graphite drawings on paper of fellow inmates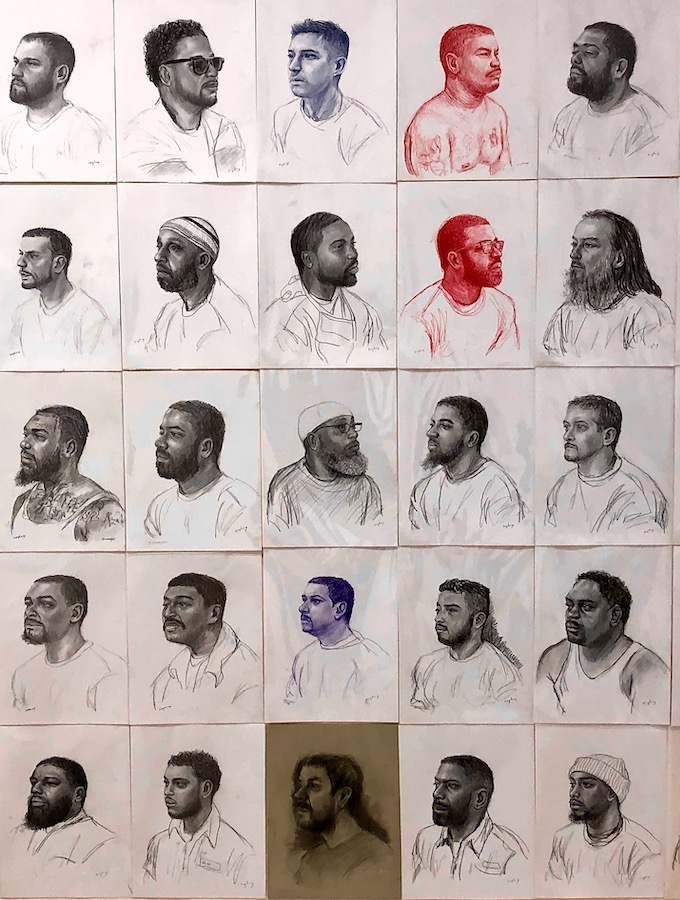 This must-see exhibition continues through April 4. 2021 at MoMA PS1 in Long Island City, Queens. For further information and to reserve a timed ticket, check here.
Photos of images: Lois Stavsky