I came upon George Mannouris's distinct visionary aesthetic while visiting Arts Educator Fawn Phillip's Fresh Art NYC class at St. Margaret's House earlier this fall. I was delighted to have the opportunity to interview him.
When did you first start drawing? And what inspired you at that time?
I was about 7 and living in Cyprus, where I was born. I was inspired by nature. Beautiful mountains, beaches and fields of golden grain surrounded me. And the sky at night was spectacular!
Do any early art-related memories stand out?
Yes. When I was 12, Turkey invaded Cyprus, and war broke out. I witnessed a massive explosion. The Turkish army was dropping bombs on civilians, and – at the time – I was in front of a glass door that exploded into a million pieces and knocked me over. I landed on my back. My hands and face were bleeding, and I had to flee for my life. I could not look back. That day I became a refugee. I soon began creating art — much of it abstract — that reflected that incident. It was my way of dealing with the intense trauma.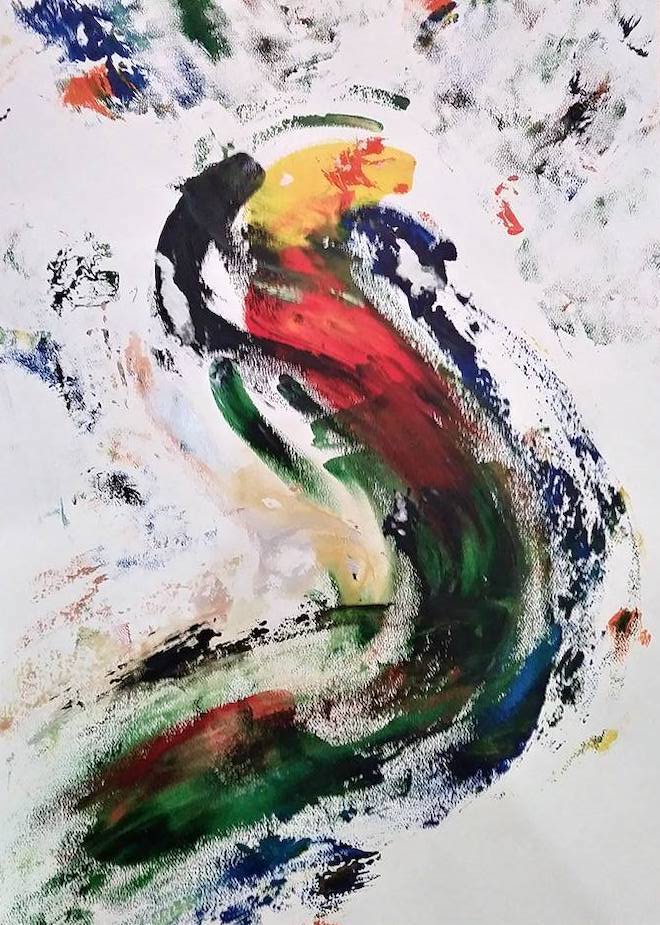 Who are some of your favorite artists?
Van Gogh, Picasso, and Dali are among my all-time favorites. I also love Hilma af Klint, Takashi Murakami, Yayoi Kusama, Georgia O'Keefe, Mondrian, Marc Chagall, Giorgio de Chirico, Jackson Pollock, and Alex Grey.
Wow! That's quite a huge range. What about cultural influences?
I'm strongly influenced by indigenous cultures throughout the world. Ancient Egyptian, Indian, Chinese and Japanese aesthetics – along with my Greek culture –are also strong influences.
How has your art evolved since you began to seriously work on it?
My art has taken on a fantastical bent. I am better able to express my creative energy. I continue to work with some wonderful art therapists like Christen Meyer.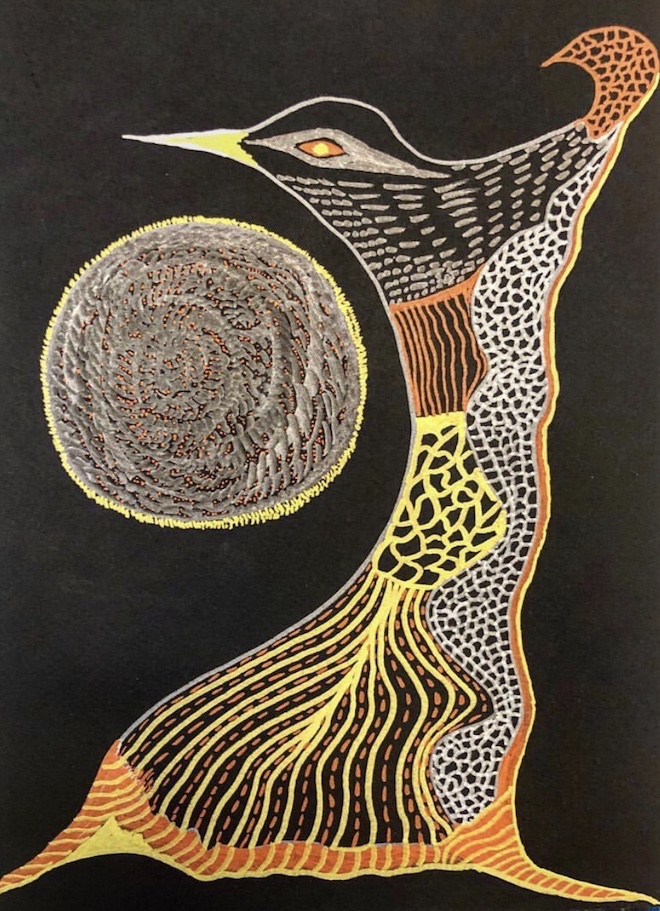 How long do you usually spend on a piece?
Anywhere from two hours to two months.
What percentage of your time is devoted to art?
Just about every day, I do something artistic. I'm also into photography.
What are some other activities that interest you?
Singing, composing music and writing poetry.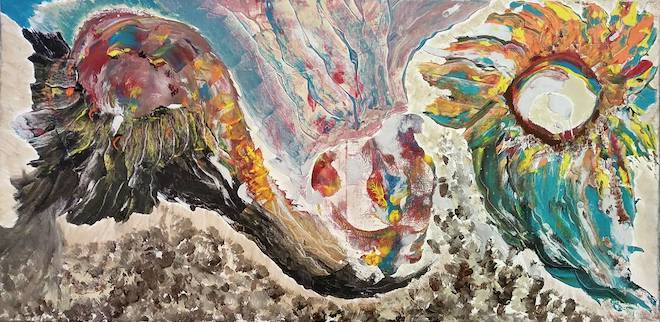 Have you exhibited your work?
Yes! I've shown my work in a variety of spaces including the Buddhist Culture Center, the New York Public Library and the James Cohan Gallery. I've also exhibited in alternative spaces in London and in Aukland, New Zealand and in a special exhibit following a workshop at MoMA.
Are you generally satisfied with your work?
I work until I'm happy with it.
Is the viewer's response to your work important to you?
I'm interested in how others perceive it, what it evokes in them. What's important to me is that they react to it.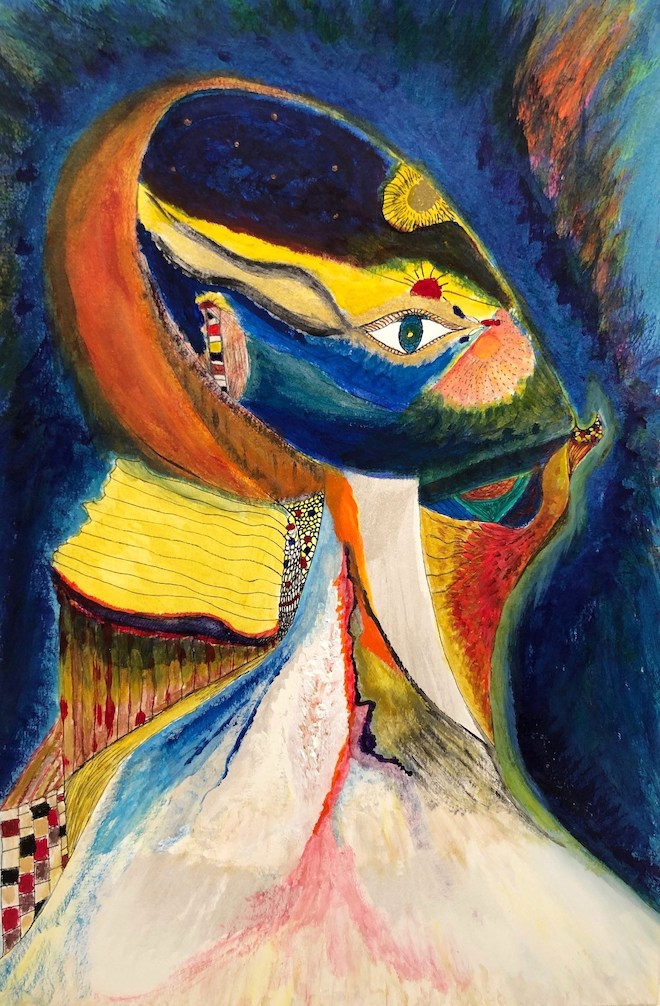 What is your favorite setting to work?
Any space with good lighting.
Have you any favorite media?
Watercolor inks, acrylics and metallics.
Have you a formal art education?
No. I'm self-taught.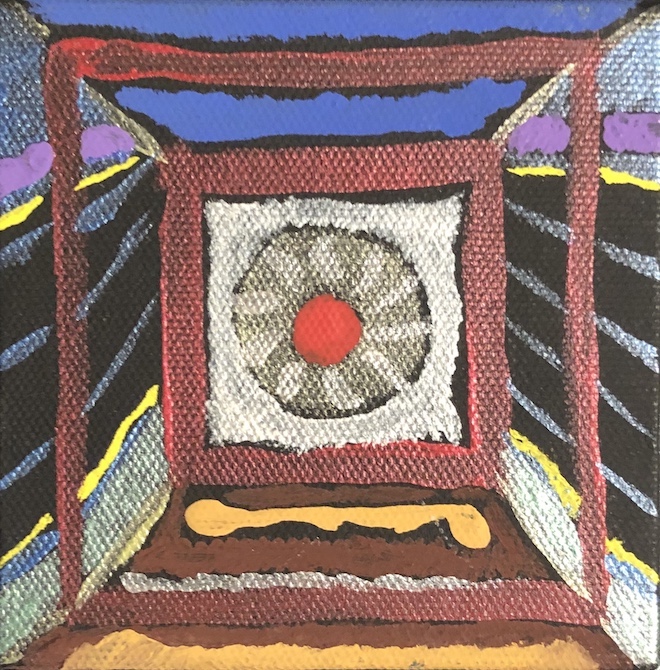 Where are you headed?
I'd like to attain more recognition and eventually exhibit in museums.
What do you see as the artist's role in society?
The artist's role is to speak truth to power…to express realities and to liberate our personal realities.
Interview conducted and edited by Lois Stavsky
Photos: 1, 3 & 6 Lois Stavsky; 2, 4 & 5 courtesy of the artist