Last month, while visiting HaMiffal — a key Jerusalem-based art and cultural center — I came upon the distinctly engaging and authentic aesthetic of the young Arabic-Israeli artist Shade Twafra. Eager to find out a bit about him, I posed several questions to him.
When did you first begin drawing?
I first started to draw when I was in kindergarten. I especially loved drawing shapes. I was four years old.
What is your earliest art-related memory?
When I was five years old, I drew a bird. It was a wonderful feeling.
What inspired you to keep creating art?
Due to a somewhat difficult health condition, I spent a moderate amount of time in the hospital's children's ward. While there, both my mother and the hospital staff encouraged me to keep making art.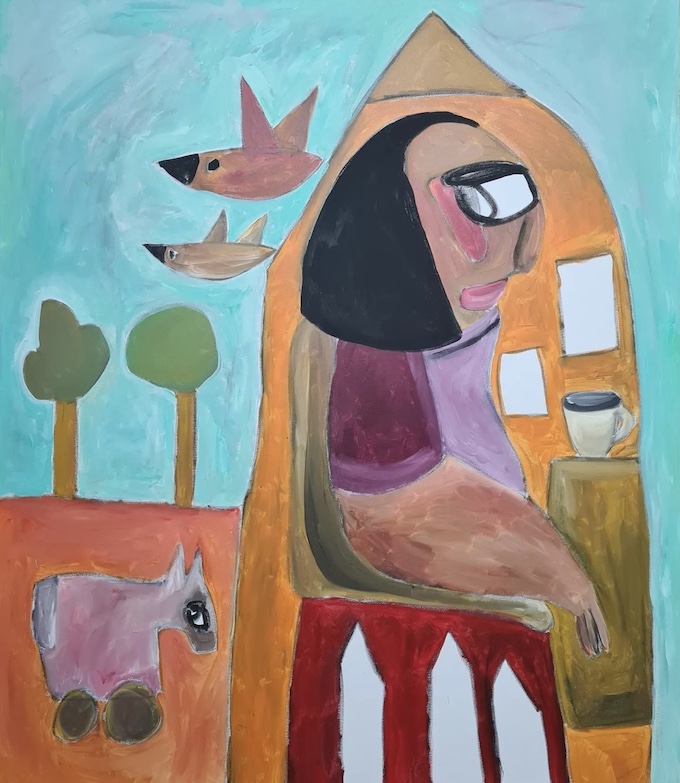 Is there a central or overall theme that ties your work together?
The yearning for joy, hope and freedom. That's why there is a bird in just about every piece that I create. It has accompanied me since my childhood. And characters and animals, in general, intrigue me — real ones and imaginary ones. All of my characters reject violence in all its forms.
How has your artwork evolved in the past several years?
My styles keep evolving, expanding and they sometimes merge. I don't restrict myself to any one style, although my work is often classified as "abstract expressionism" and "impressionism."
Have you any favorite artists?
Yes. Among them are: Henri Matisse, Vincent van Gogh and Pablo Picasso.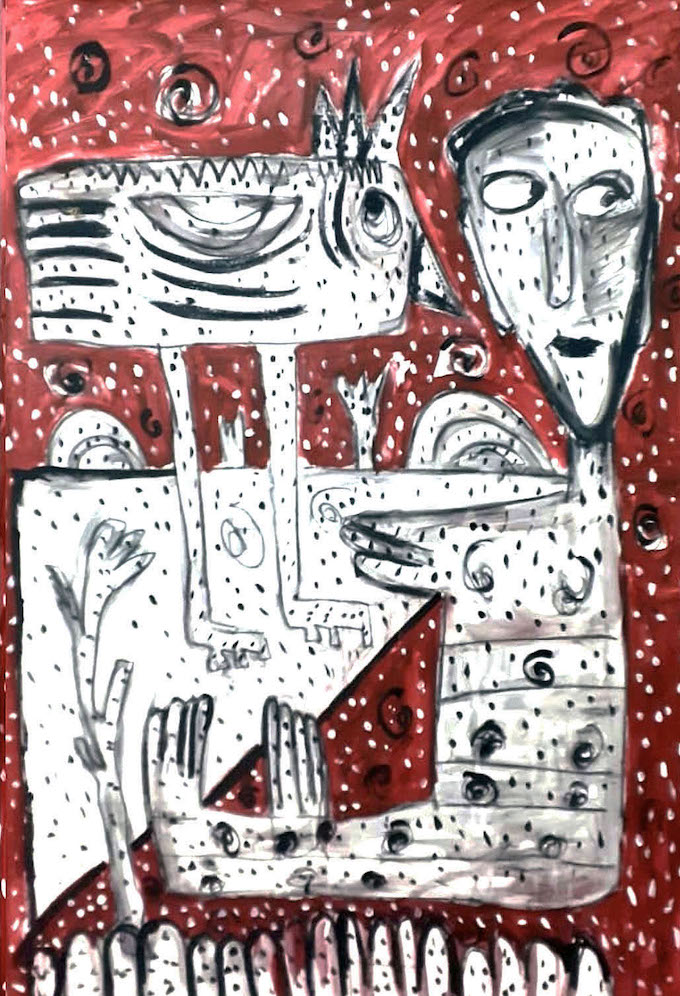 Are you generally satisfied with your work?
Yes!
Have you a favorite piece that you've created?
My favorite work visually envisions the early marriages of three girls. It was exhibited at the Janco-Dada Museum in Ein Hod.
How much time do you generally spend on a piece?
That depends on the topic. The average is about three days. I don't tend to work on a single piece at any one time.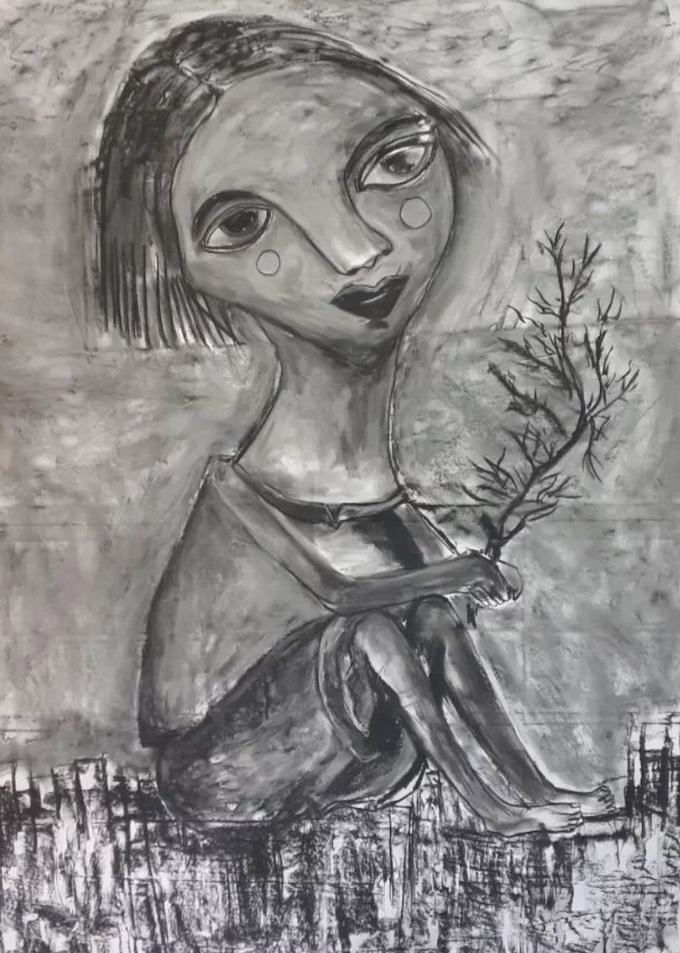 What media do you especially like to work with?
My favorite media are black coal, colored charcoal, ink and acrylic. I also like working with unconventional materials like black coffee.
What percentage of your time is devoted to art?
About 80%
What are some of your other interests or hobbies?
I love cooking popular Arabic dishes and, sometimes, sweets. And I love to read. Favorites include: the late Egyptian Nobel Prize winner Naguib Mahfouz; the Syrian poet Nizar Qabbani, and the late Palestinian poet Mahmoud Darwish. I also, on occasion, like reading about art.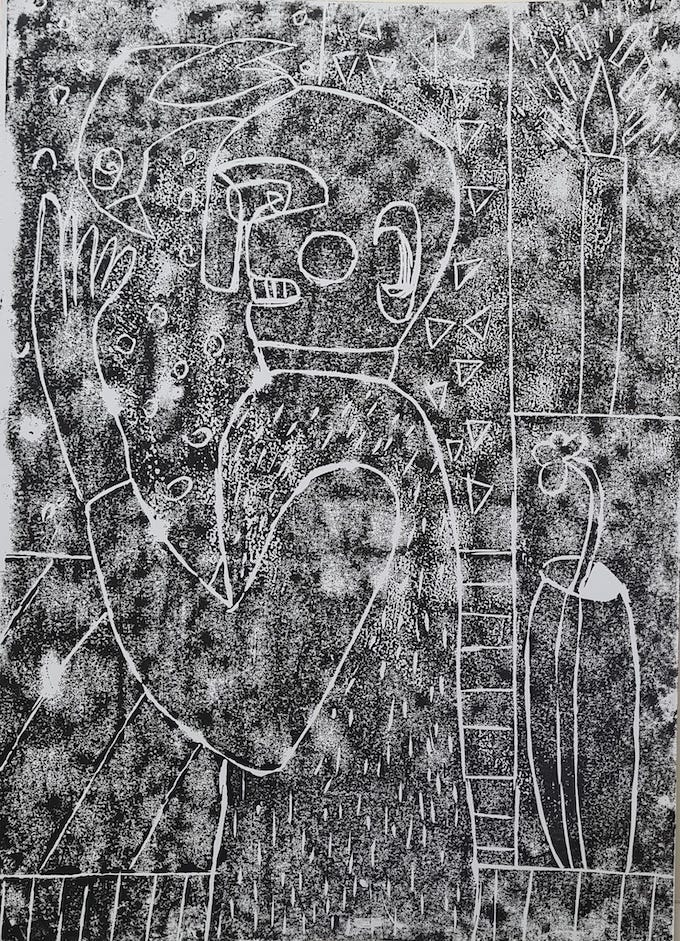 I discovered your work in Jerusalem at HaMiffal. Where else have you shown your work?
In addition to my exhibition at Janco-Dada Museum in Ein Hod, I've had solo exhibits at: Almacén in Jaffa; Ibdaa Gallery in Kfar Yasif, and at the Carmiel Municipality Gallery in the Galilee. I've also participated in close to 20 group exhibitions. Recent ones include: "Square One" in the Lotan Gallery in Jaffa; "The Spirit of Things" at the N.D. Gallery in Ramat Gan; the Multidisciplinary Art Festival at the Pyramida in Wadi Salib, Haifa and The Hybrid Art Fair in Madrid.
How important is the viewers' response to you? Is it important that they like your work?
Yes, I care about how others feel about my art works. I want to hear their response, even if it's negative.
How does your family feel about your passion for art?
My family feels good about it!
Have you had a formal art education?
Yes, I hold a Bachelor's Degree in Art from Sakhnin College in the Galilee, and I graduated from Tiltan College of Design and Visual Communications in Haifa. But I do feel that most of my talent has been with me since my childhood.
Where are you headed?
To the wider world!
What do you see as the role of the artist in society? And your personal role?
The artist's role is to inspire people to hold onto their hopes and dreams, and my personal role is to encourage those who have talent to keep achieving.
Interview conducted and edited for clarity by Lois Stavsky; photo credits: 1 Lois Stavsky, 2-6 courtesy of the artist