I first met Nazir Hedgepeth several weeks ago while I was walking along Broadway in Bushwick. He was sitting alongside several artworks that he had recently fashioned on a range of repurposed surfaces. I was at once intrigued by their raw outsider aesthetic. We more recently met up on the Lower East Side, where I had the opportunity to find out a bit about him.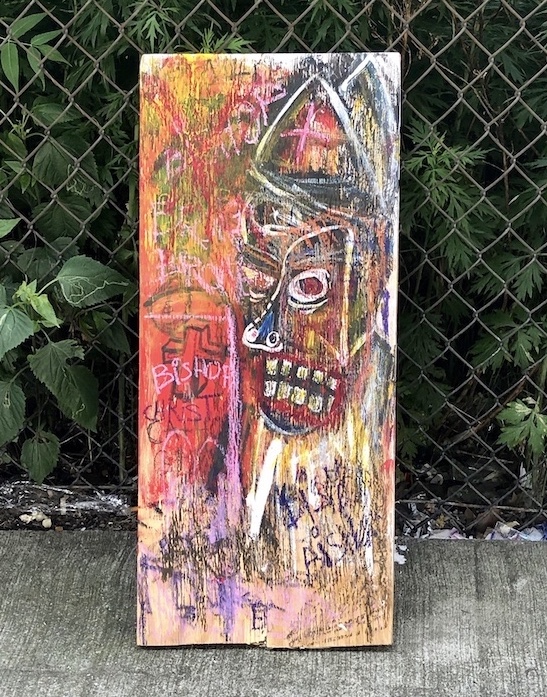 When did you first begin to draw?  And what did you draw at the time?
I was seven or eight when I started drawing cartoons. I spent a lot of time watching Looney Toons on TV, and so I was always I drawing those Looney Tunes characters with crayons and pencils.
Did you share your art with anyone back then?
I remember sharing a drawing of me buttering toast. I liked it so much that I showed it to everyone.
Have you any other early art-related memories that stand out?
When I was nine years old, I broke my left hand while wrestling. While I was in Harlem Hospital, I met a painter who introduced me to sketching. He told me that I should paint or draw what I feel. I remember that vividly.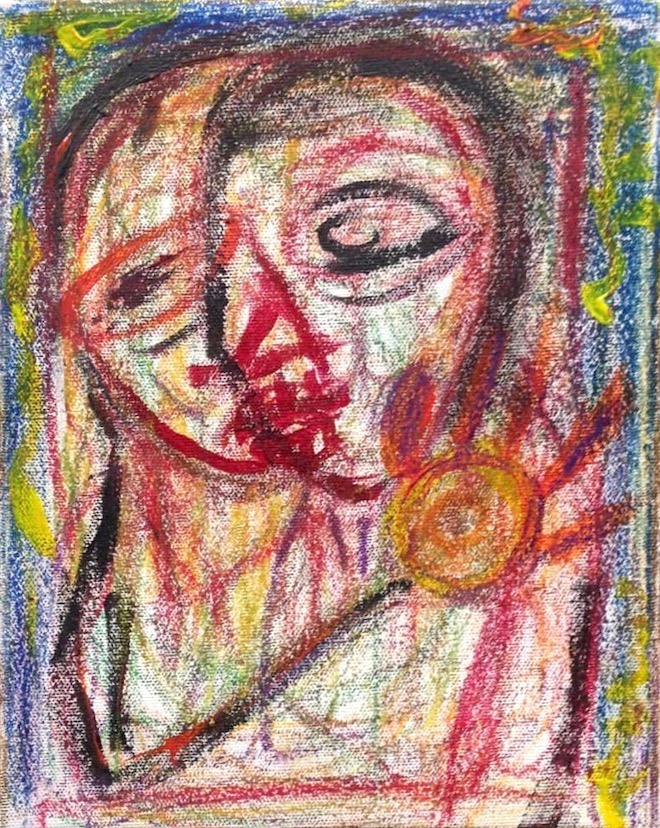 What inspires you these days to create art?
What I hear on the news and what's happening around me. Just living!
Who are some of your favorite artists? Artists who inspire you?
Francis Bacon, Basquiat, Danny Antonucci…
What about cultural influences? What are some of your cultural influences?
Skateboarding, 90's films, Spike Lee and Instagram.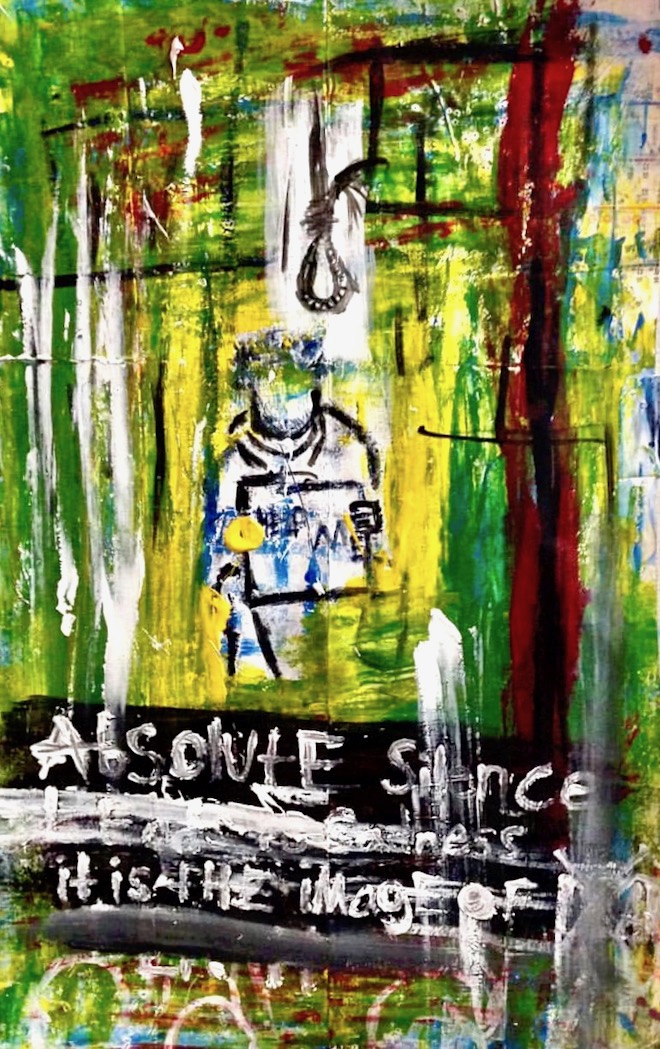 How has your art evolved within the past decade or so? 
Ten years ago, it was an expression of my sadness…my depression. It no longer always is. 
Are you generally satisfied with your work?
Never!
What percentage of your time is devoted to art? 
All of it! Even when I'm skating and playing video games, I think about art.
Have you ever exhibited your work?  
Not in any kind of formal setting.
How important is the viewer's response to you? 
I try to tell myself that I don't care what others think of my work, but I actually do. I want those who see my art to walk away with a thought.
What is your favorite setting to work? 
I'd like to paint in my room, but it's difficult. It's small, and I like to throw the paint. I often end up working outside — in parking lots and just on the streets.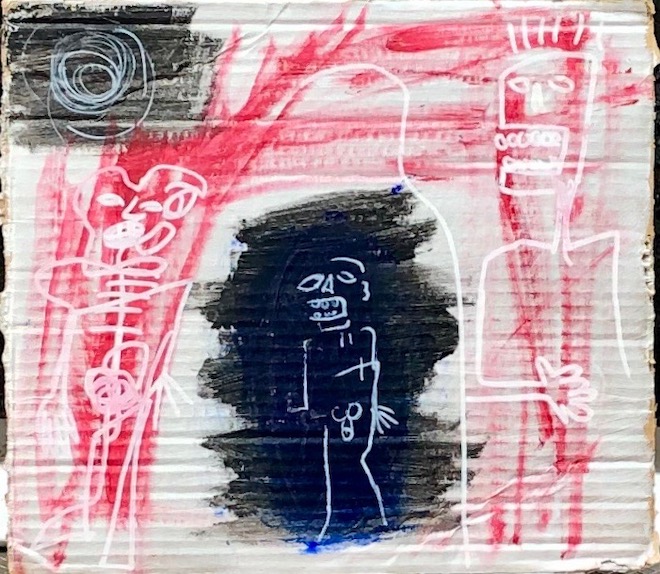 What are your favorite media?
I like painting with my hands, and I like working with acrylic.
What is your main source of income? 
Assorted odd jobs and selling paintings.
How does your family feel about what you are doing?
They're happy that I'm doing something I love, but they'd probably prefer that I were studying to become a doctor or a lawyer.  My family is quite artsy, though. My father is a musician. My stepfather did graffiti, and my cousin is a painter.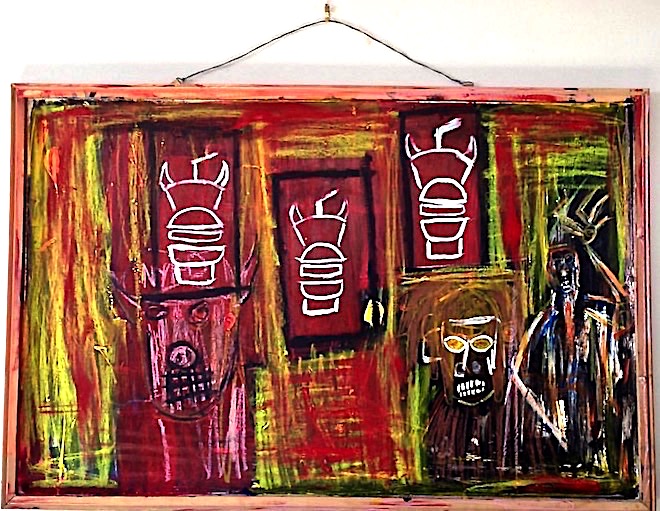 Have you had any kind of formal art education?
No. But I had one teacher, Mr. Rorick, at Hudson High School of Learning Technologies, who encouraged me to follow my passion. 
Where are you headed?
I don't know.
What do you see as the role of the artist in society?
To tell a story. To provoke thoughts in others that they might not otherwise have.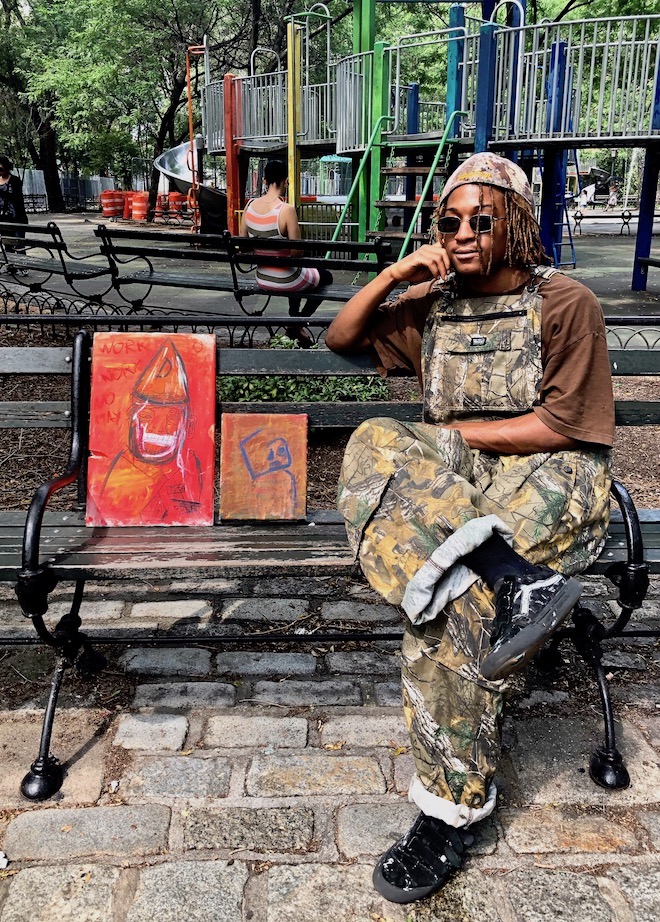 Interview conducted and edited by Lois Stavsky;  photos 1, 3-5 & 7 courtesy of the artist; 2, 6 & 8 Lois Stavsky