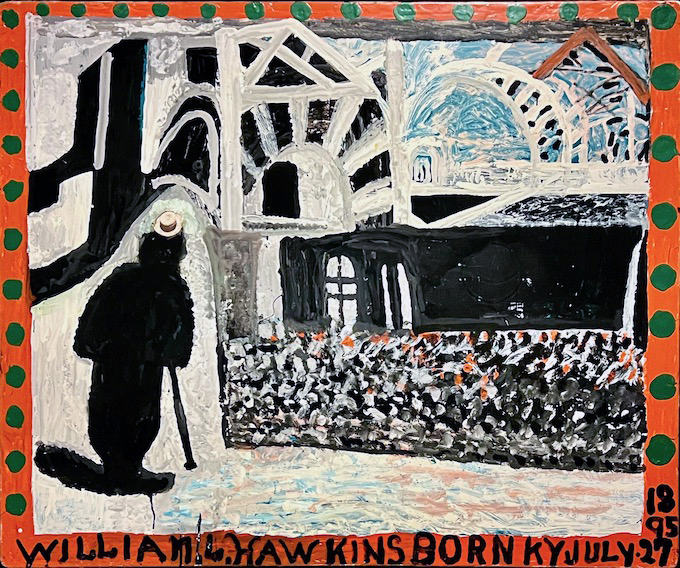 In 2016, 93 diverse works of outsider art in an array of media from the collection of the late Margaret Z. Robson were donated to the Smithsonian American Art Museum. Currently on view at SAAM is "We Are Made of Stories," featuring selections from that gift, along with works from the collection of her son, Doug Robson. On my recent trip to DC, I visited the wonderfully intriguing and informative exhibition showcasing the works of 43 self-taught artists.
The image featured above, "Demolition of St. Mary's Church, Boston," is the work of the late Kentucky native William Hawkins. Fashioned in 1986 with enamel paint on Masonite and collaged elements, it depicts the destruction of a historic 19th century Catholic church that was demolished in 1977 to make way for apartments.
Several more images of artworks — all fashioned by artists who had no formal training — on view in "We Are Made of Stories" follow:
The late African American, Alabama-native Bill Traylor, "Untitled (Drinker in Chair)," Pencil and poster paint on cardboard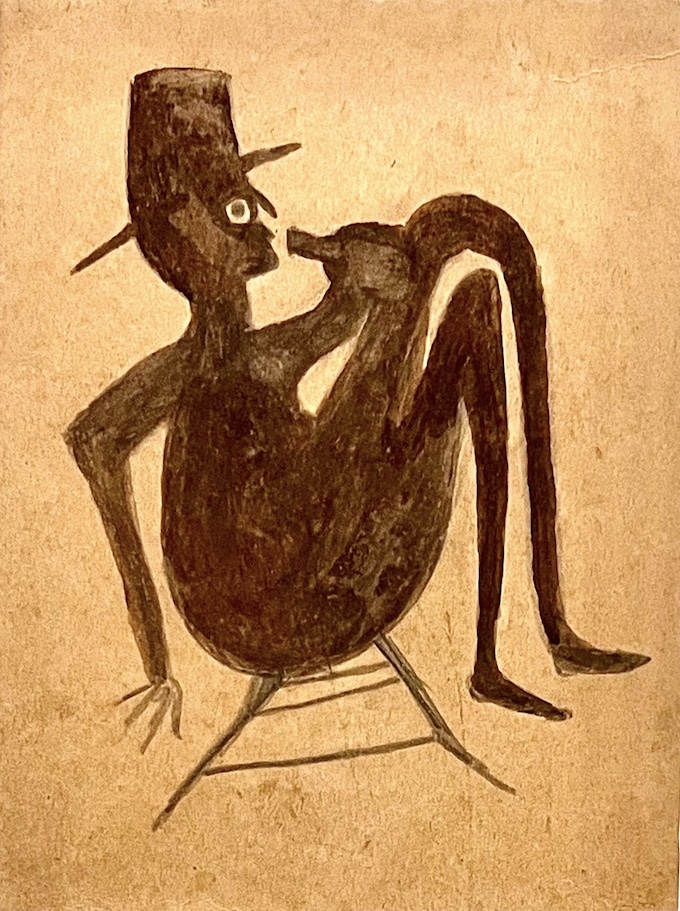 The late reclusive, Pennsylvania-born artist Justin McCarthy, "Marie Prevost," Watercolor, ink and graphite on paper mounted on manila folder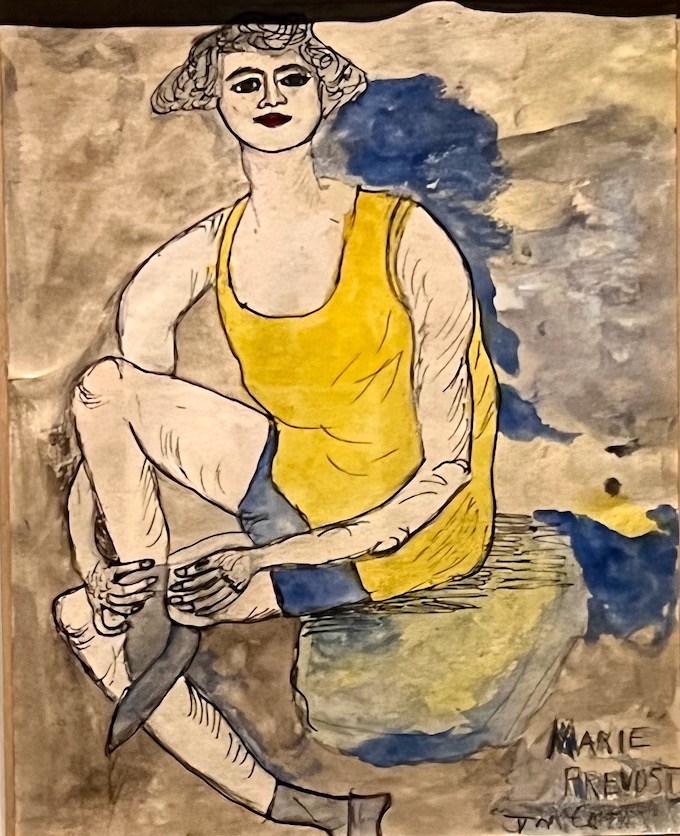 The late mixed-media artist, painter and preacher — born to an African father and Cherokee mother in 1925 — Simon Sparrow, "Untitled," Mixed media with found objects on hand-painted wood frame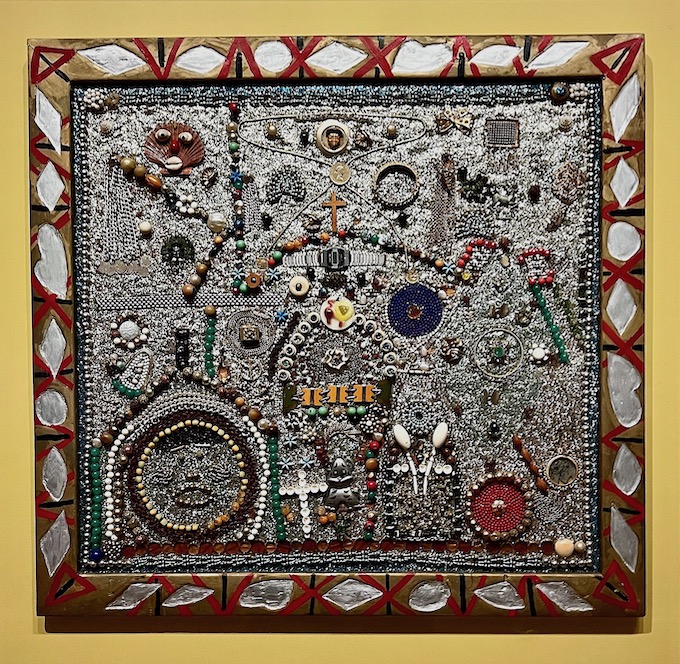 The late Syrian-American artist Peter "Charlie" Attie Besharo, "Untitled (From Earth to Haven / From Haven to Earth), Oil on paper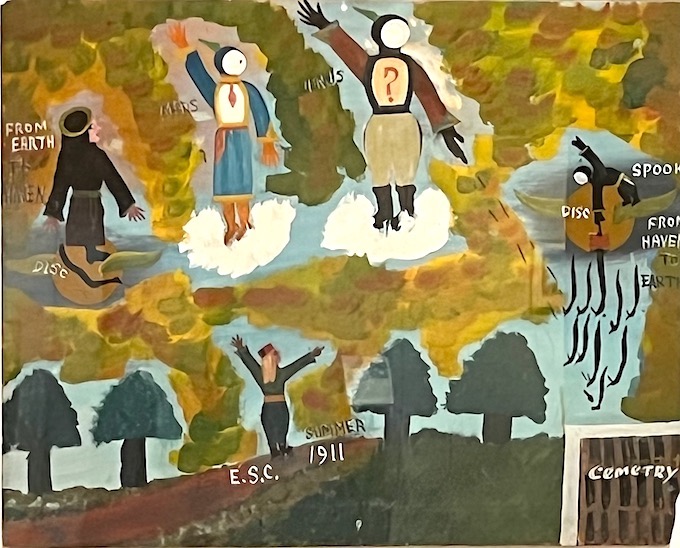 The late prolific, Georgia-based mixed-media artist and preacher Howard Finster, "Untitled," Paint on glass bottles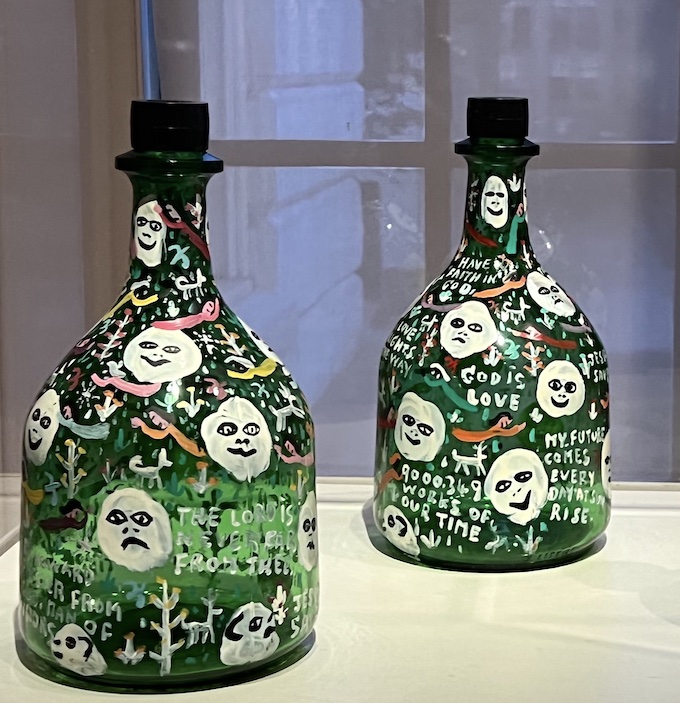 "We Are Made of Stories: Self-Taught Artists in the Robson Family Collection" continues at the Smithsonian American Art Museum in Washington, D.C. through March 26. 2023. "We Are Made of Stories: Selfhood and Experience in Art / The Margaret Z. Robson Symposium Series" takes place on October 7, 2022. You can register here.
Photos of images: Lois Stavsky