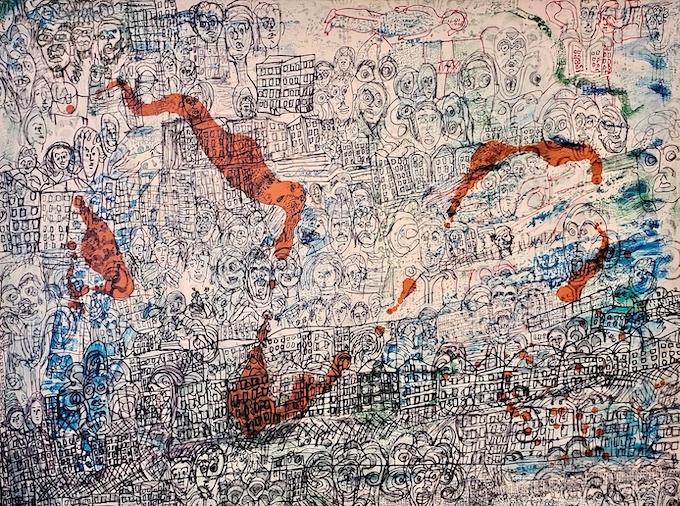 The following post is by student/intern Samantha Sabatino
On view through March 8 at Fountain House Gallery is "MUSHROOMS," an intriguing exhibition showcasing art in a range of media featuring fungi and their role in nature, culture, and medicine. After visiting the exhibition last week, I had the opportunity to speak to its curator, vermilion. What follows are several images from the exhibition, along with vermilion's responses to my questions: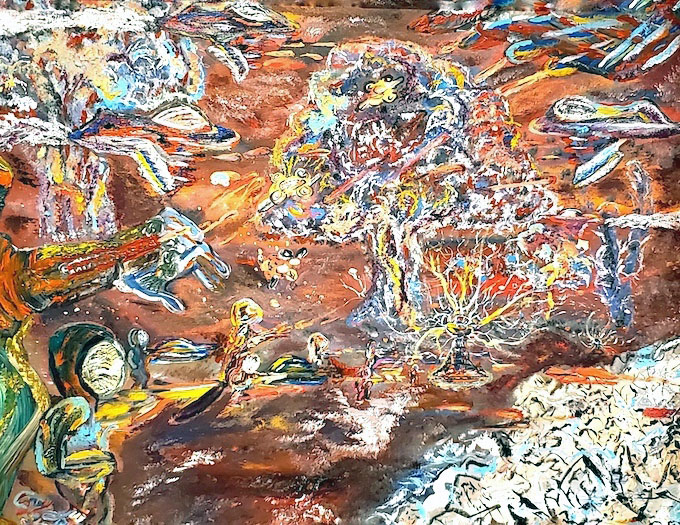 What inspired you to curate an exhibit on the theme of "mushrooms?" The exhibition seems to cover just about everything related to them — from cultivating culinary mushrooms to experiencing the effects of psychedelic mushrooms.
My inspiration is rooted in my deep interest in the benefits of mushrooms. I want to increase awareness among others as to their medicinal and healing properties.
Yes! I, myself, have personally benefited from mushrooms' medicinal and health benefits. Did you face any particular challenges in seeing this exhibition through?
The entire curation of the exhibit was mostly joyful. The artists were very cooperative. I loved the variety of the artworks that were submitted.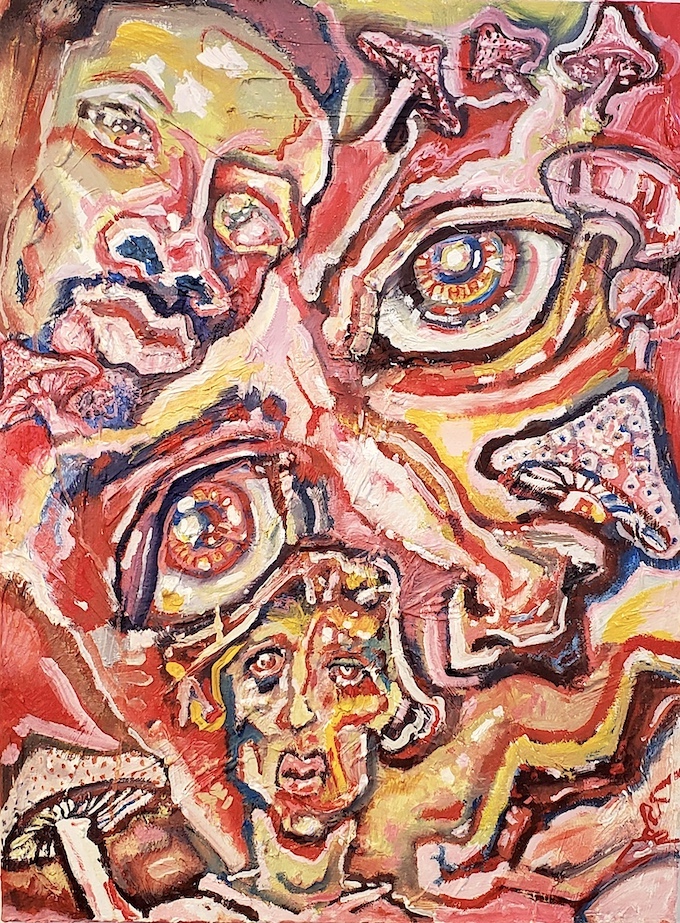 What do you want your viewers to walk away with?
I want them to walk away with a positive visual and emotional experience, and I want to arouse within them a deep curiosity and interest in the subject matter.
Can you tell us something about the opening reception?
It was lovely! There was a strong sense of community. I felt humbled by the response the show received. People were so supportive. I, also, had many meaningful conversations with like-minded people. And I loved putting together my costume and dressing up as a mushroom.
Have you any personal goals related to the exhibition?
I'd like it to engage even more people. It would be wonderful it could become a mobile pop-up exhibition. It has already been invited to London by SHARP Gallery and to another location in NYC by Psychedlic Access Fund. And I hope that guided healing becomes available to those in need, such as myself.
Good luck with it all! It's so fascinating and worthwhile.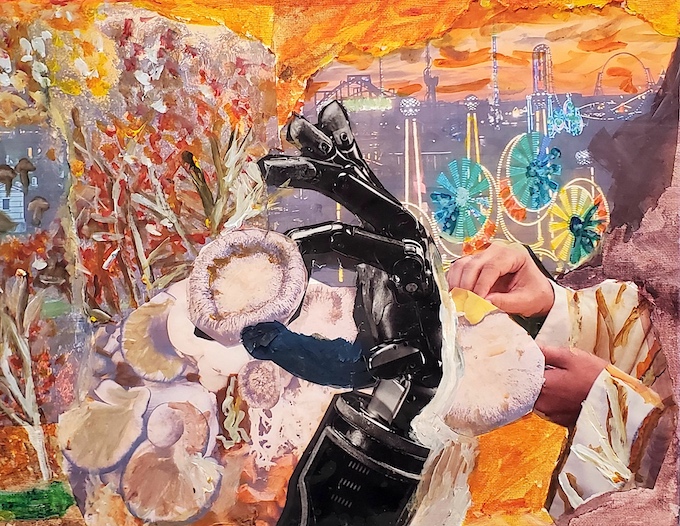 Can you tell us something about upcoming programs and activities related to the exhibition?
Specific information regarding the events can be found here. They include:
Live Storytelling Performances, Tuesday, Feb 21, 6:30 – 8PM
Mushroom Walk with the New York Mycological Society, Saturday, Feb 25, 2 – 4PM
Mushroom Growing Workshop, Tuesday, Feb 28, 2 – 3:30PM
Lecture: Questions for the Psychedelic Renaissance w/ Dr. David Hellerstein, Thursday, March 2, 7-8:30 PM
Closing Costume Party, Wed, Mar 8, 6 – 8PM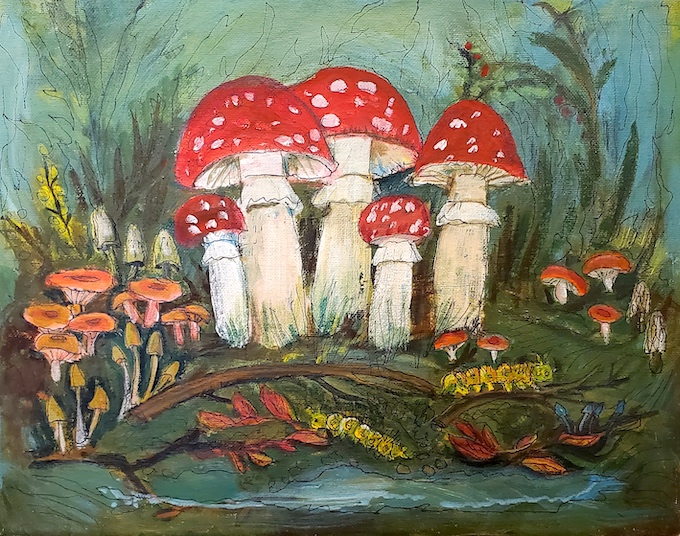 Located at 702 Ninth Avenue at 48th Street in Manhattan, Fountain House Gallery is open Tuesday – Saturday from 12pm to 6pm.
Featured images:
Roger Jones, "Love Is Love," 2022, Acrylic and marker, 30 x 40 inches
Corey Streeter, "Ruins of the End," 2022, Acrylic on canvas, 36 × 48 inches
Anthony Newton, "The Mushroom Hustle," Mixed media on canvas, 24 x 18 inches
vermilion in handmade mushroom costume, 2022
Maria Bronkema, "A Boost," 2022, Collage and acrylic on canvas, 11 × 14 inches
Elizabeth Borisov, "Fantastik Family," 2022, 11 × 14 inches
Note: Fountain House Gallery and Studio provides an environment where artists living with mental illness can express their creative visions, exhibit their work, and challenge the stigma that surrounds mental illness.
Interview conducted and edited by Samantha Sabatino
Photo credits: 1-3, 5 & 6 Samantha Sabatino and 4 Donna Faiella