We first came upon Queens-based Susan Spangenberg's infectiously intriguing aesthetic at Fountain House Gallery in Manhattan. Recently, we had the opportunity to spend some time with the lovely multi-talented artist, actor and writer:
When did you first begin doing art?
I was three years old when I started to draw. I hardly spoke. I expressed myself with crayons and pencils. I still remember drawing black circles and orange and yellow leaves. Art has always been my therapy — even back when I was three!
Had you any early inspirations?
Bugs Bunny! I've always loved rabbits, and, along with cats, they still play a prominent role in my artwork.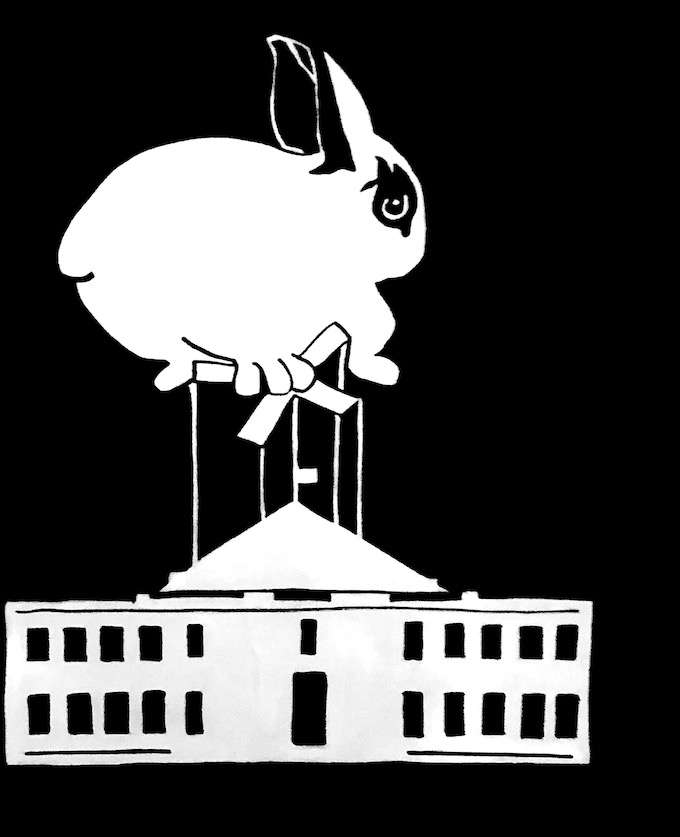 How has your family responded to your artistic bent?
My family was never supportive. No one encouraged me. My mother always belittled me. And no one exposed me to any art as I was growing up..
Have you any favorite artists?
Issa Ibrahim — whom I met when we were both patients at Creedmoor. I love everything he does, and he is a constant inspiration.
Have you any particular cultural influences?
I'm a mix of cultures with roots from the West Indies to India.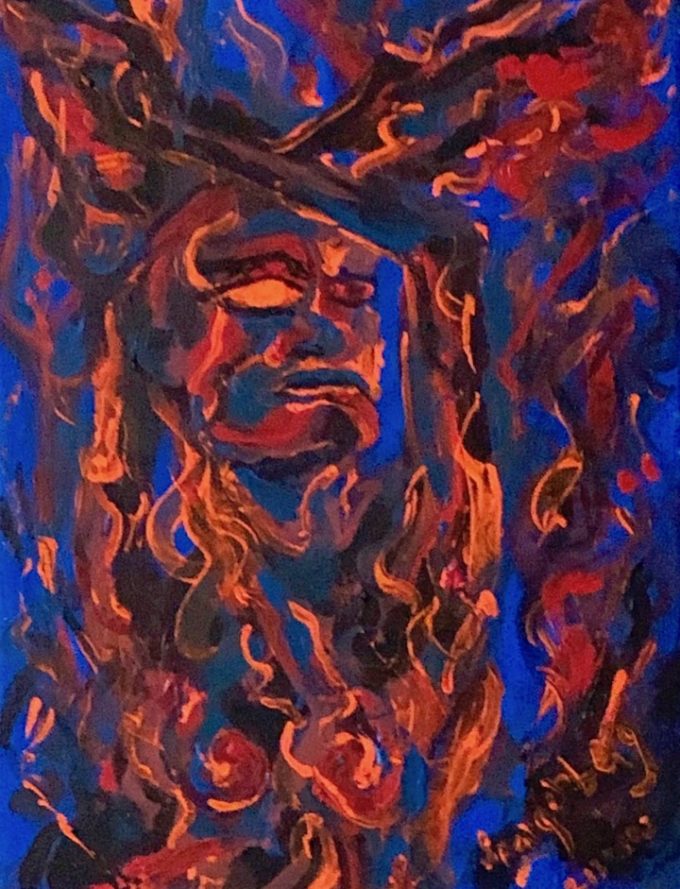 How much time do you generally spend on a piece?
I lose track of time when I'm working on a piece. The process of creating is far more important to me than the end result.
Have you any other passions – besides painting?
Acting, writing and feeding homeless cats!
We've seen your work  Fountain House Gallery and at Plaxall Gallery in Long Island City. You've exhibited in a range of other sites, as well. How important is the viewer's response to your art?
It's become important to me. I love it when somebody loves my work.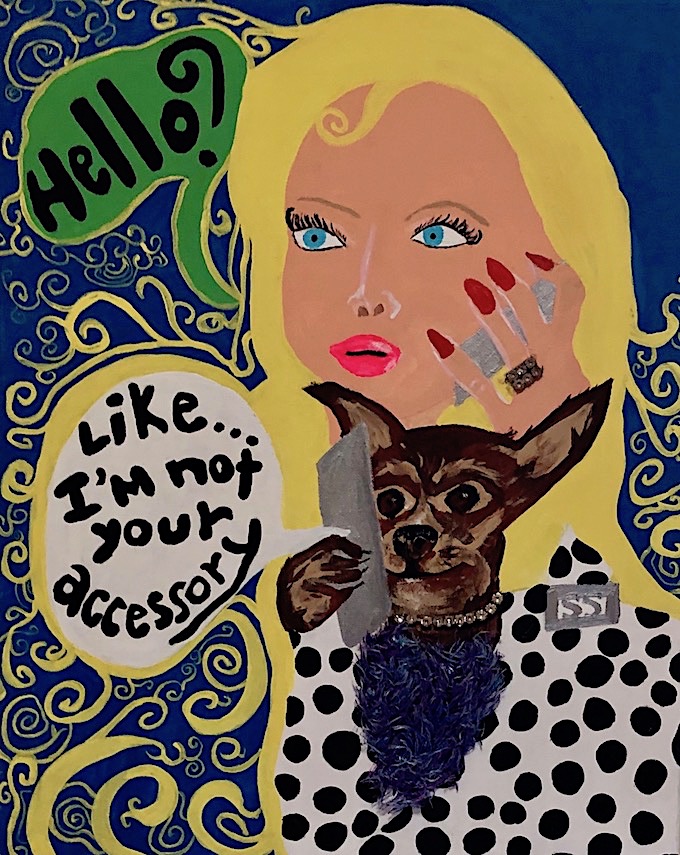 How has your aesthetic evolved within the past decade?
I have increasingly embraced my Indian roots and have even fashioned myself as an Indian goddess. As a child I was fearful of the goddess, as I saw my mom in her face.  But lately I feel a spiritual connection to her. My art has always been — and continues to be — intensely personal.
What percentage of your time is devoted to art?
I'm not sure. I find myself creating art mostly when I feel low. It's a way of getting my feelings out. And it's my way of coping. I have a painting in which I killed myself.  It was a safe way to end it all!
Are you generally satisfied with your final piece?
Not always! I'm very self-critical.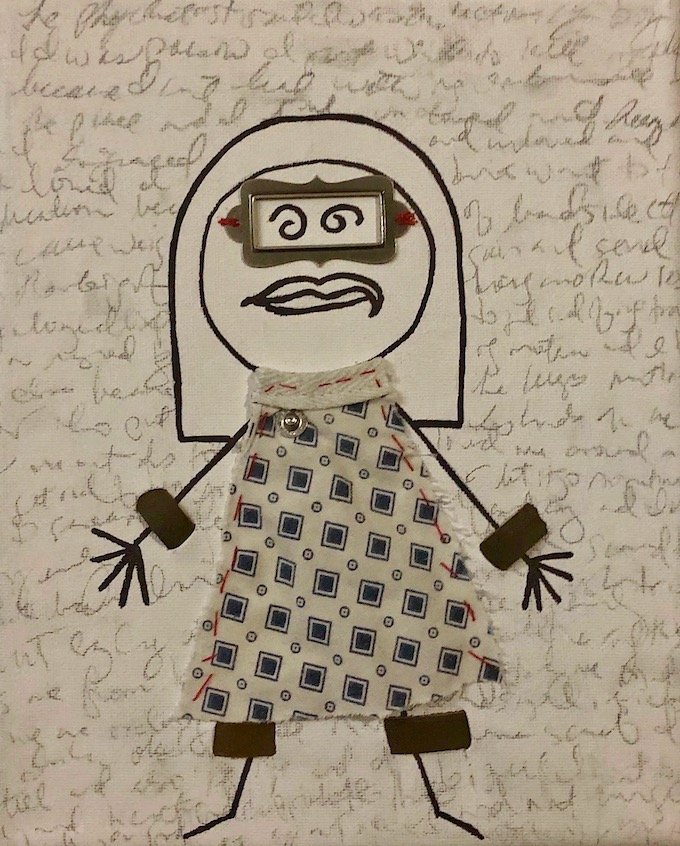 Have you a favorite setting to work?
Alone at home.
And your favorite media?
Pencils, crayons, pens and acrylics. Whatever's available!
Where are you headed?
I'm currently working on finishing my memoir.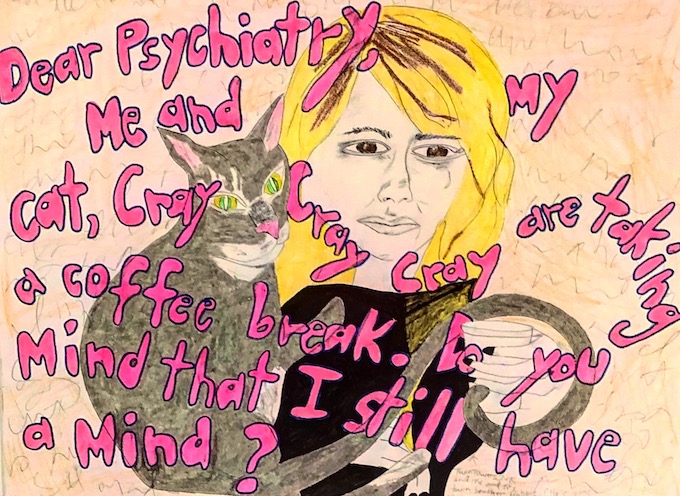 Good luck with that! We are certainly looking forward to it!
Interview conducted by City-As-School intern Alyssa Torres and condensed and edited by Lois Stavsky.
Featured images were photographed by Alyssa and Lois in the following locations: Fountain House Gallery  in Hells Kitchen; Fountain House Studio in Long Island City and Susan's and Issa's wondrous Jackson Heights-based Issues Gallery.