We first came upon Issa Ibrahim's artwork — encompassing a range of styles, subject matter and mediums  — at the Living Museum on the grounds of Creedmoor Psychiatric Center. We soon discovered that he is not only a wonderfully talented visual artist, but a gifted musician, eloquent writer and award-winning filmmaker, as well. We were delighted to finally meet him and have the opportunity to interview him.
When did you first begin to create art?
I've been doing it for as long as I can remember. My mom was a painter, and when she set up her easel, she would set me at her feet with watercolor paints and the cover of the Beatles' Sgt. Pepper's album. When my mother was painting portraits of the likes of Mao and Castro, I was doing my thing.
Who or what were some of your early inspirations?
I was inspired by Saturday morning cartoons. I'd be in front of the TV from 6am to noon!  I loved Superman, Batman, Wile E. Coyote, the Road Runner…I've also been inspired by classical science fiction. Frankenstein was an early favorite.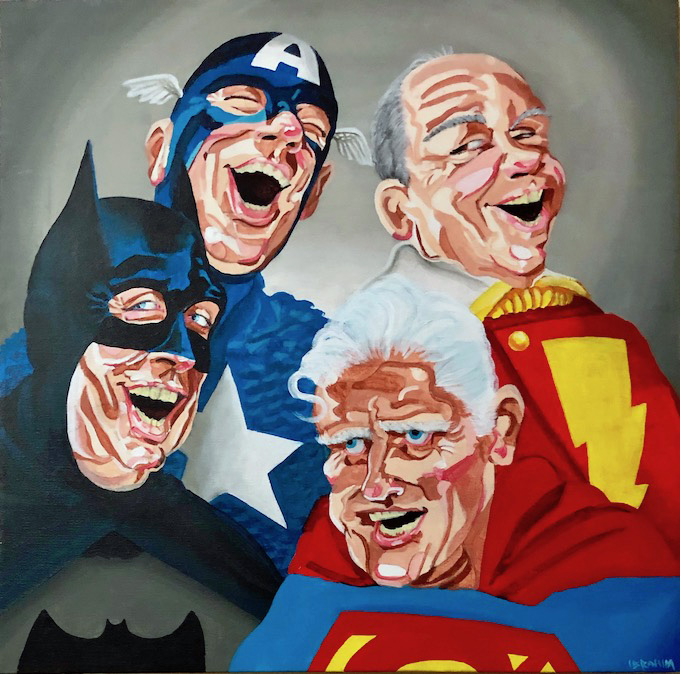 How did your family respond to your artwork?
My parents felt that I had a gift, and they encouraged it.
Who are some of your favorite artists these days?
I love surrealism. Salvador Dali is my favorite. I also like Norman Rockwell. I like the way he expresses movement.
What about cultural influences? 
I've been influenced by the Bible, 20th century history, American history and art history. Quite a few of my paintings reference famous classics.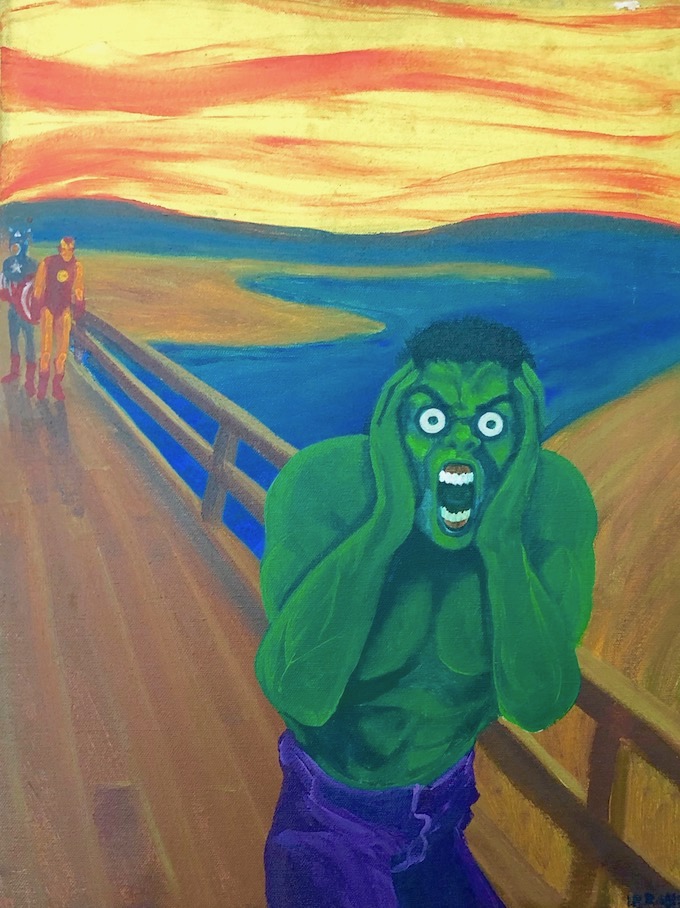 How has your work evolved through the years?
My work is largely narrative. Everything I do tells a story. And it evolves as I live.
Are you generally satisfied with your work?
I used to feel self-doubt. But these days I'm generally satisfied.
How long do you usually spend on a piece?
Anywhere from one day to several weeks.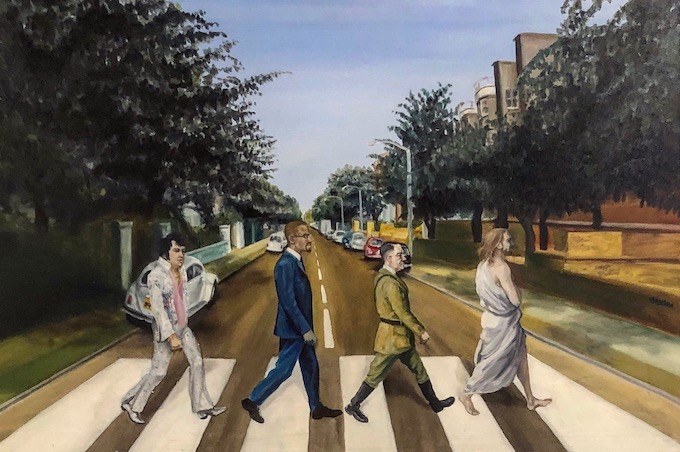 What percentage of your time is devoted to art?
That's difficult to answer. When I'm not creating art, I'm thinking. I think a lot.
What is your favorite media?
I like painting with acrylic because it dries faster.  But I also like the effect of oil and the way it blends. 
Have you a favorite color?
I like working with primary colors. I love shades of blue…periwinkle, purple…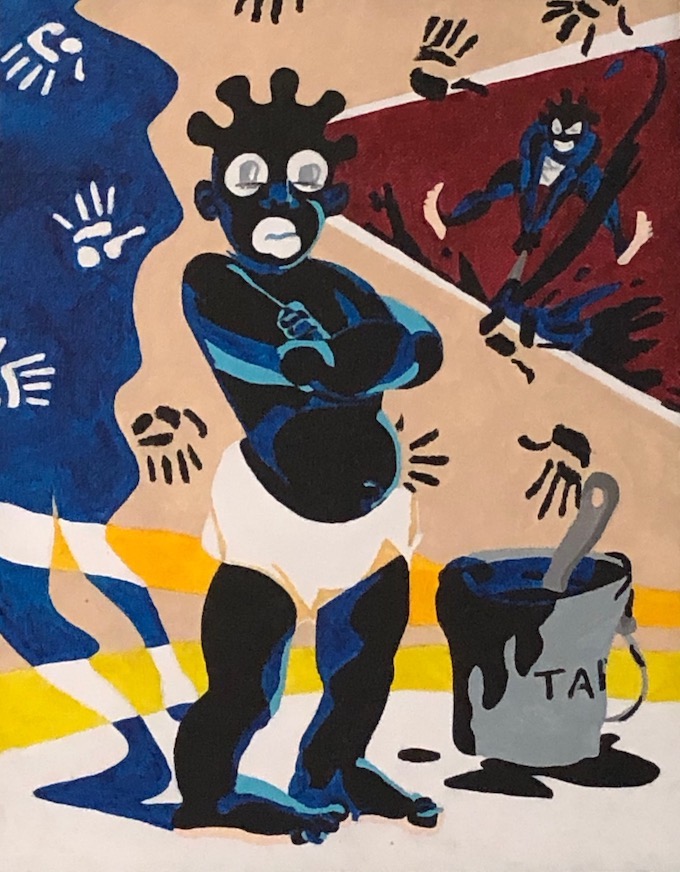 What is your favorite setting to work?
A place that's somewhat isolated. A space that I can call my own.
Have you a favorite piece?
The last one I've created.
Have you a formal art education?
I graduated from the High School of Art & Design. I then spent a year and a half at the School of Visual Arts majoring in Illustration. But I didn't feel that the experience was fulfilling my soul, and so I began taking classes at the Art Students League.  I studied there for two years.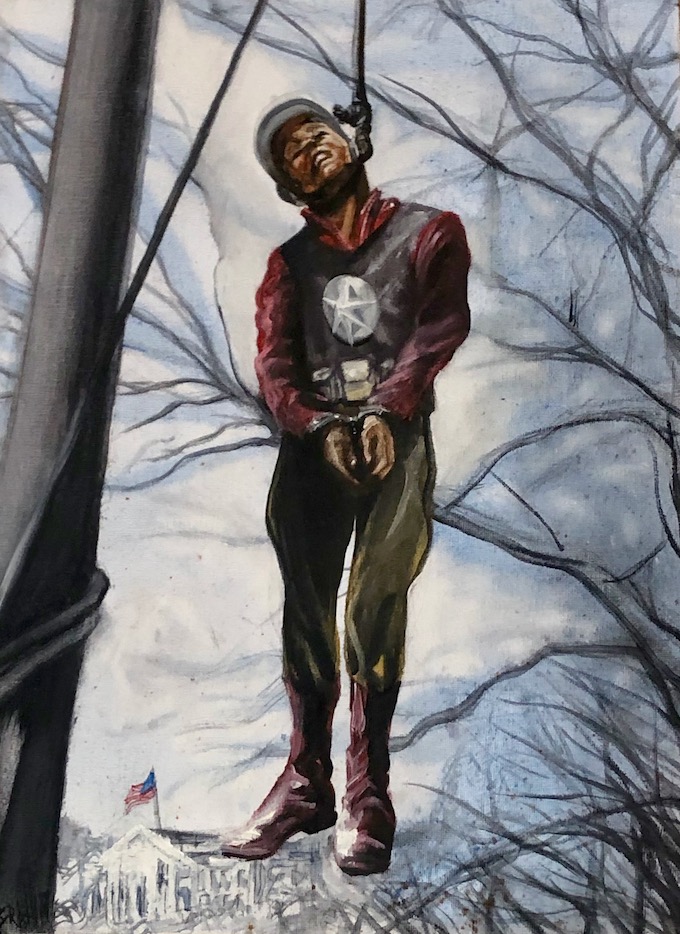 Was studying art in a formal setting a worthwhile experience?
Yes. It helped me improve my technique. 
Have you exhibited your work? And how important is the viewer's response to you?
Yes, I've exhibited widely in a range of places — from alternative spaces to museums. The response has always been positive. The viewer's response is not all that important to me, but I like the validation.
What are some of your other interests?
Music. My father was a musician…a bass player. And I remember sitting at his feet when he played. I also love writing and producing videos.
Yes. We love your award-winning musical documentary, PATIENT'S RITES and your memoir, The Hospital Always Wins. What is your main source of income?
Art. My girlfriend and I have set up an Etsy site and an online gallery, Issues Gallery.
You were hospitalized at Creedmoor for almost 20 years. What impact did that have on your art?
It gave me lots of time to think and to work on my skills. And the Living Museum provided me with a huge space to create art and to experiment.
Much of your art is politically and socially conscious, as you take on such themes as race, sex, religion and the imbalance of power. Are there any issues of special importance to you?
I've been intent on exposing  — particularly in my memoir and documentary — the injustices I've witnessed and experienced in the mental health system.  All that I create, though, is for my mother. She is my guiding force.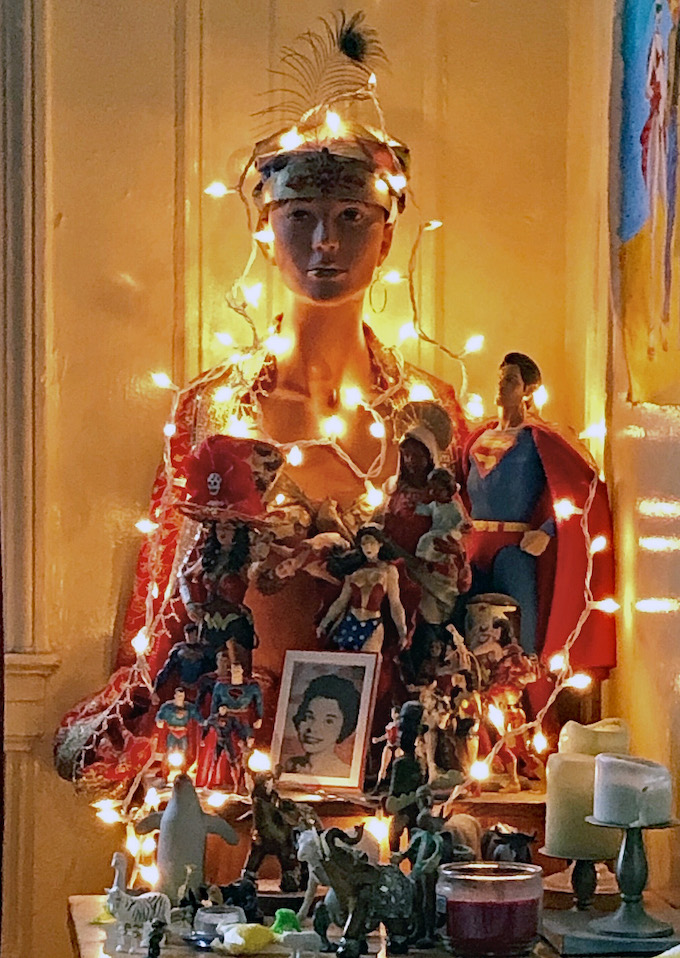 What's next?
I'm currently exhibiting at the Fountain House Gallery in Manhattan and at The Plaxall Gallery in Long Island City. And I'm working on an installation for an upcoming show in Queens.
We're looking forward to it all!
Interview conducted by City-As-School intern Alyssa Torres and edited by Lois Stavsky
Photo credits: 1-5 & 8 Lois Stavsky; 6 Alyssa Torres