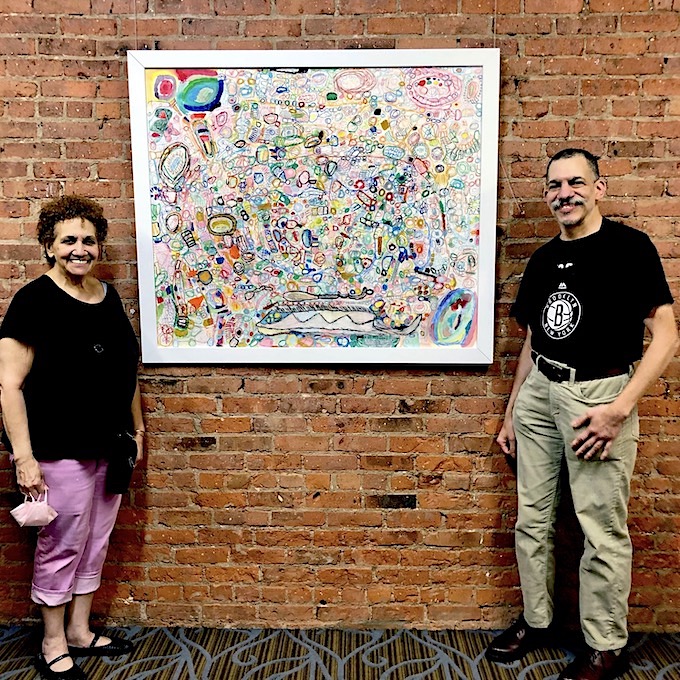 "Tangled in Color," a delightfully riveting exhibition featuring drawings, embroideries and weavings in exuberant colors by ArTech Collective artists produced in collaboration with SAORI Arts NYC, remains on view through August 28 at The Gallery at W83. The above image depicts a drawing fashioned with mixed media on paper by Elvin Flores — pictured here, along with his mother, at last week's opening reception. Several more photos captured during the joyous opening reception follow:
Also by ArTech Collective artist Elvin Flores, "Untitled," 2022, Colored pencil on paper
"Untitled," 2021, Colored pencil on mixed media paper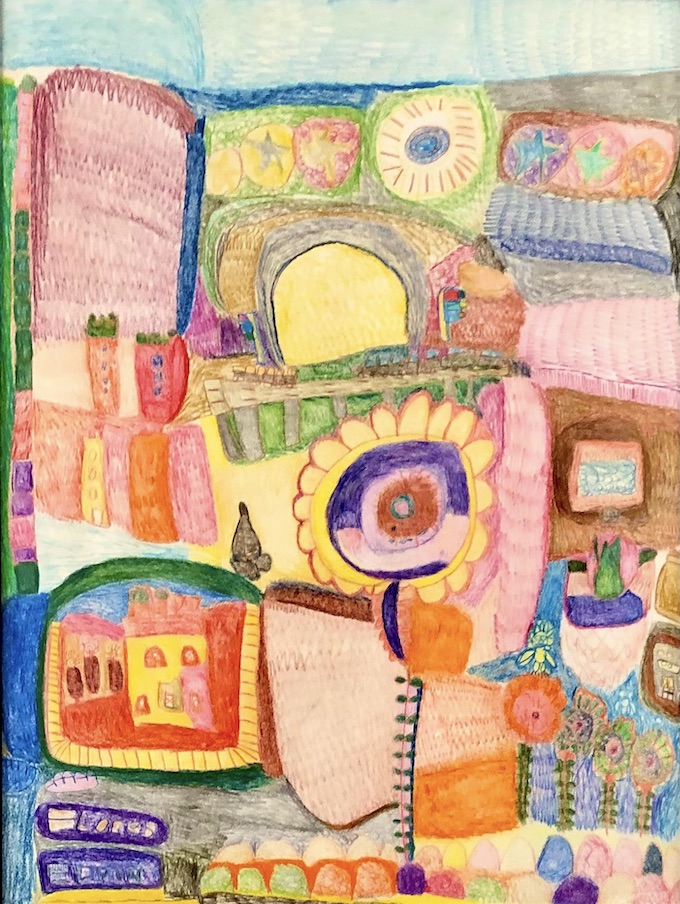 ArTech Collective artist Maria Alcantara — with a selection of her mixed-media fiber art
Maria Alcantara, Mixed media on embroidery hoop, 2022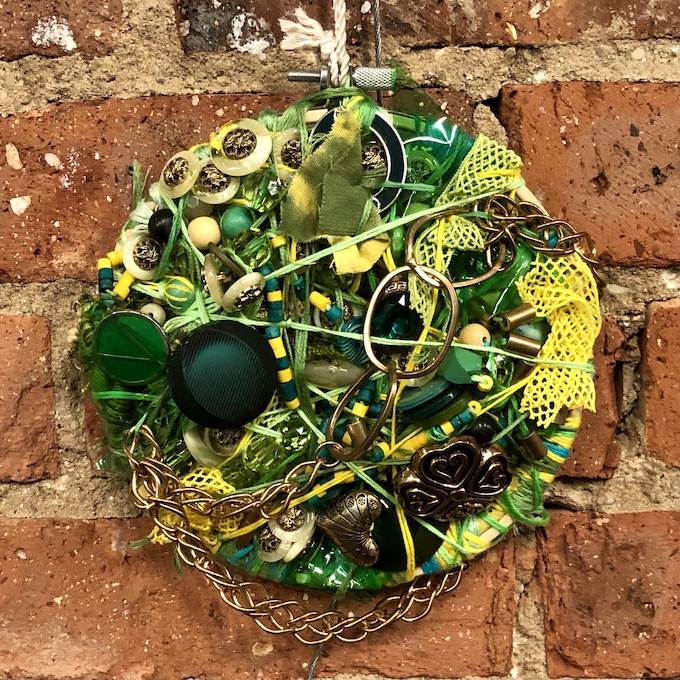 Another recently fashioned mixed media artwork on an embroidery hoop by Maria Alcantara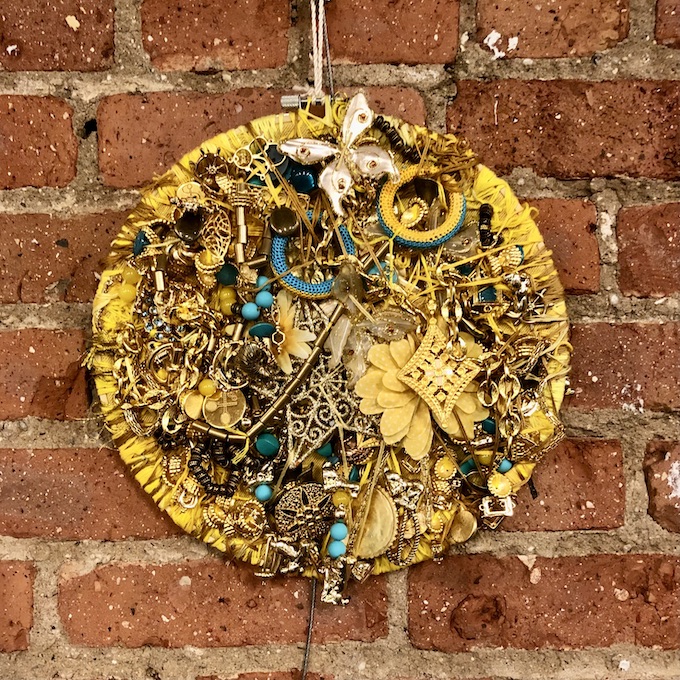 ArTech Collective artist Lamija Kurtovic to the left of her hand-styled American flag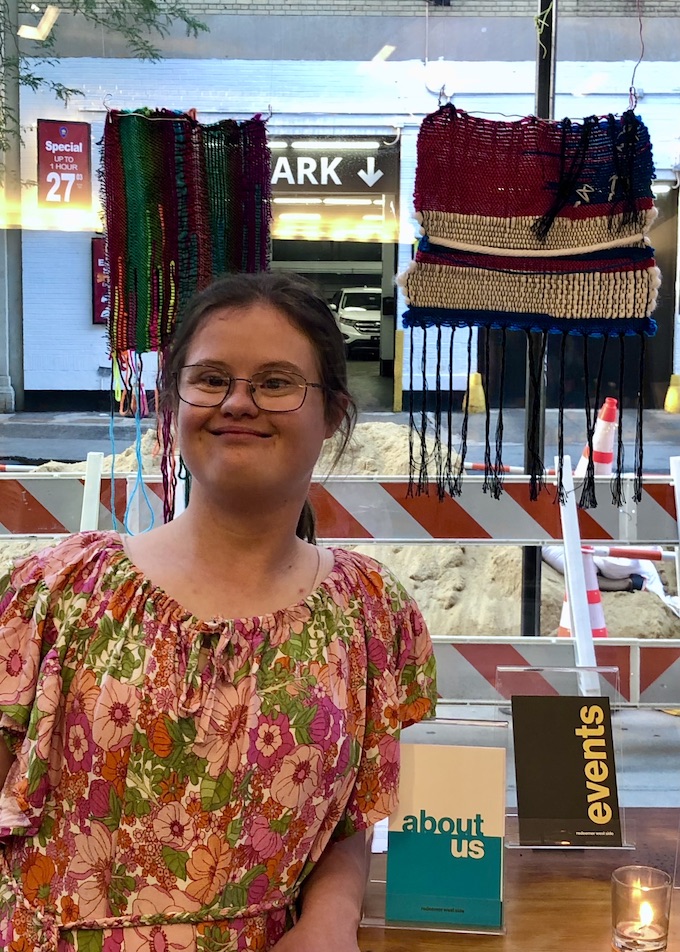 Located at 150 W 83rd Street on Manhattan's Upper West Side, The Gallery at W83 is open to the public daily from 8:00 AM – 9:00 PM. Admission is free.
Note:
ArTech Collective is a studio program funded by AHRC NYC. The program provides opportunities for artists with intellectual and developmental disabilities to develop and express themselves through inclusive, innovative, and accessible approaches to traditional and new media.
Founded in 2015, SAORI Arts NYC is a non profit organization that brings the value of weaving as a healing art form to people with disabilities or chronic illness.
Photos: Lois Stavsky