Perhaps the sole self-taught outsider artist of my generation to be thoroughly embraced by the "art world," Jean-Michel Basquiat is currently the subject of two solo exhibitions in New York City. Downtown the Brant Foundation has inaugurated its New York space in the East Village with a sprawling exhibition showcasing a broad sampling of Basquiat's works. Pictured above is Basquiat's 1982 painting of a face in the shape of a skull that sold at a 2017 Sotheby's auction for $110.5 million. Other works on view that I captured while visiting the hugely impressive exhibition at the Brant Foundation include:
Irony of a Negro Policeman, Acrylic and lipstick on wood, 1981, characteristic of the artist's political bent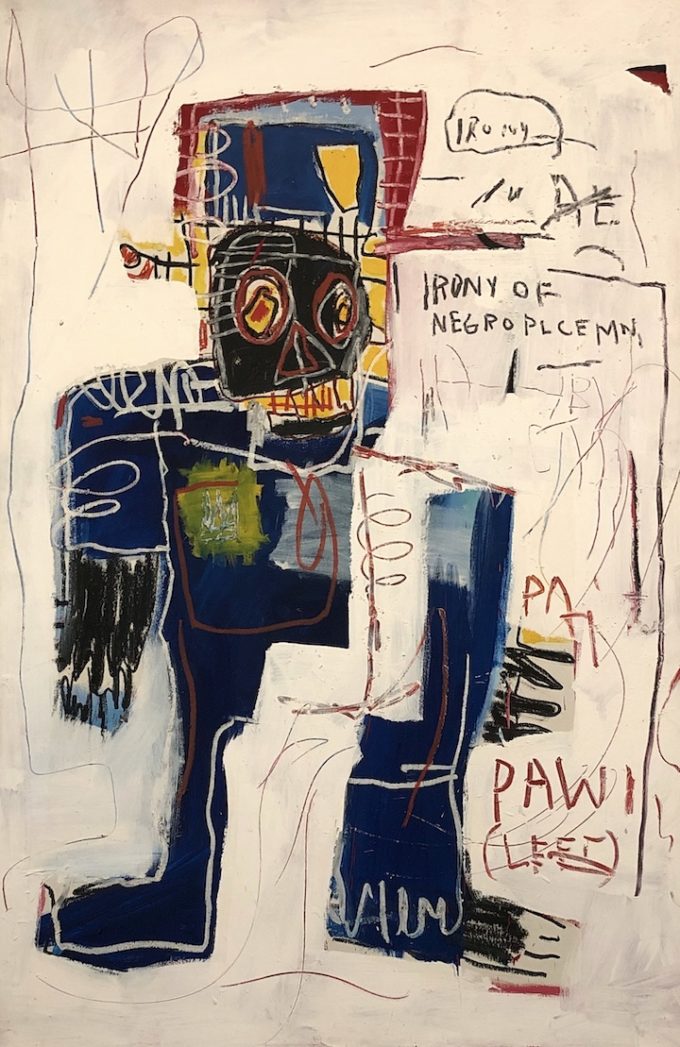 Boy and Dog in a Johnnypump, Acrylic on canvas, 1982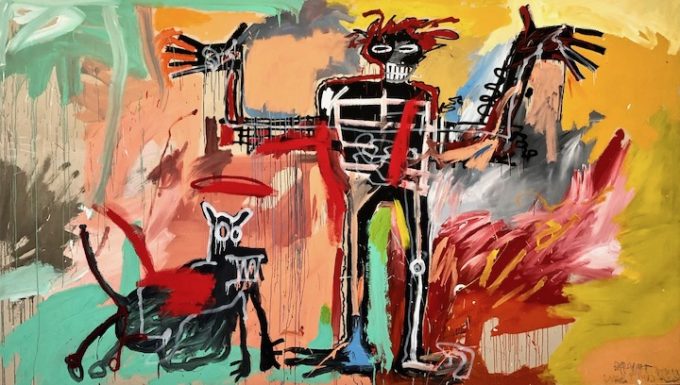 Grillo, Acrylic, oil, paper collage, oilstick and nails on wood, 1984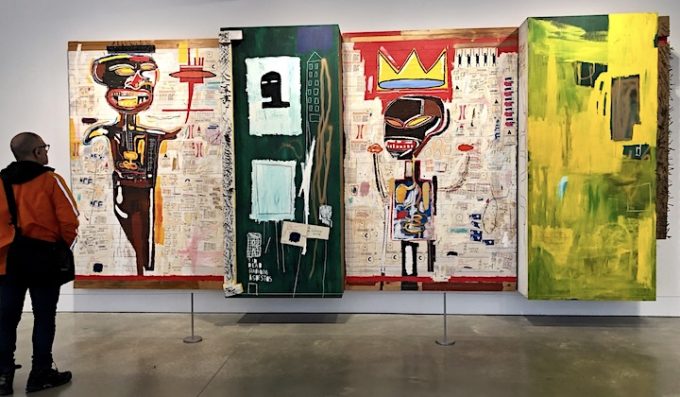 Uptown Nahmad Contemporary is presenting Xerox, the first Basquiat solo exhibition to focus exclusively of the extraordinary body of work that Basquiat created using Xerox photocopies as his principal medium. What follows are several images I captured while visiting the intriguing, engaging exhibition:
Untitled, Acrylic and Xerox collage on wood, 1981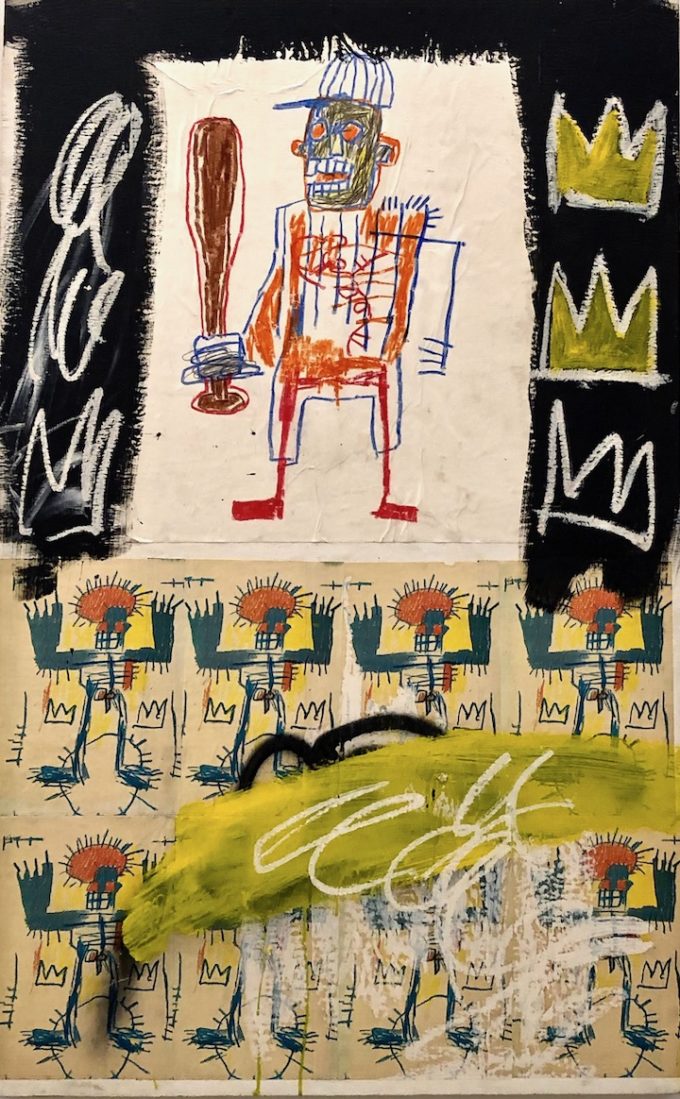 Peter and the Wolf,  Acrylic, oilstick and Xerox collage on canvas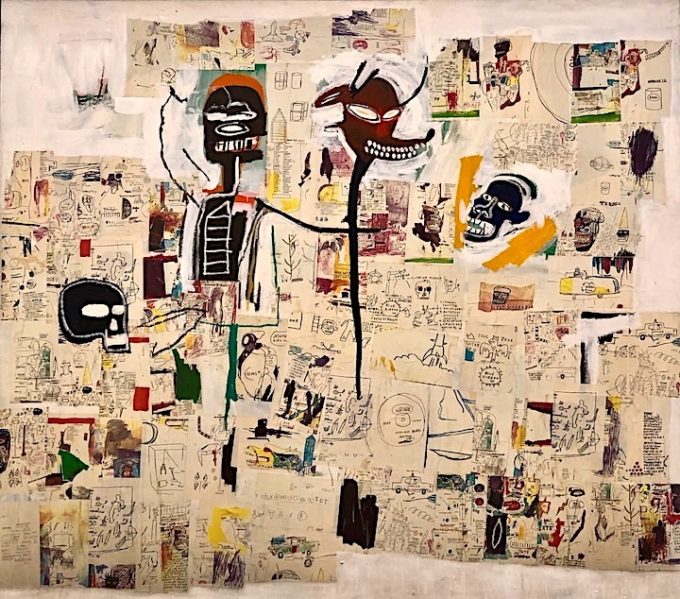 Natchez, Acrylic, oil, wood and Xerox collage on wood doors, 1985
Installation view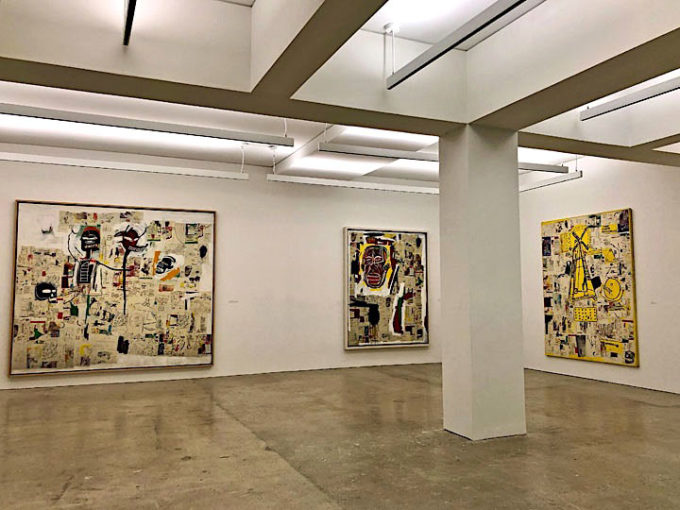 Curated by Brant Foundation founder Peter M. Brant and Basquiat scholar Dieter Buchhart, the exhibition at the Brant Foundation, 421 East Sixth Street, continues through May 15. Reservations are necessary. The exhibition at Nahmad Contemporary — also curated by Dieter Buchhart — continues through May 31. Nahmad Contemporary is located at 980 Madison Avenue, off 76th Street, on the Upper East Side and is open Monday – Saturday, 10AM – 6PM.
Photos of artworks by Lois Stavsky