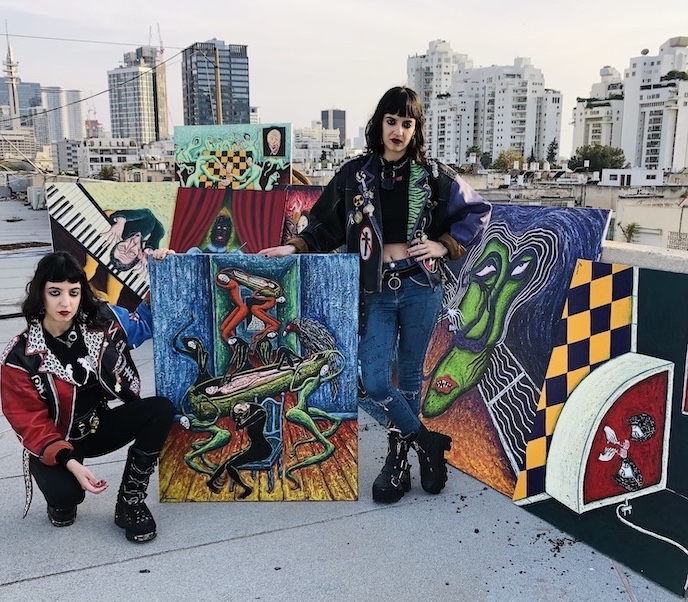 Based in Tel Aviv, Nil & Karin Romano are identical twin female artists who create mesmerizing, beguiling works that at once delight and bemuse. While in Tel Aviv earlier this year, we had the opportunity to meet the wonderfully talented self-taught artists and pose a few questions to them.
What inspires you to work together?
It is something we do instinctively. We work together side by side, as we complete each other. We think alike! We are introverts by nature, and we find in art a way to communicate with others.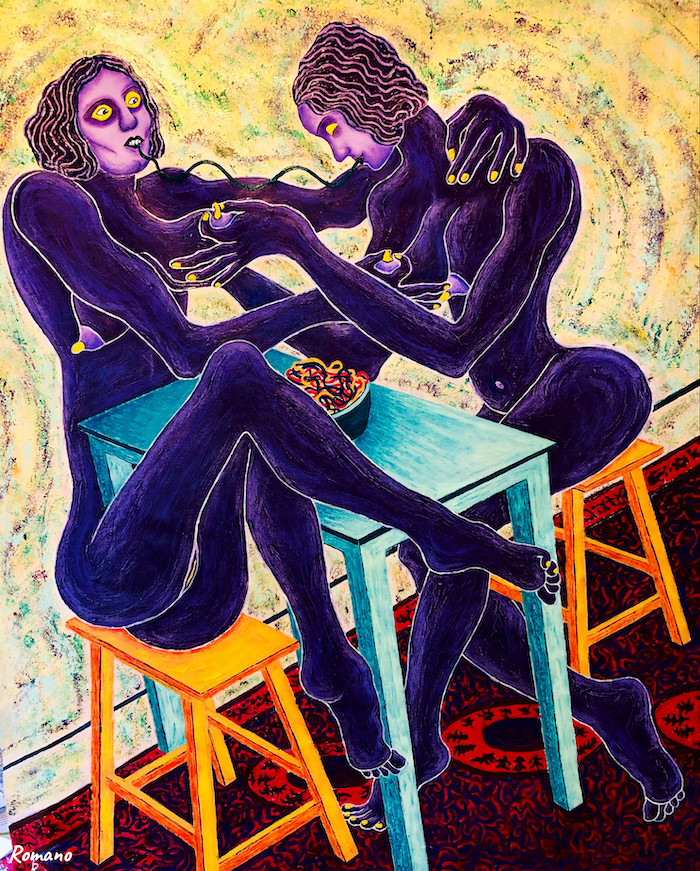 When did you first begin working together?
About six years ago, we began collaborating. It was a reaction to a severe mental crisis. We were deeply depressed. Creating art became our therapy.
Have you a preferred medium and surface?
We work primarily with acrylic and oil paint on large canvases. But we also create works with pen and pencil on paper, and we make our own clothes.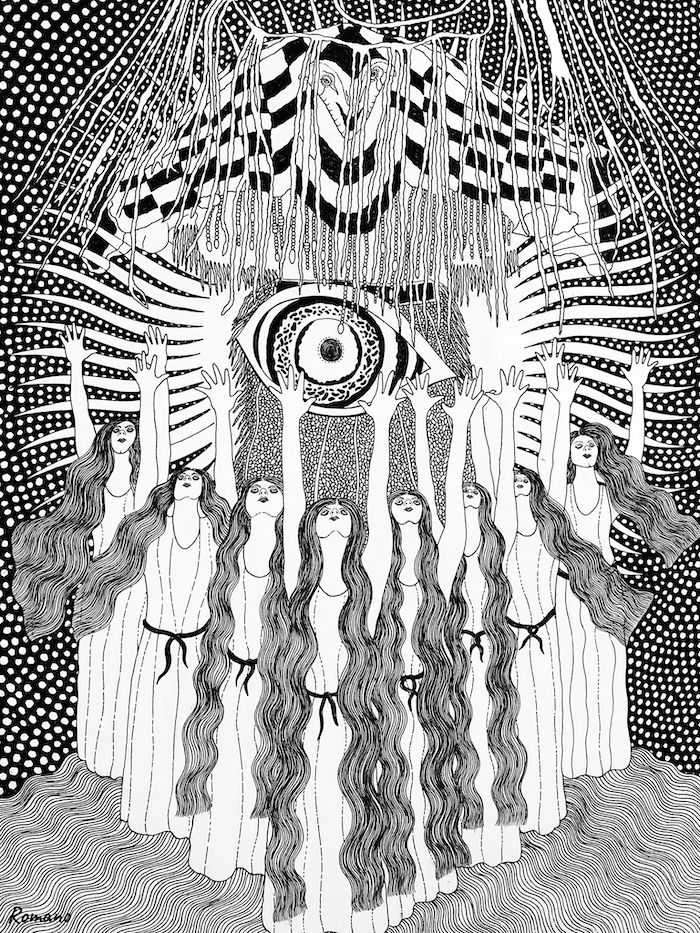 What about colors? Have you any particular favorites?
We tend to use strong and bold colors within dark, surrealistic scenes.
What are your principal cultural influences?
Our main influence is the occult.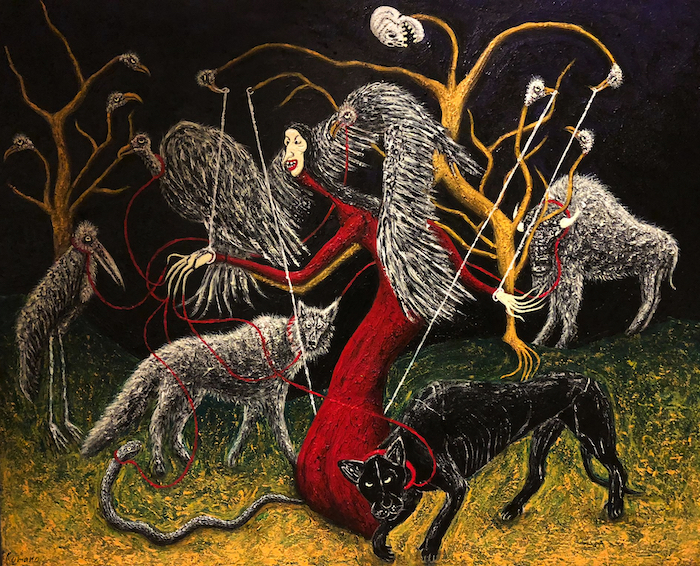 Is there a central theme that ties your work together?
Each work is an opportunity for us to tell the story of our inner world and struggles. Our central theme revolves around the complexity of the human soul, and we communicate this through motifs such as chaos, ritualism and nihilism. Particular themes we deal with include: queer relationships; cult-like and ritualistic beliefs; magical thinking and the power of emotions.
How has your work evolved over the past several years?
Initially, it came from deep pain. But as we continued to paint together, we grew happier, and our work became more confident. Our techniques are increasingly inventive.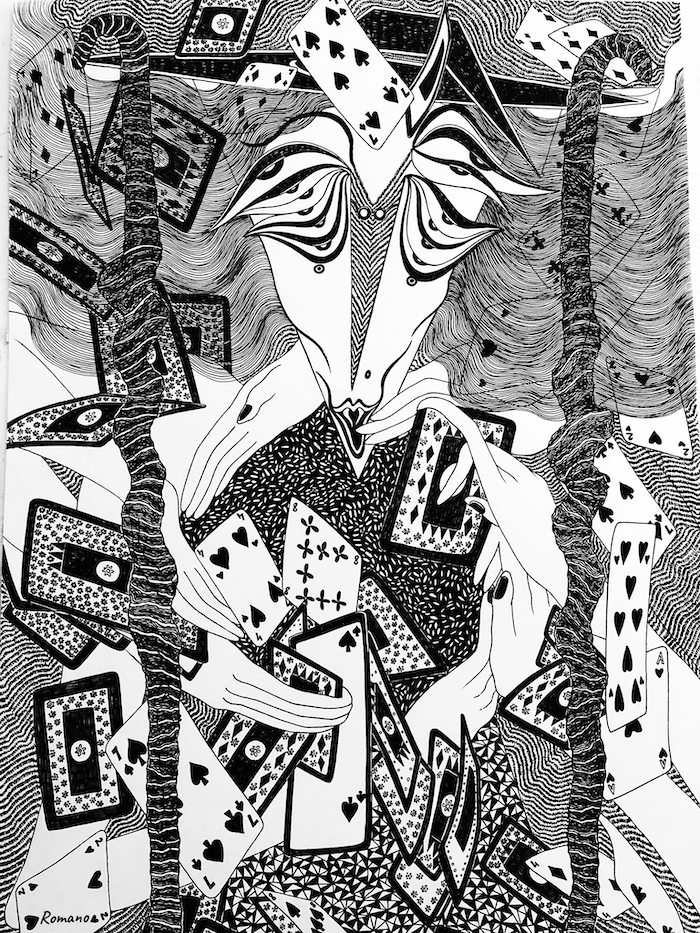 How long do you generally work on a piece?
Anywhere from one hour to several weeks.
What percentage of your time is devoted to art?
100%. We live art!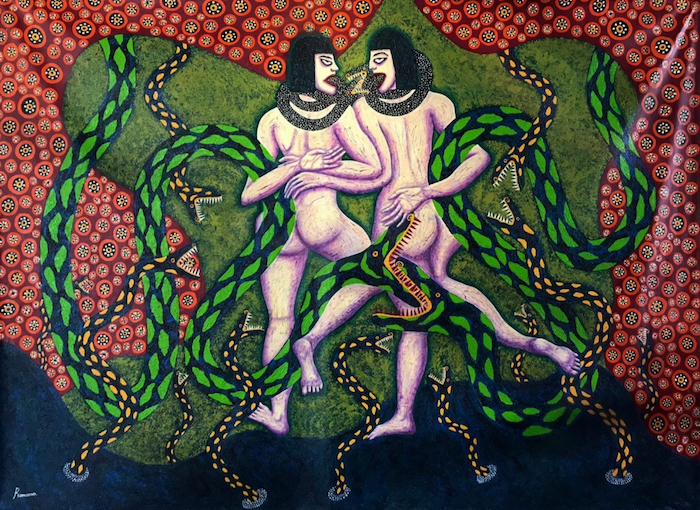 What is your greatest challenge – at present?
That we work in an industry that is controlled by men!
What's ahead?
We look forward to continuing to work together and sharing our work in galleries and museums. Our next solo exhibition will be opening on July 28 here in Tel Aviv at Periscope Design Gallery at Ben Yehuda 176.
Good luck! We wish we could be there!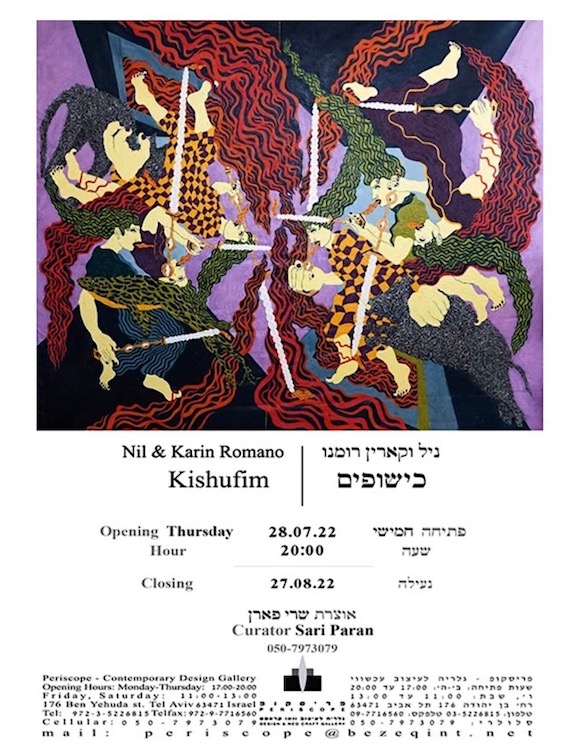 Images:
1. On Tel Aviv rooftop with their "babies" (photo credit: Amit Einy)
2. "Lovers Sharing Spaghetti," 2021, Acrylic and oil pastels on canvas
3. "Full Moon Ritual," 2020, Pen ink on paper
4. "The Nocturnal Animals Of Witch Marionette," 2019, Acrylic on canvas
5. "Clarice, The Fortune Teller," 2020, Pen ink on paper
6. "Snake Charmers," 2020, Acrylic and oil on canvas
Photos courtesy the artists