Yesterday afternoon, we joined ARTBreakOUT co-founder and art educator Bonnie Astor, along with a group of young artists supported by AHRC, at the American Folk Art Museum. It was our second visit to the wondrous exhibition, "Memory Palaces: Inside the Collection of Audrey B. Heckler," featuring dozens of intriguing artworks form Audrey Heckler's personal collection. On her passion for outsider art that she had begun collecting after a visit to the Outsider Art Fair in 1993, Audrey Heckler told ARTnews: "All this art speaks to me, a lot more than other forms of art."
The image featured above is the work of the late noted English visionary artist Madge Gill (1882-1961), whose artwork often references a longed-for daughter who was stillborn. A small sampling of our favorite works follows:
Japanese visionary artist M'onma, one of several otherworldly, often unsettling, surreal artworks created with graphite, ink and colored pencil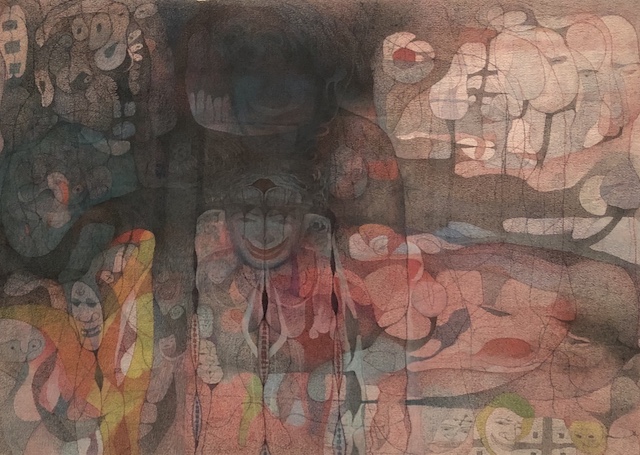 One of the first artists to be identified with the outsider art movement, the late Swiss artist Adolf Wölfli (1864-1930) created thousands of intricate drawings of imaginary adventures while confined to a psychiatric hospital in Berne. As the one featured below, they picture a fantastical world created from the artist's imagination.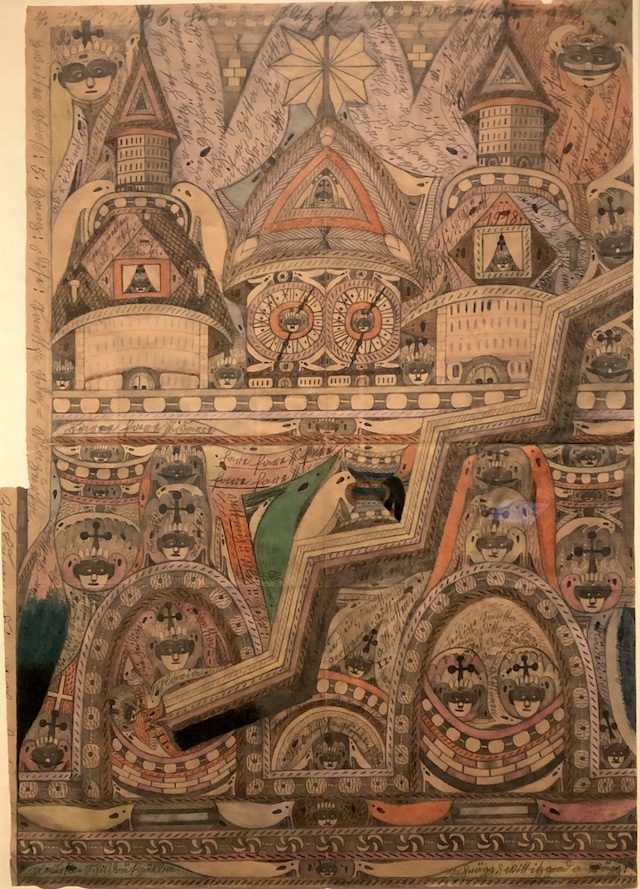 Czech artist Anna Zemánková (1908-1986), one of her many striking botanical images that she created to help her cope with her depression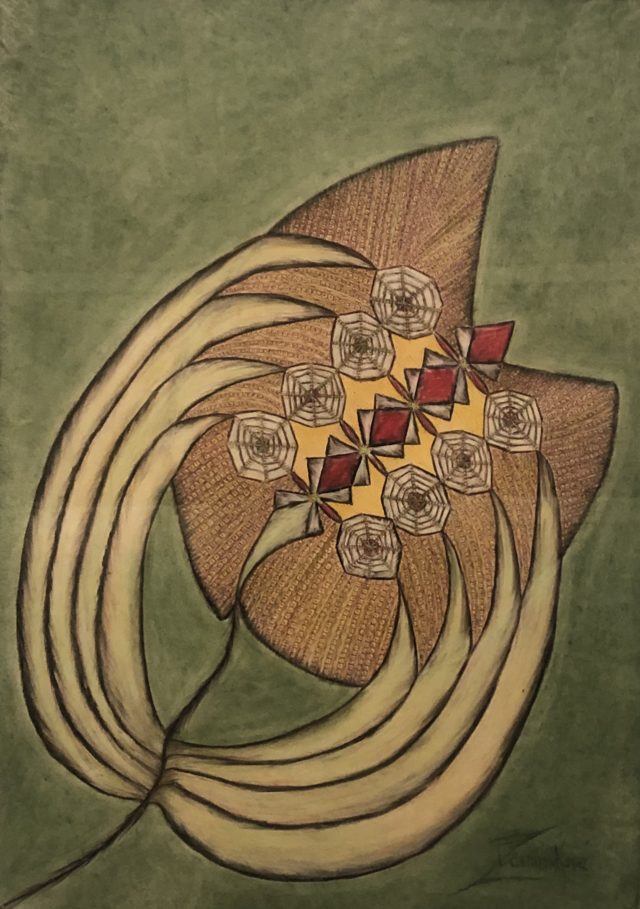 French artist Augustin Lesage (1876-1954), one of many drawings inspired — according to the artist — by voices from invisible spirits, including that of his dead sister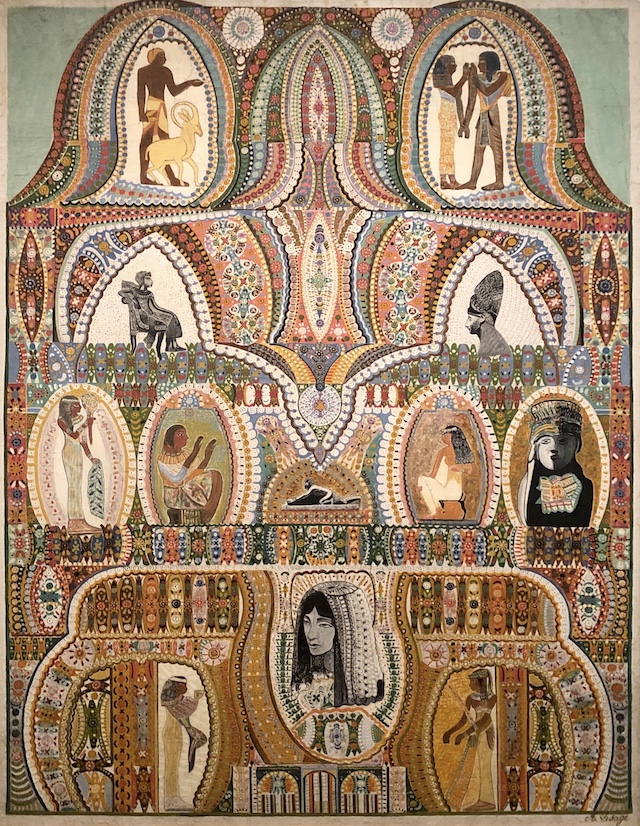 Wide view of one segment of the sprawling exhibition featuring a range of artworks in different media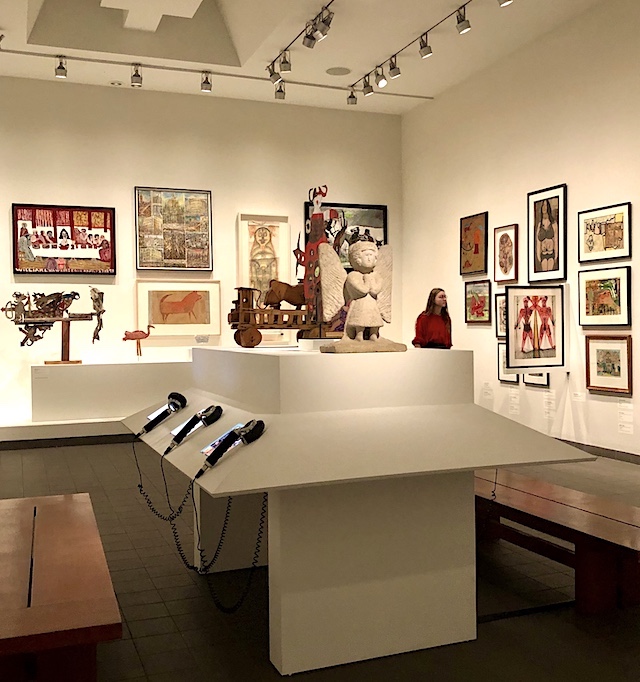 Linen tapestry fashioned by the late English visionary artist Madge Gill, with City-as-School intern Sage Ironwood to its left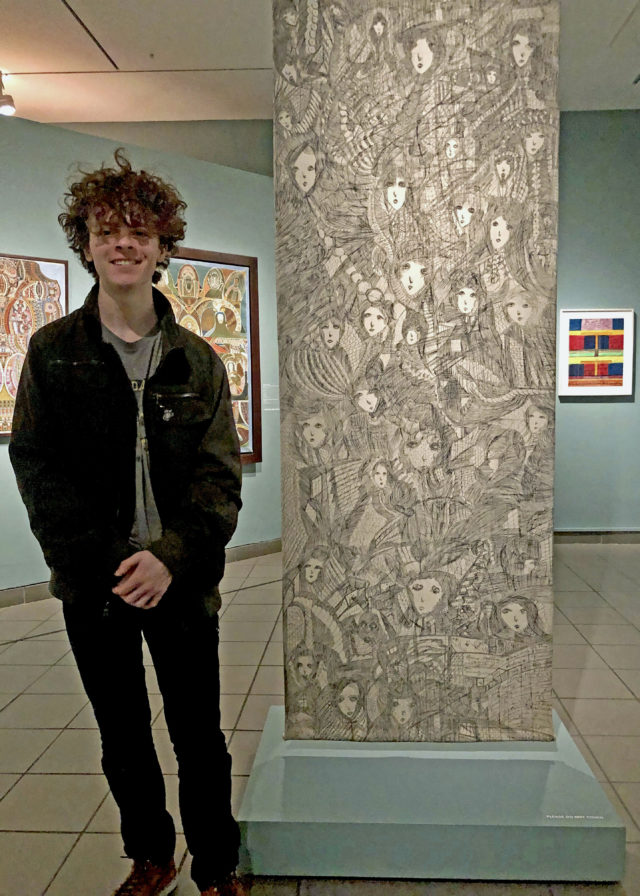 "Memory Palaces: Inside the Collection of Audrey B. Heckler" continues through January 26, 2020. Located at 2 Lincoln Square (Columbus Avenue between 65th and 66th Streets), the American Folk Art Museum is open Tuesday–Thursday: 11:30 am–7:00 pm; Friday: 12:00–7:30 pm; Saturday: 11:30 am–7:00 pm and Sunday, 12:00–6:00 pm. Admission is always free.
Research for this post: City-as-School intern Sage Ironwood;
Photo credits: 1-5 Sage Ironwood; 6 & 7 Lois Stavsky